A Much Needed Reform In Political Dynamics
"This Woman's Place Is In The House- The House Of Representatives." -Bella Abzug
Women were once kept out of the socio-political domain all around the world. They were not welcome at the head of nations' political affairs. Daughters, sisters, wives, and homemakers, child carriers, household servants, dutiful wives, self-sacrificing mothers, and other social roles were ascribed to them. Until the twentieth century, this thousands-year-old tradition went uncontested. The contemporary era too has brought about new types of oppression and denial of women's true place have emerged, such as equal effort but unequal compensation, gender discrimination in the workplace, exclusion from country administration, and so on. However, with the changing times, more women are participating in the political sphere in the current context. There are government policies set in place that reserve key institutional positions for women. Still, these policies are always implemented and prove to be effective only because of the sheer will power of the women to play their part in the social and economic development of the country.
Significance Of Women's Political Empowerment Day
On April 24 of every year, Women's Political Empowerment Day is celebrated. Marking a separate day for representing women in the political sphere and women's involvement in politics, is one step towards promoting gender equality. For centuries, women have been confined to the kitchens of their homes and therefore, unfortunately their creativity and potential have largely remained untapped. In fact, it continues to be so in many parts of the world even today.
In such a scenario, it is vital to recognize the contributions of women in the political sphere. Especially when their participation and political leadership is crucial for women to achieve fundamental human rights in all spheres of life. For instance, the National Crime Records Bureau, in 2012, observed that the reporting of crimes against women had increased by 26% following the 1993 amendment that called for more political representation of women. Thus, women have the potential for significant decision-making, which can only lead to the social and economic development of the countries.
Historical Evolution Of Women In Politics
In India, women have long been engaged in politics and public life, even before Women's Suffrage was introduced in the 1920s, which granted the right to vote to only a few women who owned land property according to British administration's records. But women's political activism took a giant leap in the 1950s when Universal Suffrage granted all the citizens the right to vote. For a long time, politics was typically characterised as voting, joining organised political parties, and running for office. Feminist historians understood that women had performed a variety of roles in politics and public life throughout history, which gave birth to the field of women's political history.
Pre-Independent Political Participation: In the late 19th and early 20th century, women's organisations sprung up all over the country. Women's problems, such as the right to vote, were taken up by these organisations. During this time, three major organisations were founded:
WIA (Women's Indian Association): The Women's Indian Association (WIA) focused its efforts on religion, education, politics, and philanthropy. Together with Margaret Cousins, Annie Besant became the first president of WIA.
The National Council of Women in India (NCWI) is a national branch of the International Council of Women that was founded in 1925. The NCWI was unable to establish itself as a key national organisation due to its elitist orientation.
The All India Women's conference (AIWC): Margaret Cousins and other WIA women worked tirelessly to bring about the All India Women's Conference (AIWC), which gathered for the first time in Poona in January 1927. It advocated for female education and criticised societal practises like as child marriage and purdah that impeded female education.
Post-Independent Political Participation: During the national struggle, a foundation was established to assist women in participating in the democratic process following independence. The Indian government took a number of legal, social, and economic initiatives following independence to improve the status of women in India. Women began to take part in national and state politics as well.
Women were scarcely represented in the first assembly after independence about 2%. Masuma Begum, who later became the Minister of Social Welfare, Renuka Ray, a seasoned social worker, Durgabai, a veteran Gandhian, and Radhabai Subbarayan, a participant to the first Round Table Conference, were among the women members. In 1947, Rajkumari Amrit Kaur was appointed Union Health Minister. In 1959, Sucheta Kriplani was elected General Secretary of Congress, and from 1963 to 1967, she served as Chief Minister of the United Province. Vijayalakshmi Pandit was a representative to the United Nations who was later appointed as ambassador to the then-USSR in 1947 and then to the United States. In 1953, she was elected President of the United Nations General Assembly.
The Current Scenario of Women in Politics
The current scenario of political participation of women in India is promising, but it still has a long way to go. For instance, India ranked 18th on the list of women's political participation in the WEF Global Gender Gap Report of 2020. Moreover, there are only 30% and 17% of women in ministerial and parliamentary positions in India. When it comes to the political leadership, West Bengal is the only Indian state with a female Chief Minister today.
Furthermore, the representation of women in the higher governmental offices is significantly low, especially at the state level. Women are often passed over for numerous crucial seats of institutional power. As per International Growth Centre,  in 2021, it was observed that there were no female politicians at even the ministerial level in states like Manipur, Nagaland and Sikkim. In fact, the highest representation of women in politics is in Tamil Nadia, which is only 13%. Other states do not even exceed 10% regarding female political representation, which is certainly an alarming scene in the current context.
Several studies have also reported the significant lack of women's political participation in the electoral sphere. Women show lower knowledge of elections, their rules and how the political institutions function. Women are not even present in the assembly meetings held in villages, where there is bound to be a backlash from men for the participation of women in the local-level political activities.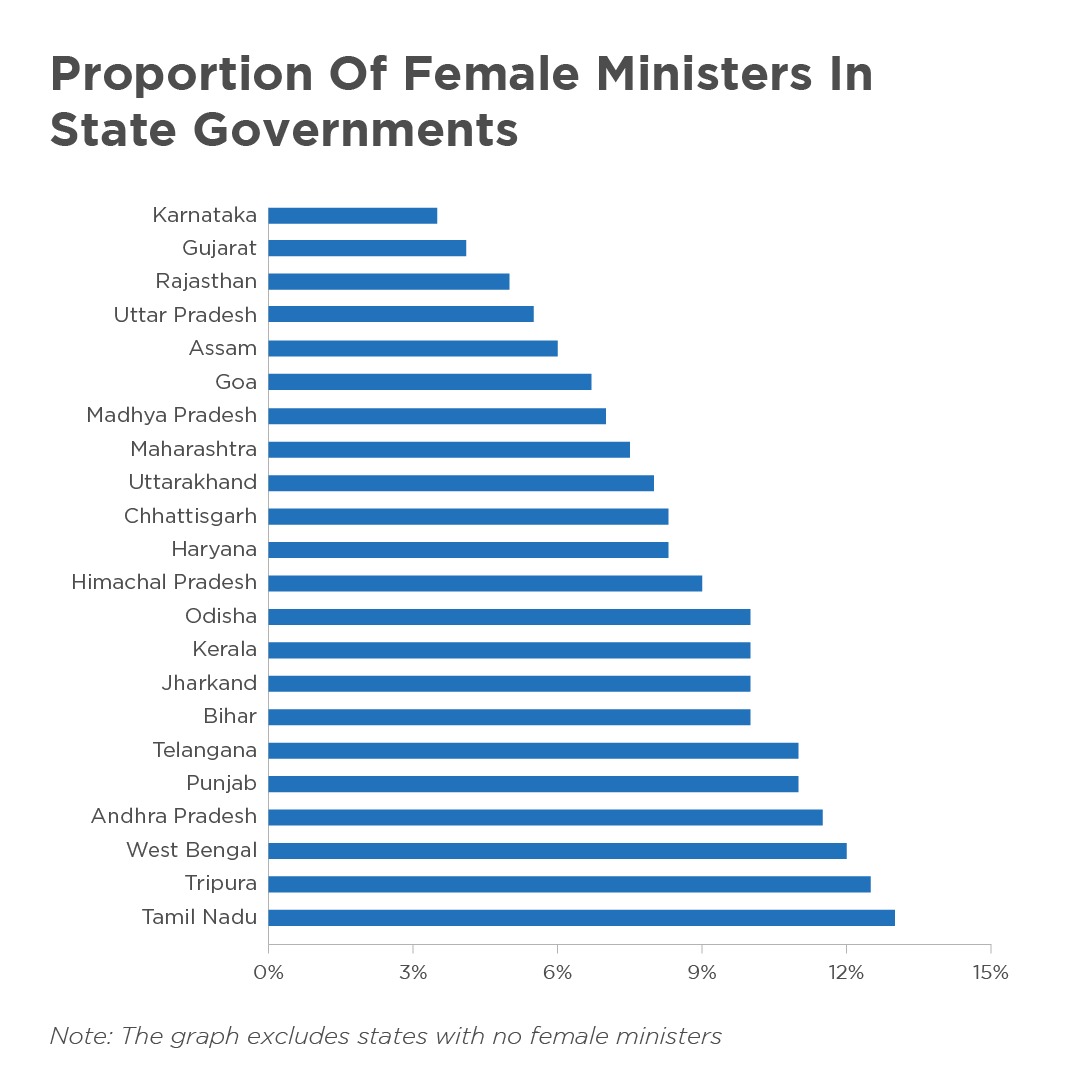 A Silent Revolution Of Change
While the statistics indicate that the participation of women in Indian politics is poor and faces a plethora of challenges, there is improvement in the political situation of the women, mainly due to government policies and the willingness on the part of the women themselves. For instance, India also makes governmental policies to increase the representation of women in politics. In 1992, India introduced the mandate of one-third of the village government being composed of women candidates. Following the mandate, the number of women in the village governmental body—Panchayat, has increased significantly. It rather proved a renaissance for women empowerment.
Moreover, a report in 2004 observed that if the prominent political leader (Pradhan) in the villages involved in policymaking is a woman, then the rest of the women were likely to take active participation in the process compared to a man being the leader. According to the report, the increase is from 6.9% to 9.9%. Another aspect of women political participation which took a leap was during 2014 parliamentary general elections, where total women voter turnout was 65.63%, compared to 67.09% turnout for men.A total of 260.6 million women exercised their right to vote in April–May 2014 elections for India's parliament.
Challenges Of Women In Politics
Women are breaking the glass ceiling in politics all around the world, yet their voices are muted and their contributions are often overlooked. Women are still considered as incapable of taking on responsibility in areas such as finance, energy, economic development, climate change, international affairs, defence, trade, and infrastructure in many parts of the world. This is frequently the case in parliaments, where women are assigned 'women's only' portfolios or are only permitted to sit on women's committees, and are pushed out of other committees due to their gender.
As per the latest Election Commission of India (ECI) data , women represent 10.5% of the total members of the Parliament.   Women make up 14.44 % members of the Lok Sabha, according to figures compiled by the Inter-Parliamentary Union, of which India is a member, with a record high of 78 in the 17th Lok Sabha. This paucity of women's voices in the highest echelons of government is hardly a source of national pride.
While attempts to train women for public office are beneficial, true gender equality involves more than merely adding women to the mix. It necessitates the transformation of institutions that were founded on exclusion. It necessitates addressing the long-standing barriers that prevent women from participating in electoral politics and make it more difficult for them to succeed, ranging from financial constraints to gender stereotypes. It necessitates considering marginalised groups' political involvement as a key criterion of democratic vitality, rather than a good add-on.
Top 10 Most Influential Female Political Leaders
The excellence of female politicians has been evident throughout history worldwide. With a firm hand, many female politicians have significantly influenced the political environment of their times globally, apart from making substantial contributions to the development efforts. The top 10 most influential female political leaders are as follows:
Margaret Hilda Thatcher, also known as "The Iron Lady," was the prime minister of Britain for 12 years, that is between 1979 and 1990. She was the first female prime minister of Britain, and before taking the job, she was also the education minister from 1970 to 1974. During her tenure as the prime minister, Britain was in the clutches of acute inflation and unemployment. However, the economy quickly began to grow as well. She literally brought a new resurgence in the British political scenario.
Between 1966 to 1977, she served as India's first female Prime Minister and one of the most notable political leaders, recognised for her radical programmes such as the Green Revolution and the Garibi Hatao initiative in the mid-1960s. She was elected thrice as Congress President after being assigned to the Central Parliamentary Board of Congress in 1958.
Sarojini Naidu, often known as "India's Nightingale," was a poet, activist, and politician who served as the first female president of the Indian National Congress party. She was an early female political activist who, alongside Mahatma Gandhi, was actively involved in the Indian Independence struggle and promoted non-cooperation during the 1920s and 1930s. In 1947, she was elected governor of the present-day Indian state of Uttar Pradesh.
She was one of the most celebrated female political leaders of modern India, who served in a number of key government roles, both legislative and administrative, during the course of her long political career. She was the first female Chief Minister of Delhi and later became the Minister of External Affairs until 2019. She was elected to both the Rajya Sabha and the Lok Sabha and also served as Union Cabinet Minister of Information and Broadcasting during 1996.
Between 2007 and 2012, Pratibha Patil was the first female politician to be elected President of India. She was elected to the Maharashtra State Legislature for the first time at the age of 27 and was re-elected four times as MLA from the Edlabad constituency. She has also served as a Member of Parliament in both the Rajya Sabha and the Lok Sabha, and has the distinction of having never lost an election she has run in.
A Finnish politician, became the leader of the liberal Social Democratic Party in 2020 & eventually became world's youngest prime minister to serve Finland.
A German politician who served as chancellor of Germany from 2005 to 2021. She was Germany's second-longest-serving chancellor and the first woman to hold the position.
Sucheta Kriplani was born in 1908. She joined the Indian Independence Movement in 1940 and participated actively in the Quit India Movement of 1942. She was elected as a member of the Constituent Assembly of present-day Haryana and a member of the Flag Presentation Committee. She was not just a freedom fighter and a government official; she was also the first woman to become the Chief Minister of any Indian state.
A Pakistani politician, was the first woman to head a Muslim country in contemporary history. She was Prime Minister of Pakistan for two terms, from 1988 to 1990 and 1993 to 1996.
A former Lok Sabha member who, at the age of 29, became the country's youngest minister of state when she took over the rural development ministry. In the 2009 parliamentary elections, she ran for the Torah constituency in Meghalaya.
BPAC's Contribution To Help Empower Women In The Political Sphere
Bangalore Political Action Committee recognizes the need for increased participation of women in politics in India. For this reason, it has taken up several awareness campaigns that can influence the political intuitions to promote women's involvement while also empowering women to exercise their fundamental rights in the political sphere. B.PAC's  B.CLIP program has witnessed a steady increase in the number of women leaders gaining positions in various political parties throughout the years. Surprisingly, this increase parallels the global average increase in women's representation in parliaments. Women's meaningful engagement in national, municipal, and community leadership roles is becoming increasingly important to world leaders. The B.CLIP program provides a platform for female leaders who want to work in government and bring openness and accountability to the public sector. The fact that 38% of B.CLIP leaders hold party positions is compelling evidence that the B.CLIP programme promotes political inclusion. Women's ability to participate in public life is contingent on their safety. As a result, the BPAC is committed to safeguarding women's safety by making effective recommendations to the appropriate authorities.
So, Why Women In Politics?
Women have an indisputable positive impact in politics, and their participation is critical—but it's important to remember that women are not a homogeneous group. Women have highly diverse life experiences depending on whether they are young or old, educated or unskilled, and whether they reside in rural or urban settings leading to very distinct priorities and requirements. Women's representation is, without a doubt, one of the most important components in the development of inclusive, responsive, and transparent democracies. While there is still a long way to go in terms of women's political representation in India, particularly at higher levels of government, we can hope for policy changes that will help India improve on other indicators of women's economic participation and opportunity, educational attainment, and health and survival.
References: