B.PAC's COVID Relief Response in Bengaluru during the COVID-19 pandemic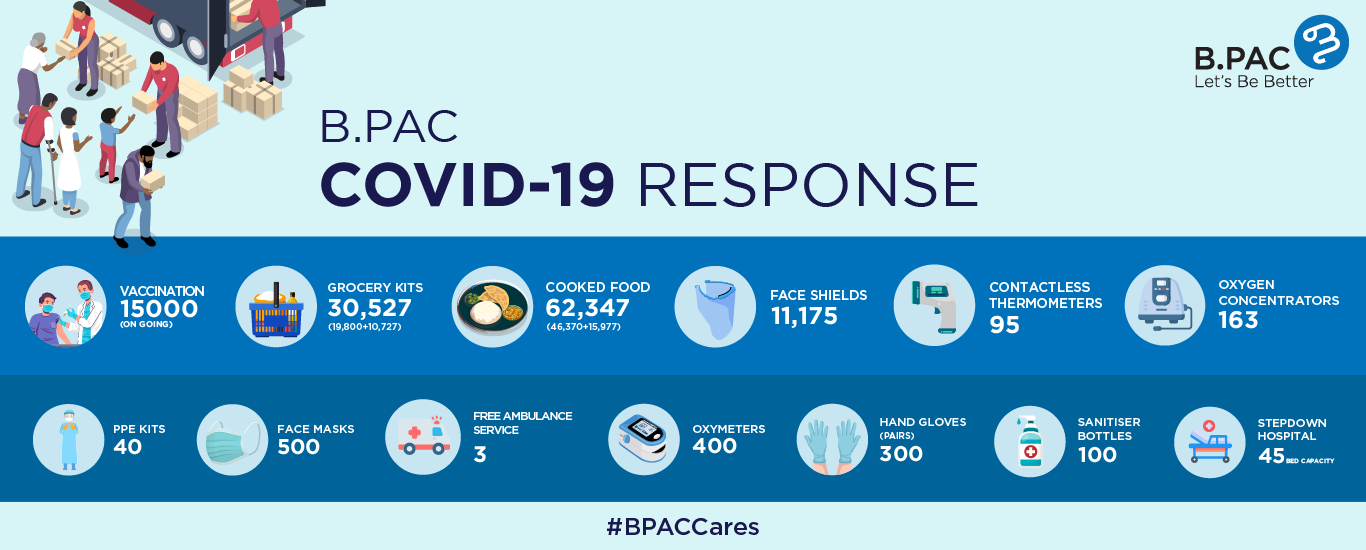 The COVID-19 virus has proliferated across the globe causing large-scale destruction to mankind.  Though the lockdown measures helped in containing the spread, the devastation it has left in its wake on people's livelihood and their way of life, is immense. We were plunged into an unprecedented situation where the even most experienced and equipped were grappling with ways to cope. The pandemic did expose the cracks in our society's foundation, but it also compelled us to marshal our strength and resilience.
B.PAC had the opportunity to serve the needy during the pandemic with the help of unflinching support that poured in from various organizations and individuals and even local administration that helped to carry out COVID-19 Relief Response initiative. B.PAC was able to respond to the needs of the vulnerable sections of the society, help them recover and thrive in the present conditions.
The organization has made several vital strides to lessen the COVID-19 impact and uplift the citizens of Bengaluru. With the support of organizations like Biocon Foundation, Mazumdar Shaw Philanthropy (MSP), ACT Grants, Sattva Consulting, Give India (GI) Foundation, Sri Krishna Wellness, Yoga and Cultural Centre, Akshaya Patra Foundation, Cognizant Foundation, TE Connectivity, Jana Bank, Quess Corp Ltd, SVP India, CWE-Catalyst for Women Entrepreneurship, CG of Israel for South India, JFrog, KSDWCL, Rotary South Parade, Rotary Club for Bangalore Cantonment, RTIT, Raintree Media, Bangalore Little Theatre, Sanghamitra Foundation, Trivium Solutions, Cytecare Hospitals and Canadian International School, B.PAC team was able to carry out vaccination drives, donate grocery kits, provide medical equipment support, and distribute free meals to the underprivileged sections like low-income groups and underprivileged women.
B.PAC is also grateful for the individuals who came forward to support the initiative in their generous capacity. We would like to thank Nooraine Fazal, Dilip and Nina Shah, Yamini Mazumdar, NK Lenka, Nadia Haridas, Prema Vishwanathan, Sridhar Ramanathan, Rajesh K Moorti, Chitra Talwar, Anisha Bhandary, Mimi Parthsarathy, Revathy Ashok, Chandy Koshy, Fourell appliances private limited, Vivek Shantharam Nagarkatti, Soniya Seth, Kushi and Sinchana for their contributions to the cause.
B.PAC was able to conduct multiple COVID-10 vaccination drives across Bengaluru, vaccinating over 15,000 underprivileged citizens. A total of 30,527 grocery kits, 62,347 cooked meals have been distributed among the poor migrant workers across the city and in some inaccessible areas too.
Asha workers, doctors, nurses who are fighting on the frontiers to help the public were equipped with 11,175 face shields, 300 gloves, 500 face masks, 40 PPE kits, and 100 sanitizer bottles. 95 contactless Thermal Scanner (BBMP), 163 oxygen concentrators and 400 oximeters were distributed to various government hospitals to assist in checking the body temperature of hospital personnel, masses, and the staff at government offices. B.PAC also facilitated in supplying 3 free ambulance services and helped in arranging one step-down hospital with 45 bed capacity.
The contributions of our B.CLIP civic leaders who continue to work tirelessly and selflessly in individual capacity, are truly noteworthy. They make B.PAC proud when their efforts make the world a better place. This knowledge rejuvenates and strengthens B.PAC's resolve to aim for a better normal.
The pandemic is truly an opportunity to examine all the things that have gone wrong in the recent past and acknowledge the fact that we need to listen to the warning signs more keenly, incorporate and adapt to necessary positive changes. If citizens of Bengaluru come together, their collective problem-solving skills, knowledge and experience can transform the city; and this endeavour must be realised by all.
The future is not preordained for us; it is ours to re-shape. In the face of the crisis, B.PAC remains committed to make an impact that matters, with unity, empathy, and resilience.
For the present and the future generations.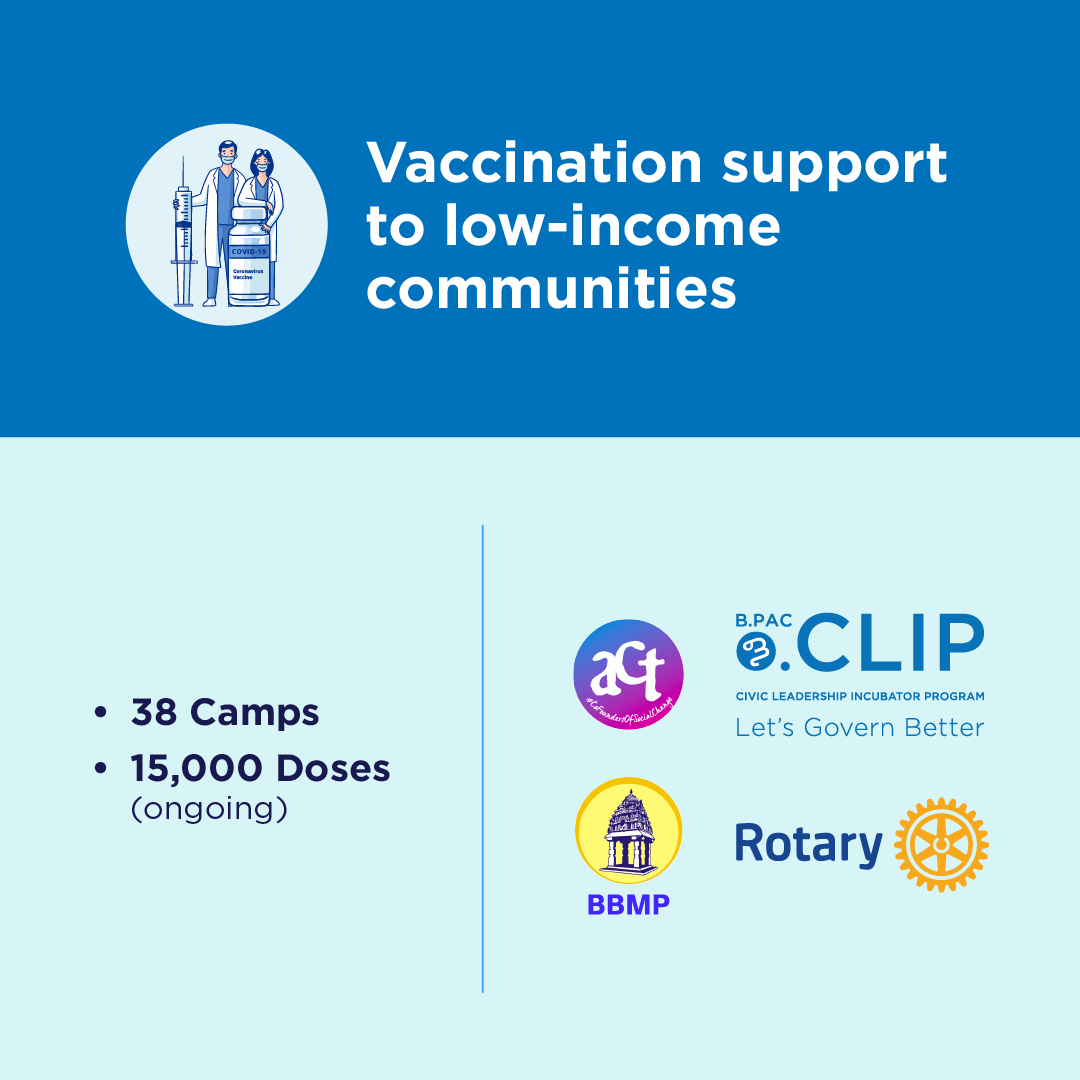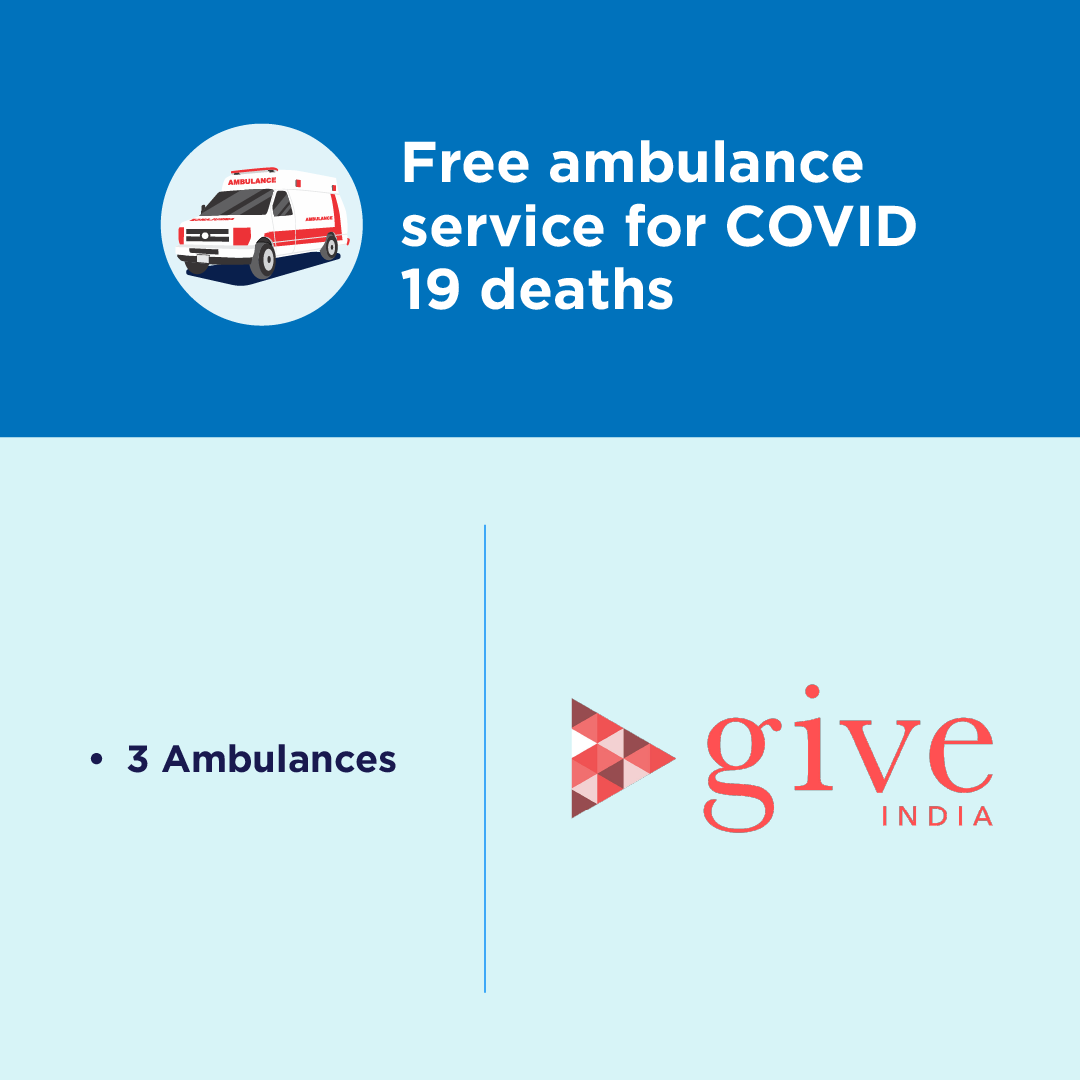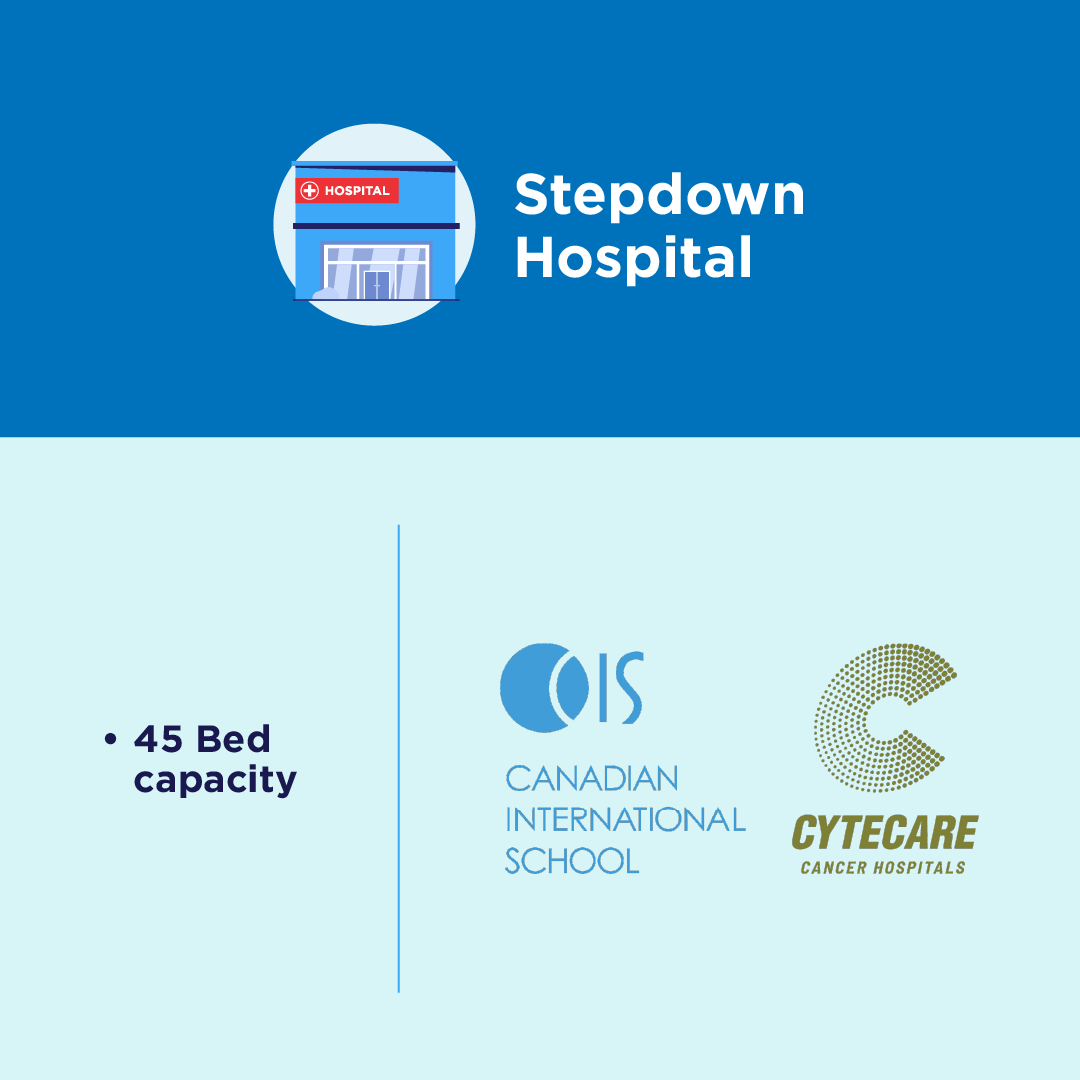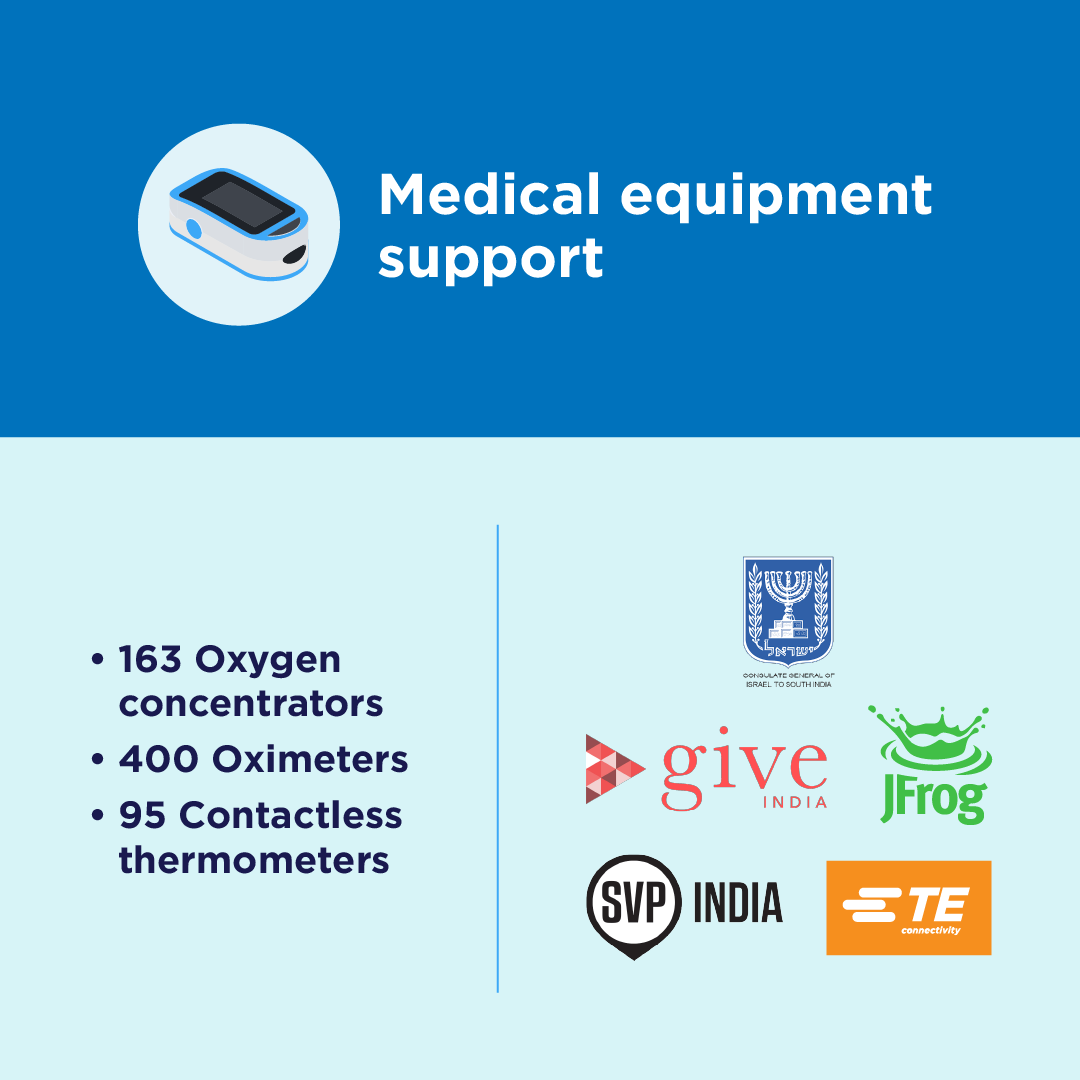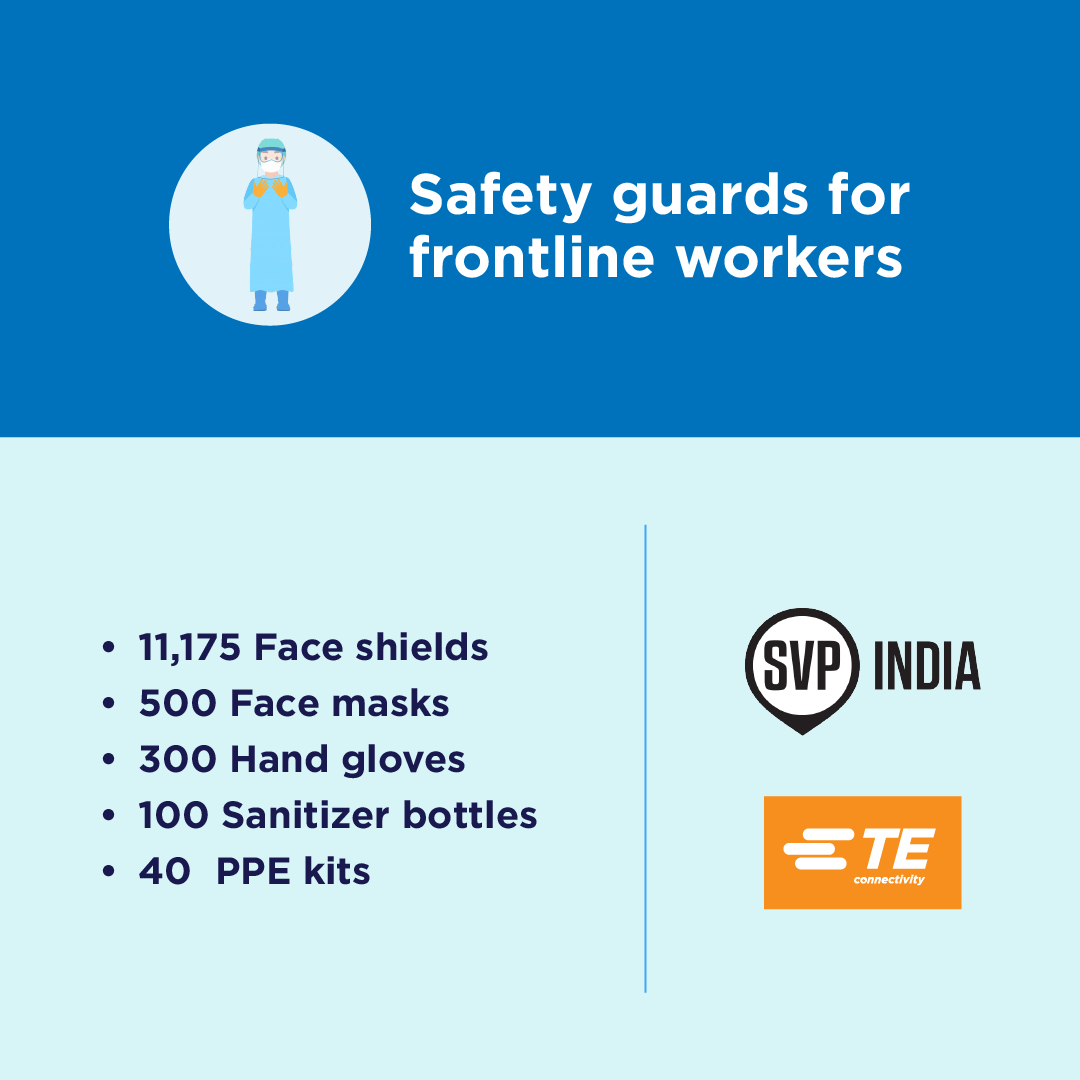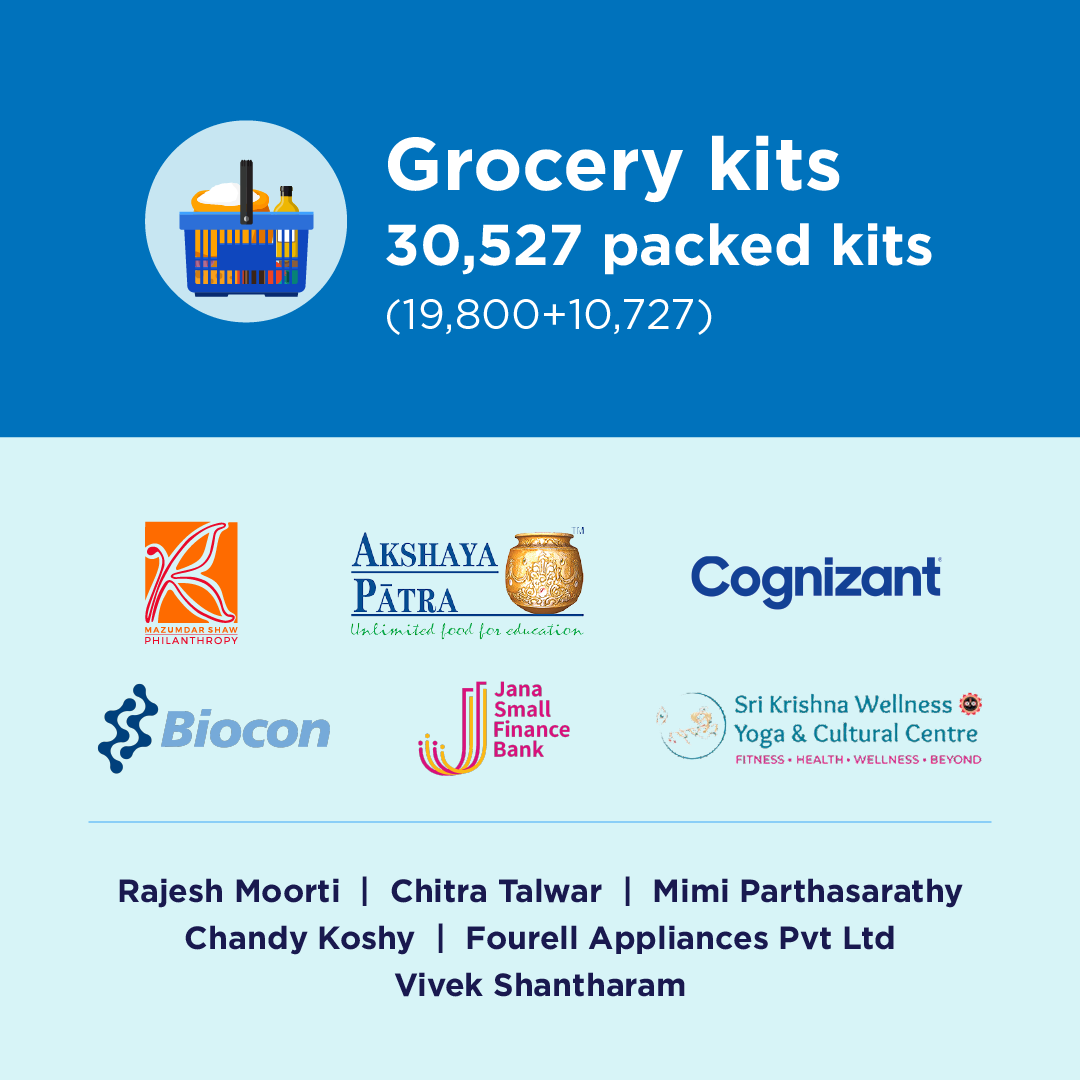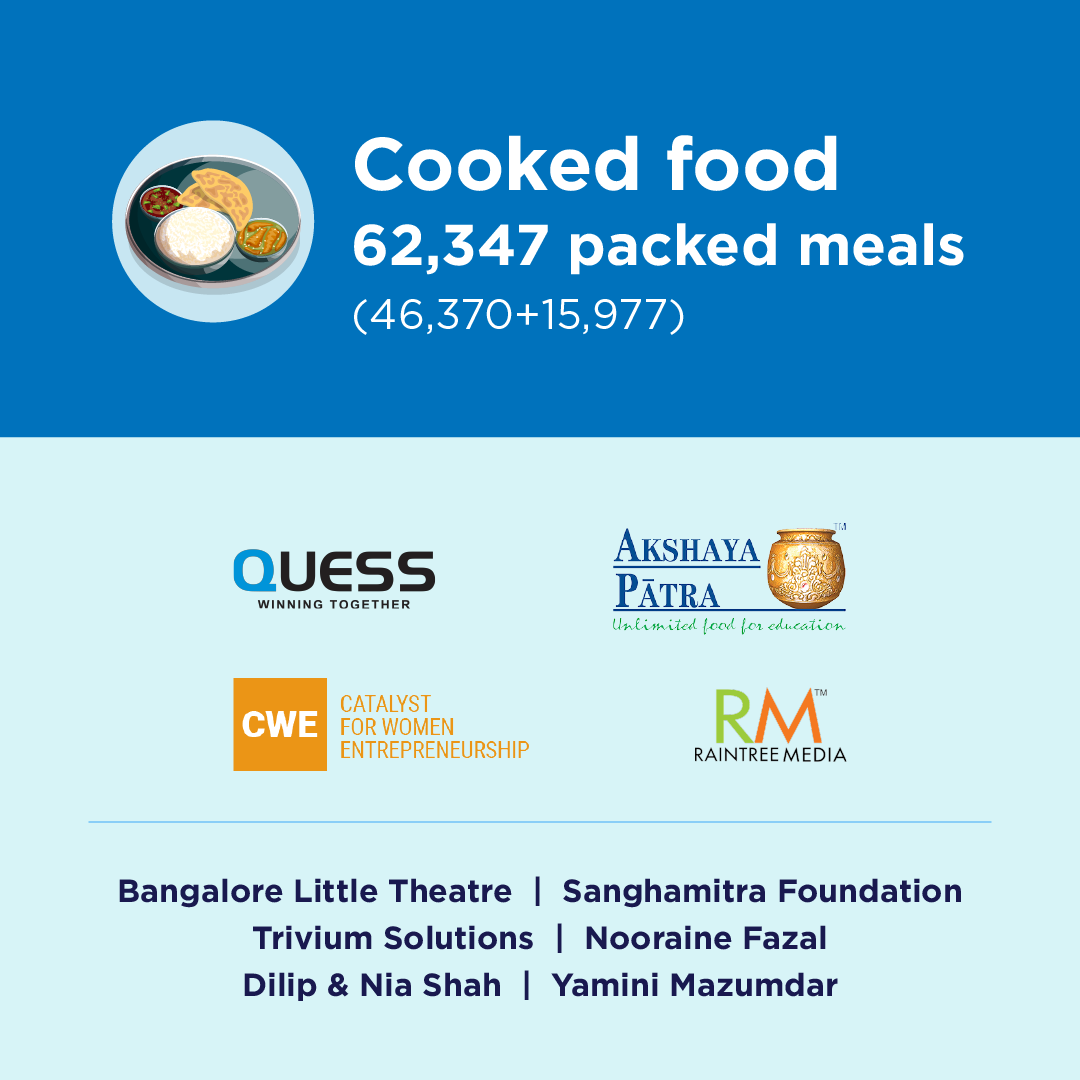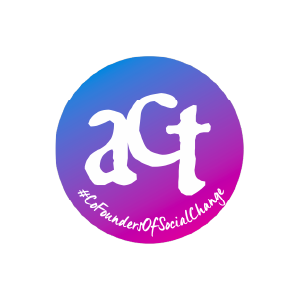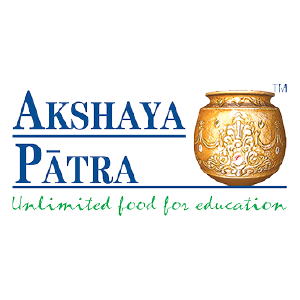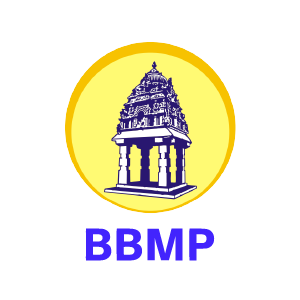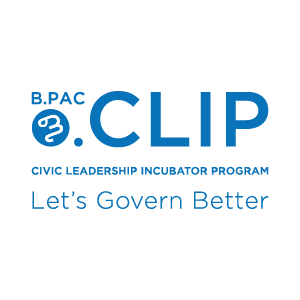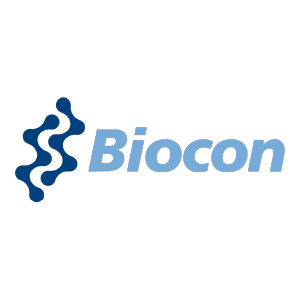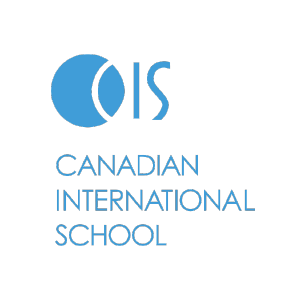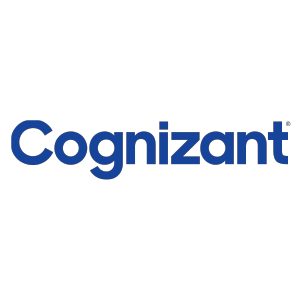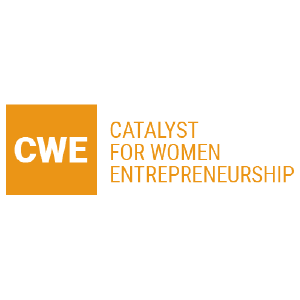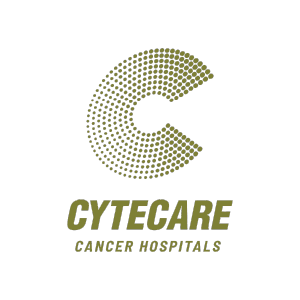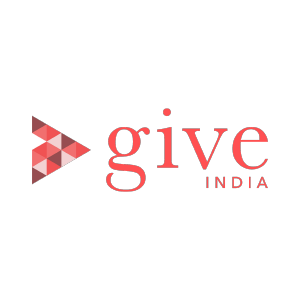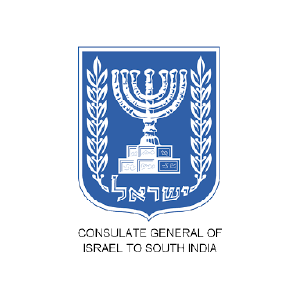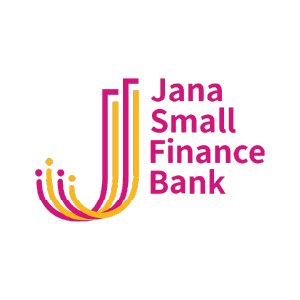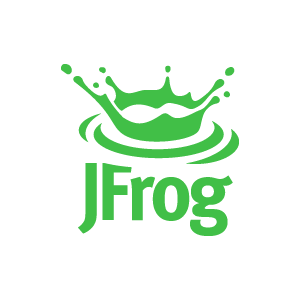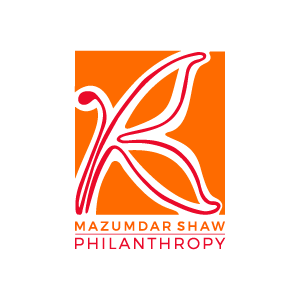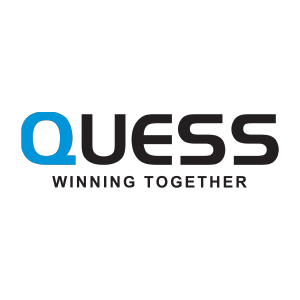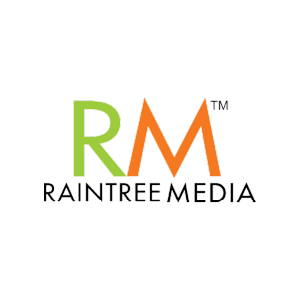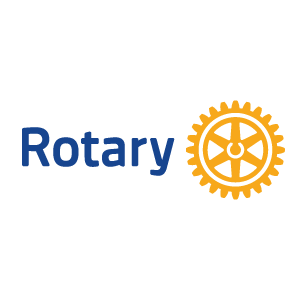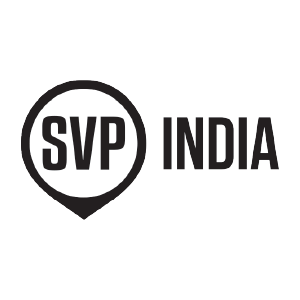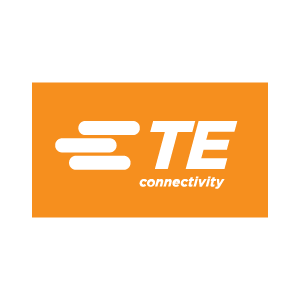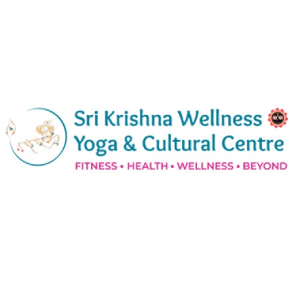 Someone has rightly said, kindness can transform someone's dark moments into a blaze of light. In this unprecedented time, when helping one another might get critical to our future; there exists a wonderful group of individuals who extended their helping hands without thinking twice. It was truly a humbling experience & a matter of great honour for B.PAC to have joined hands with all the wonderful organizations and individuals who supported on this journey of social cause. B.PAC extends a heartfelt gratitude to all the partners who supported in this journey.
Contributions Of B.CLIP Leaders
They Are The Change We Wish To See In The World
In the age when time and life are two precious commodities, it is impossible to find the right words to adequately thank all the B.CLIP leaders who went the extra mile to make this initiative a successful one.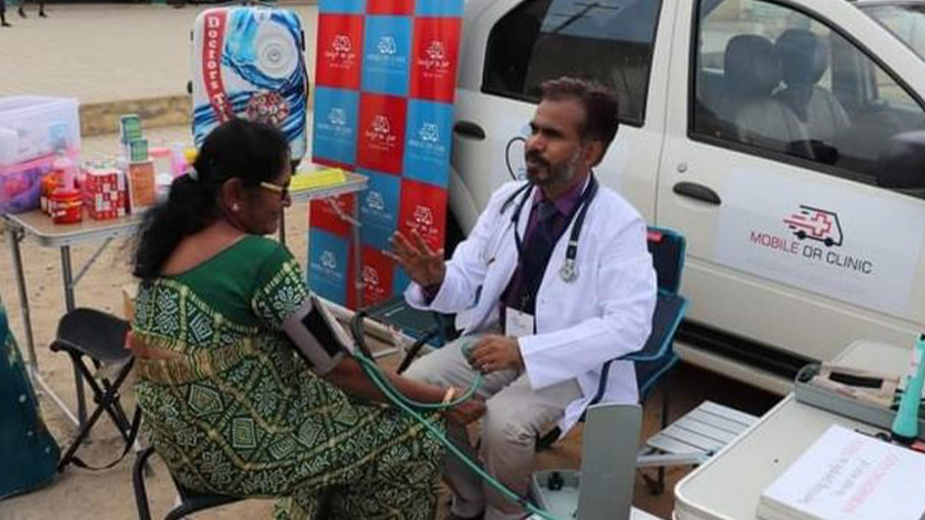 B.PAC would like to highlight the gallant efforts of the B.CLIP leader Dr. Sunil Kumar Hebbi whose compassion towards humanity remains unparalleled. Amid the COVID-19 pandemonium, Dr. Sunil Kumar Hebbi chose to deliver his service by converting his four-wheeled vehicle into a mobile clinic. Unmindful of the pandemic, he is known to work 20 hours daily, where he drives around Bengaluru treating patients during the day & remains available at BBMP clinic at night. The travelling messiah's dedication towards service helped him earn several awards including the prestigious Kempegowda Award & has been featured on several newspapers like Deccan Herald & The Hindu.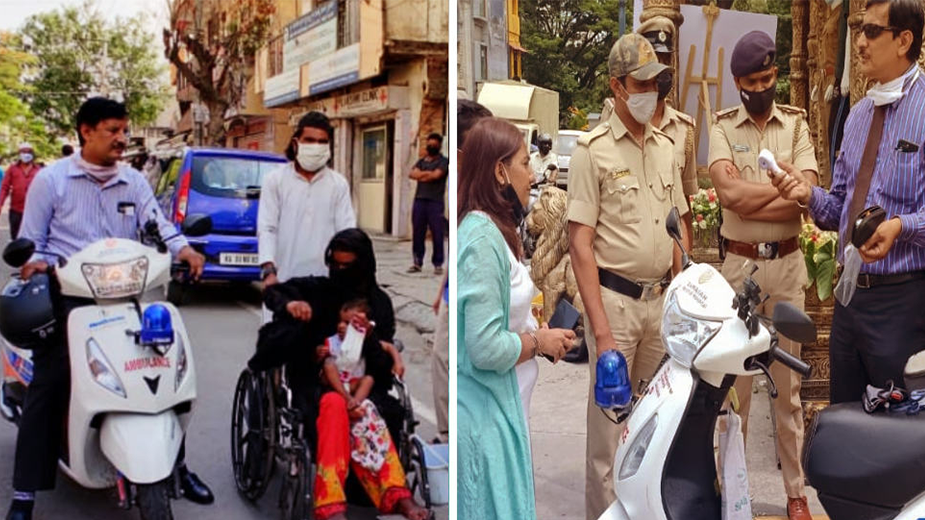 B.PAC would also like to take this opportunity to extend special thanks to Dr. Syed Moinuddin Shabbir whose valiant actions made it possible for many poor patients to fight the unforgiving pandemic successfully. Dr. Syed Moinuddin Shabbir's modus operandi includes making house calls & treating patients by converting his bike into an ambulance, during the lockdown. His selfless endeavour to provide COVID care to the sick irrespective of the circumstances, is an  extraordinary feat of the potential of humankind in dire situations. He has been felicitated as Corona Warrior & his exemplary social services have been featured in articles by several renowned newspapers like Deccan Herald, Bangalore Mirror, Times Of India etc.
BPAC's COVID-19 Relief Activities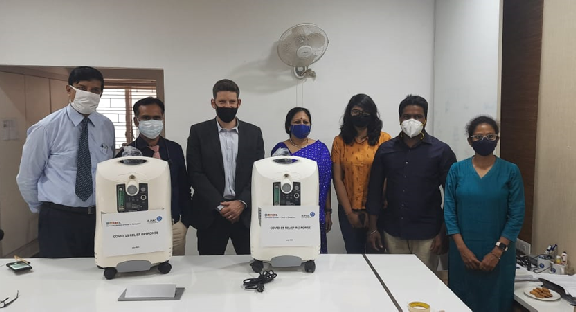 In Frame: Ariel Seidman, Deputy Consul General, Consulate General of Israel to South India hands over oxygen concentrators to B.CLIP Leaders, Dr. Syed Moinuddin & Dr. Sunil Kumar Hebbi.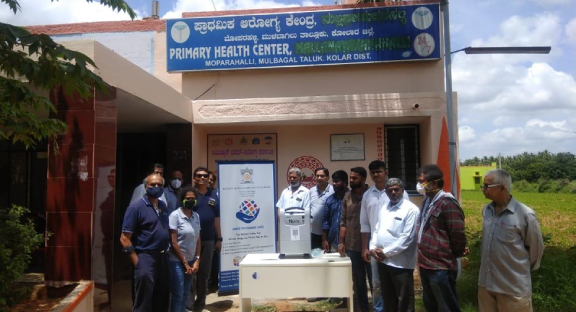 In Frame: B.PAC & Rotary Bangalore South Parade jointly donate oxygen concentrators to Primary Healthcare Centers in Mulbagal district, Bengaluru.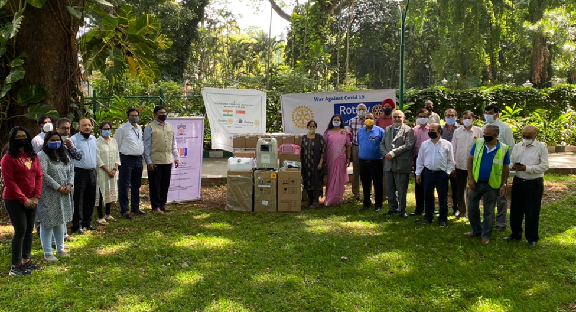 In Frame: B.PAC, Rotary Bangalore South Parade & Rotary Bangalore Cantonment hand over COVID care medical equipment to Dr. Ashwathnarayan C N, Deputy Chief Minister, Government of Karnataka.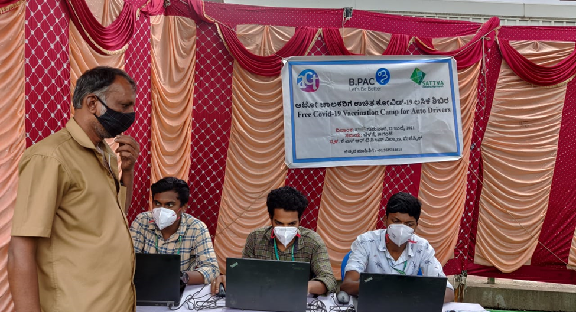 In Frame: B.PAC in association with ACT, Sattva & United Way Bengaluru conducted vaccination drives for auto & cab drivers, women and under-privileged at different locations across Bengaluru.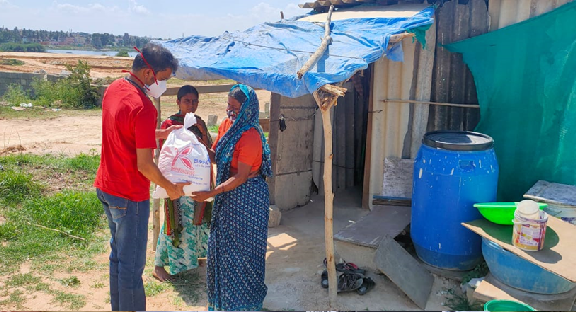 In Frame: B.PAC in association with Mazumdar Shaw foundation, Akshaya Patra & various other organisations distributed grocery kits to the needy.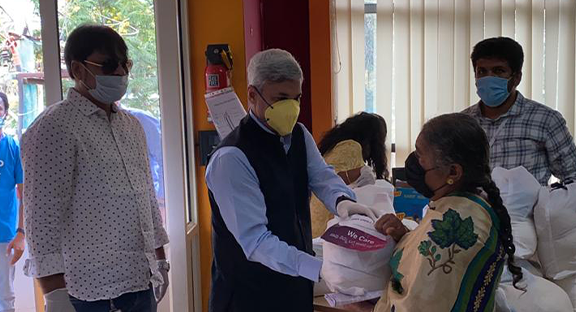 Mr. Ajay Kanwal, MD & CEO Jana Bank, handing over grocery kits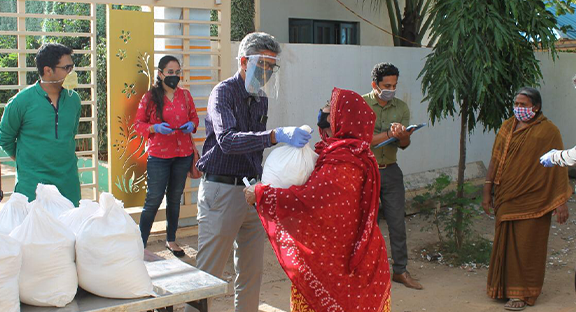 Deepak Prabhu Matti, Director – CSR, Cognizant Foundation distributing grocery kits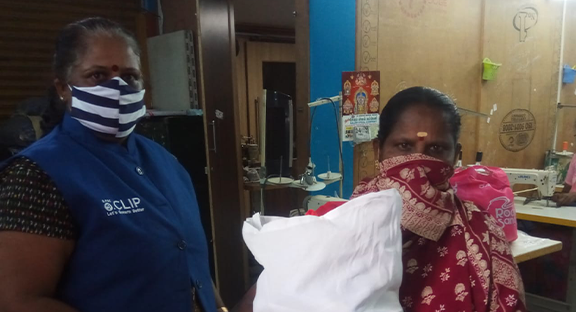 Distribution of grocery kits by B.CLIP Civic leaders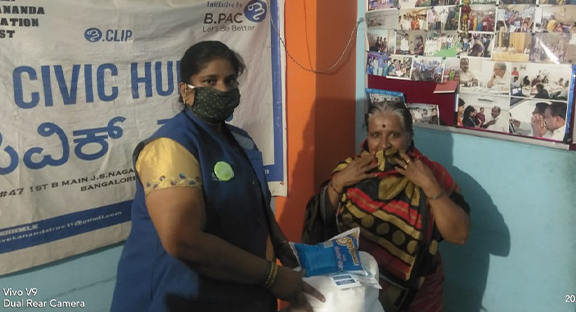 Distribution of grocery kits by B.CLIP Civic leaders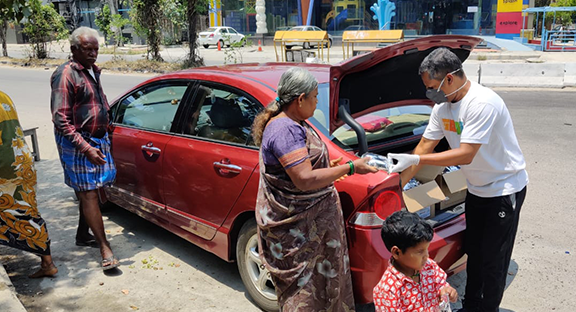 B.CLIP Leaders distributed food packets across Bengaluru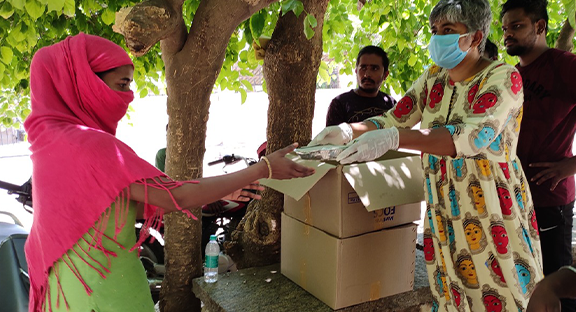 B.CLIP Leaders distributed food packets across Bengaluru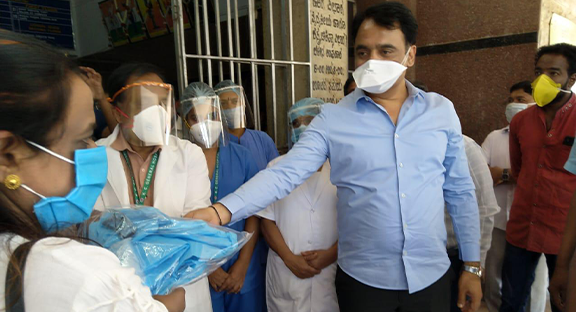 Dr. C N Ashwath Narayan, Deputy CM, distributed face shields to doctors and health workers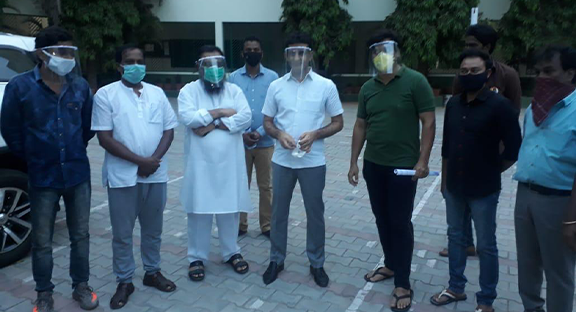 Rizwan Arshad, MLA Shivajinagar, distributed face shields to BBMP health workers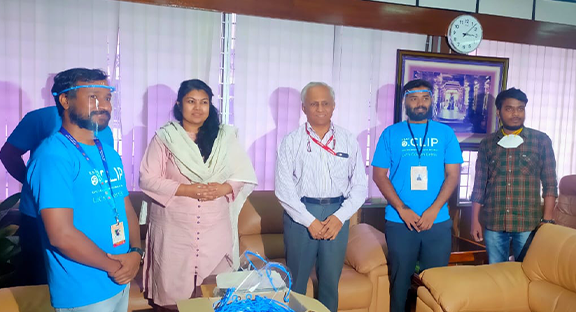 Sowmya Reddy, MLA Jayanagar, handed over face shields to Dr. Gangadhar, Director, NIMHANS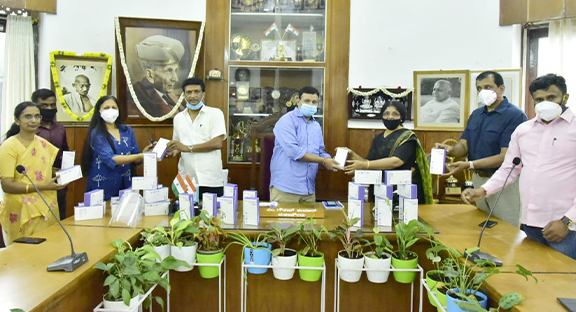 Revathy Ashok, CEO, B.PAC and Padmashree, partner SVP India, handed over scanners to Gautham Kumar, BBMP Mayor, and Ram Mohan Raju, Deputy Mayor, Bengaluru City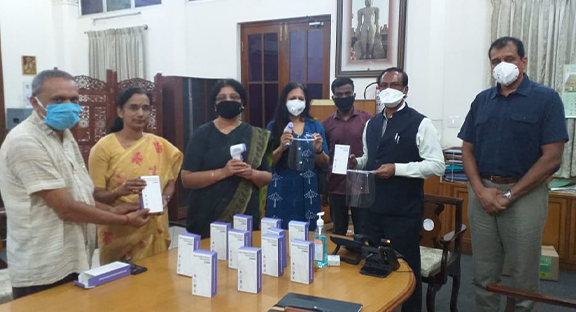 Revathy Ashok, CEO, B.PAC and Padmashree, partner SVP India, handed over thermal scanners to Anil Kumar, BBMP Commissioner, Bengaluru City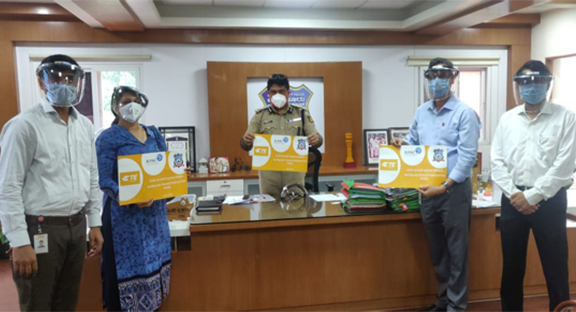 Revathy Ashok, CEO, B.PAC along with Team TE Connectivity, handed over face shields to Bhaskar Rao, Commissioner of Police, Bengaluru City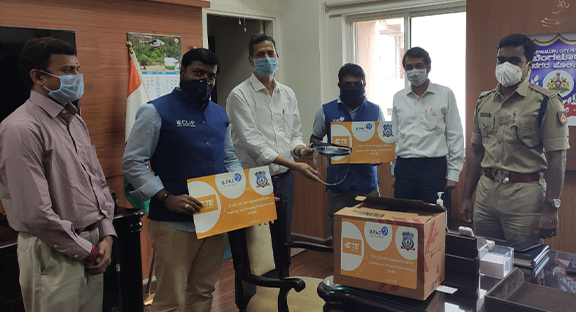 B.CLIP Civic Leaders along with Team TE Connectivity, handed over face shields to M N Anucheth, DCP, Whitefield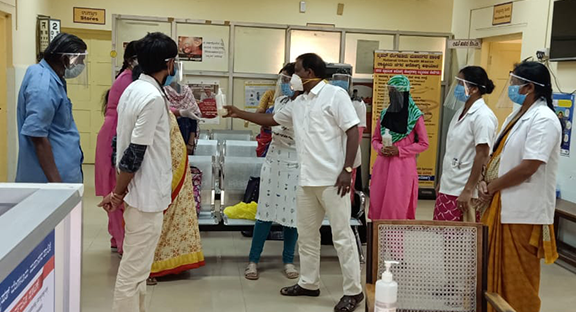 B.CLIP Leaders handing over sanitsers to ASHA Workers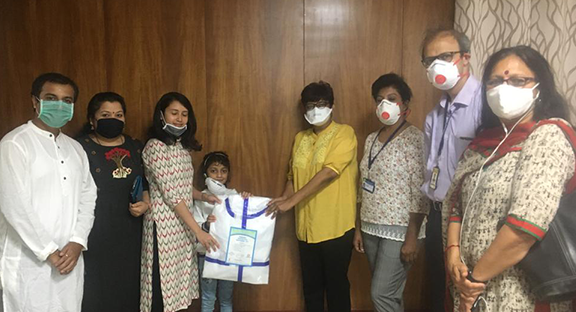 Handed over PPE Kits & Face Masks to Dr Smitha S Segu, Plastic surgeon, Victoria Hospital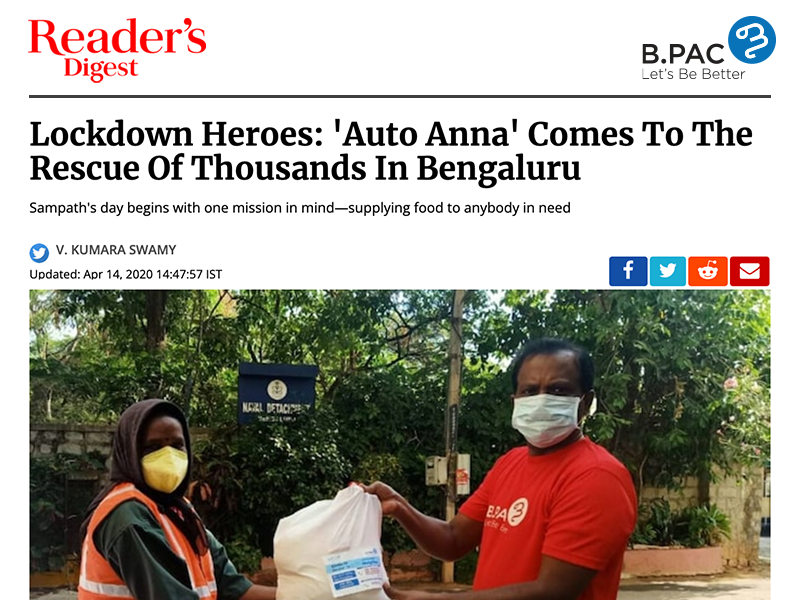 Reader's Digest featured the selfless efforts of B.CLIP leader and general secretary of Adarsha Auto Drivers Union, C. Sampath, who along with other volunteers would visit government food distribution centres and collect thousands of cooked food packets and hand them to those in need.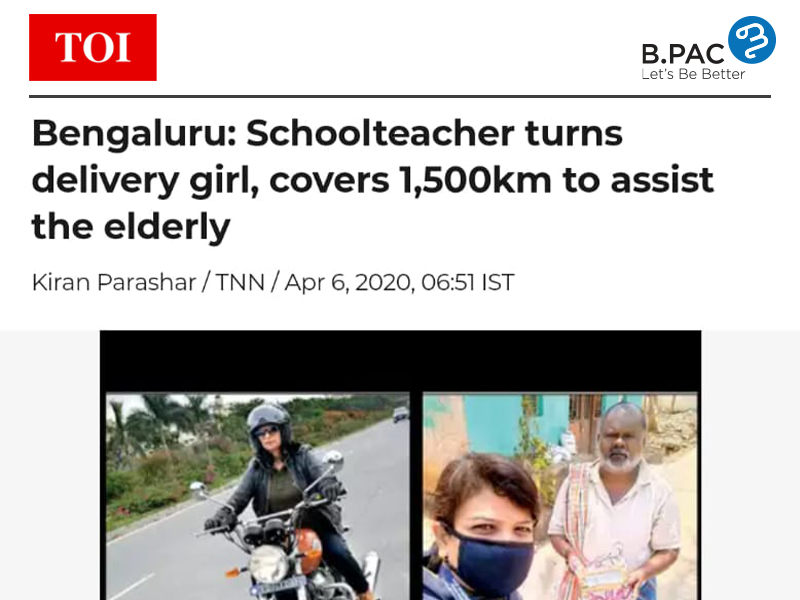 Gallant efforts of a B.CLIP member and Bengaluru science teacher, Dashmi Mohan, was highlighted by Times Of India, who volunteered for door-to-door service during the pandemic to provide supplies to the elderly. She crisscrossed a whopping distance of 1,500 kms on her trusty bike!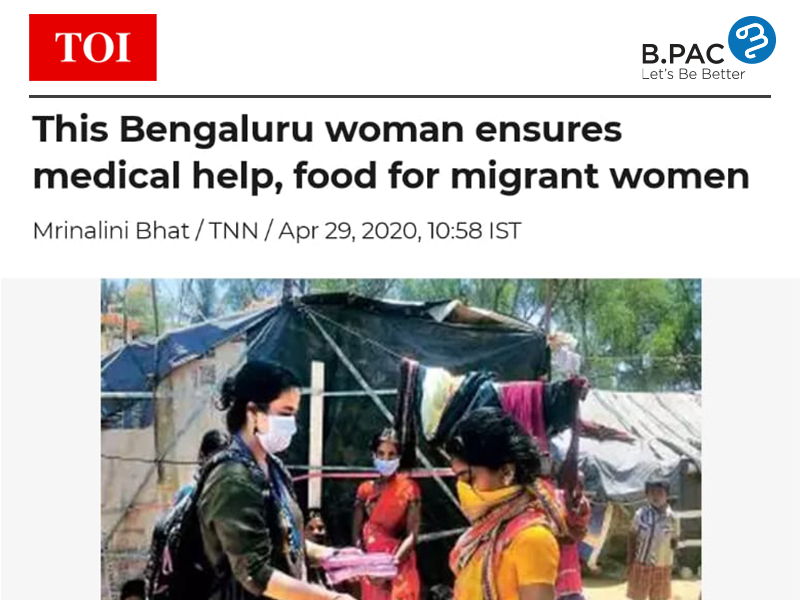 Times Of India sheds light on the brave yet heartwarming contribution of Uma Rajeshwari, who aided nearly half a dozen pregnant women and other female migrant workers with medical care.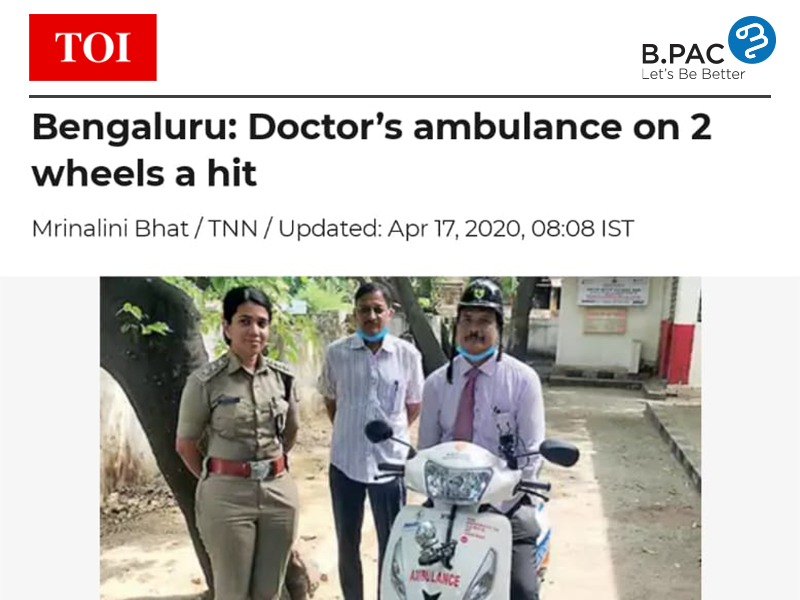 The story of city's very own congenial doctor, Dr. Syed Moinuddin Shabbir, was covered by Times Of India, who turned into a gallivanting healer, providing medical assistance to the residents on his two wheelers.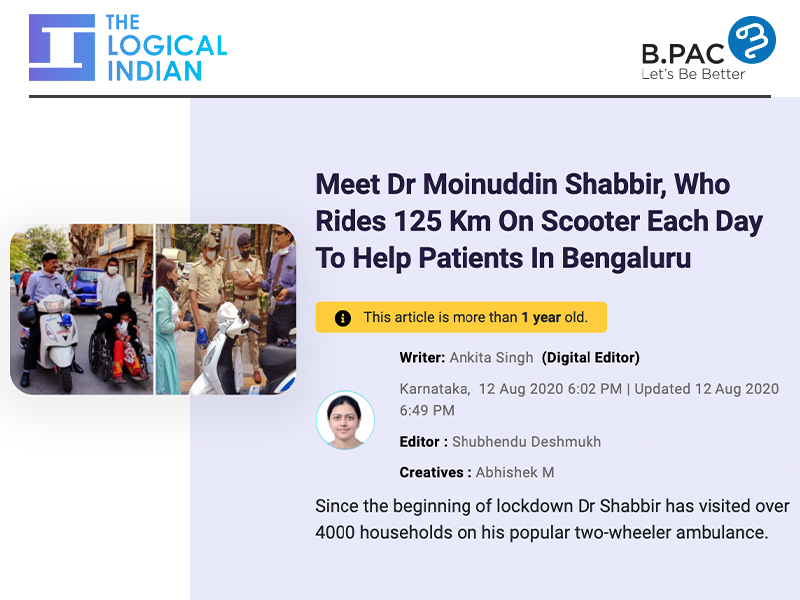 The Logical Indian featured efforts of B.CLIP leader Dr. Syed Moinuddin Shabbir, who had visited over 4000 households on his motorbike to provide medical care.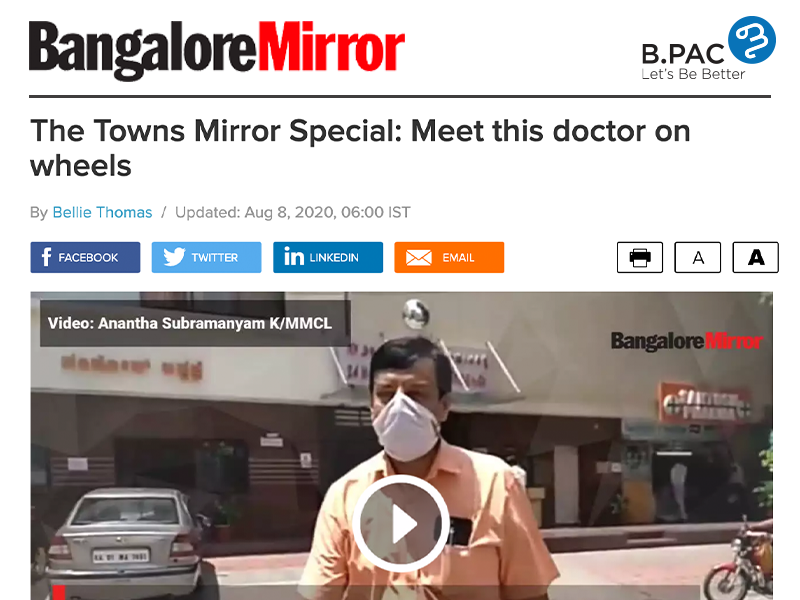 Bangalore Mirror highlighted selfless actions of B.CLIP leader Dr. Syed Moinuddin Shabbir, who in the wake of the pandemic chose to make numerous house calls to treat his patients on his scooter.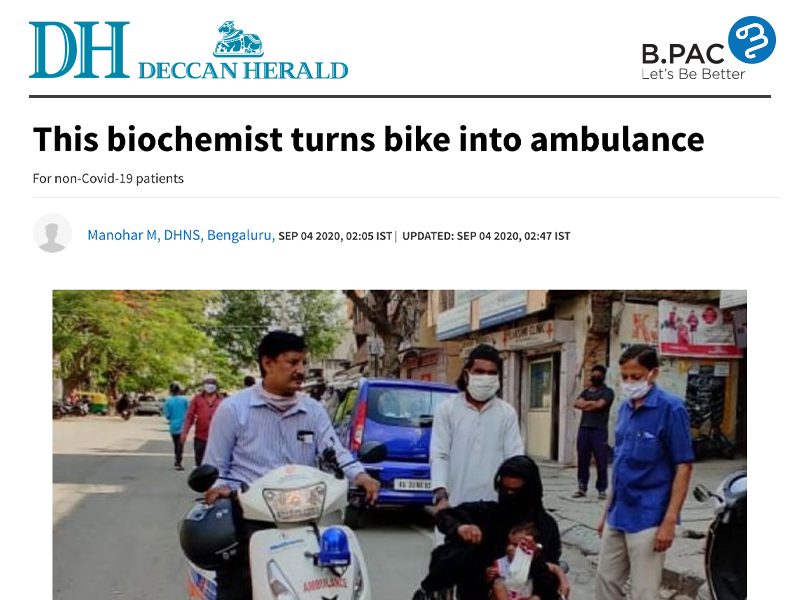 Valiant efforts of Dr Syed Moinuddin were featured by Deccan Herald, who played messiah by visiting containment zones to provide medical assistance to those in need.