B.PAC's COVID Relief Response in Bengaluru during the COVID-19 pandemic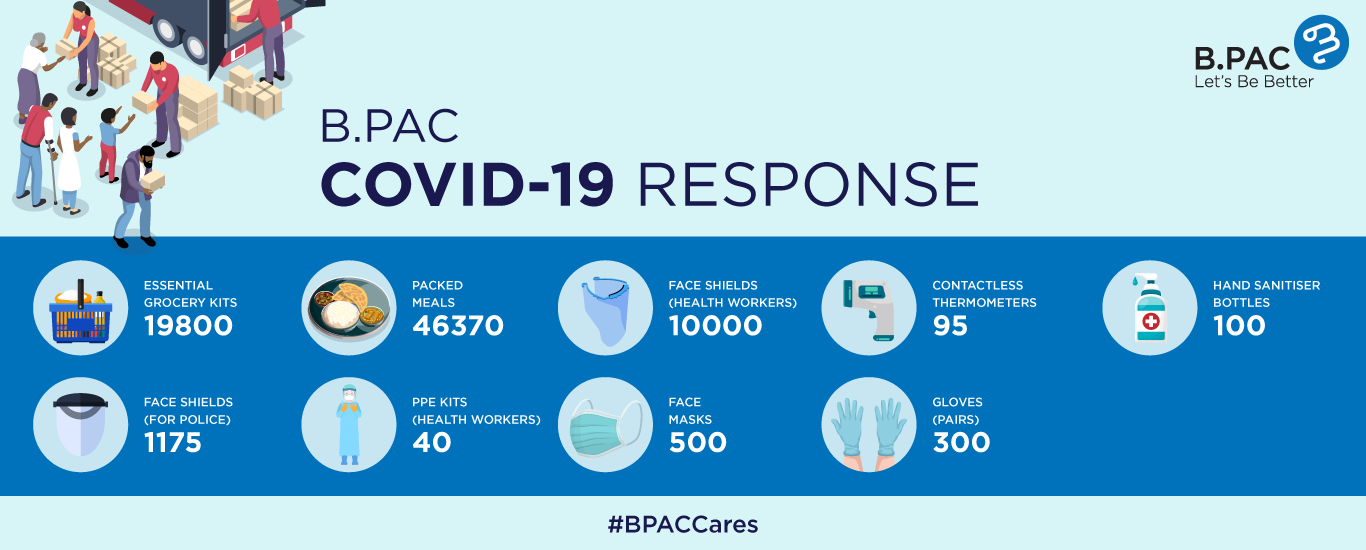 The COVID-19 virus has proliferated across the globe causing large-scale destruction to mankind.  Though the lockdown measures have helped in containing the spread, the devastation it has left in its wake on people's livelihood and their way of life is immense. For the past three to four months, the world, including India, has been hit by coronavirus. Economies across the world have fallen. It has made people's lives miserable. Due to the lockdown people have been posed with a challenge to face in the coming days as various firms have closed their doors. People who were dependent on daily wages such as migrant workers, construction workers, and street vendors are left with nothing to eat. Many organizations including the government and the public have come forward to help those affected. Among such organizations, B.PAC has been working selflessly for the development of every citizen of Bengaluru City.
B.PAC has responded to the suffering of the victims of this lockdown. Many philanthropic activities have been carried out with the support of organizations like Biocon Foundation, Cognizant Foundation, TE Connectivity, Jana Bank, QUESS, SVP India, RTIT, Raintree Media, Bangalore Little Theatre, Sanghamitra Foundation, Trivium Solutions, and CWE-Catalyst for Women Entrepreneurship. The economically weak were provided with essential grocery kits and packed meals and the frontline workers such as police, medical workers, and BBMP sanitation personnel who are at the forefront of the fight against Coronavirus, are given helping hands by providing them with safety gear, PPE kits, face shields, and masks.
19,800 grocery kits, 46370 packed meals have been distributed among the poor, migrant workers across the city in some inaccessible areas too.
Asha workers, doctors, nurses who are fighting on the frontiers to help the public were equipped with 10,000 face shields, 300 gloves, 500 face masks, 40 PPE kits, and 100 sanitizer bottles. 95 contactless Thermal Scanner (BBMP) has been distributed to various government hospitals to assist in checking the body temperature of hospitals, masses, and staff coming to the government offices. 1175 sturdy face shields were handed over to the police department.
B.CLIP Civic leaders are a gift to Bengaluru city by B.PAC. B.CLIP Civic leaders are the backbone for all the COVID relief work that B.PAC carried out. B.PAC's work in delivering various projects to eligible beneficiaries is magnificent and admirable. B.CLIP civic leaders' best appreciated for effectively distributing the food packets and grocery kits to the needy and the helpless. When everyone feared the coronavirus and stayed home B.CLIP civic leaders selflessly helped the poor and needy by involving in the activities on the ground.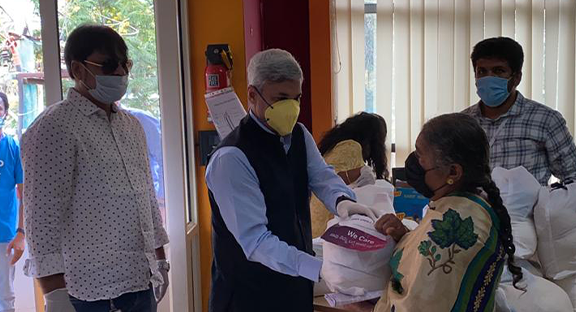 Mr. Ajay Kanwal, MD & CEO Jana Bank, handing over grocery kits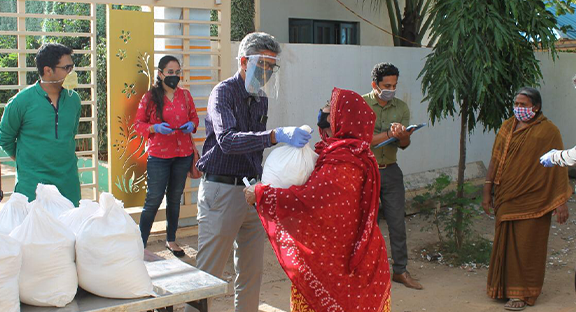 Deepak Prabhu Matti, Director – CSR, Cognizant Foundation distributing grocery kits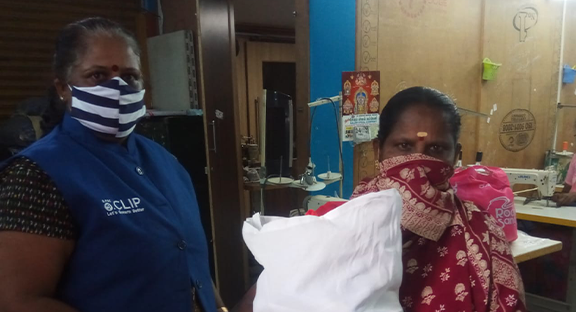 Distribution of grocery kits by B.CLIP Civic leaders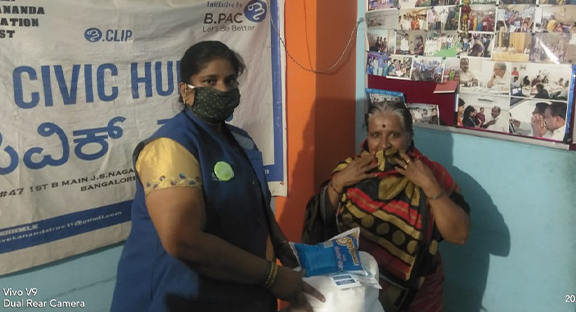 Distribution of grocery kits by B.CLIP Civic leaders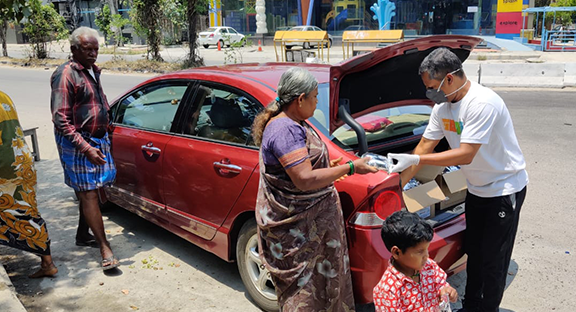 B.CLIP Leaders distributed food packets across Bengaluru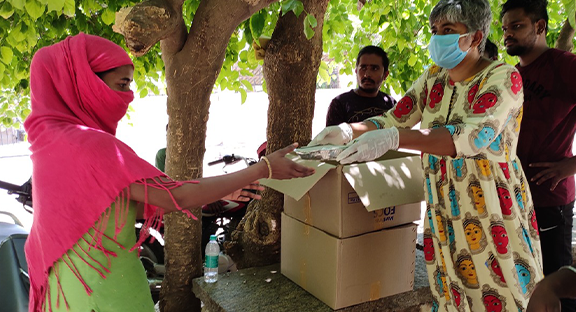 B.CLIP Leaders distributed food packets across Bengaluru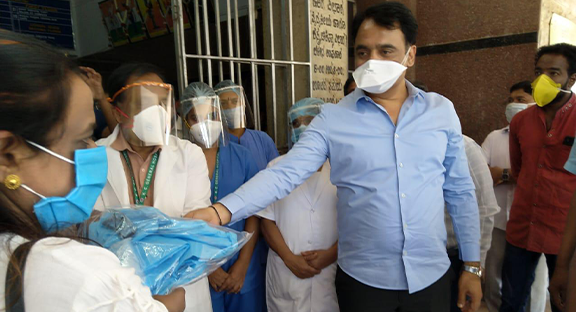 Dr. C N Ashwath Narayan, Deputy CM, distributed face shields to doctors and health workers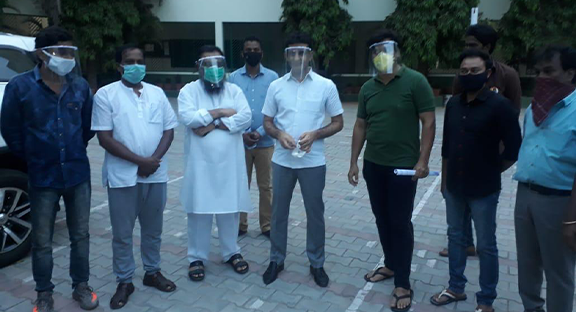 Rizwan Arshad, MLA Shivajinagar, distributed face shields to BBMP health workers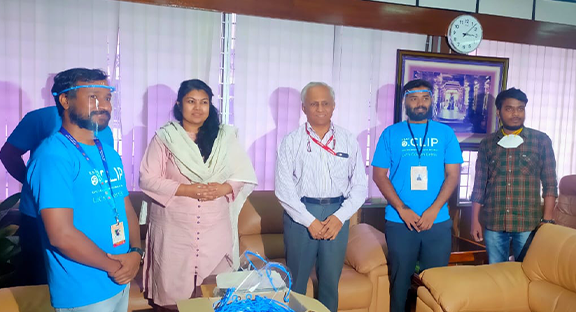 Sowmya Reddy, MLA Jayanagar, handed over face shields to Dr. Gangadhar, Director, NIMHANS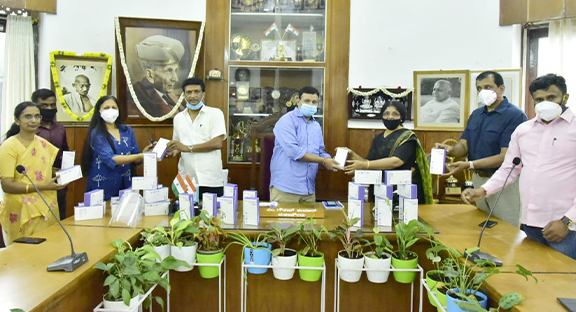 Revathy Ashok, CEO, B.PAC and Padmashree, partner SVP India, handed over scanners to Gautham Kumar, BBMP Mayor, and Ram Mohan Raju, Deputy Mayor, Bengaluru City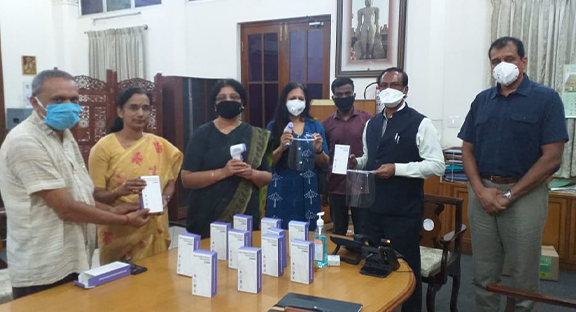 Revathy Ashok, CEO, B.PAC and Padmashree, partner SVP India, handed over thermal scanners to Anil Kumar, BBMP Commissioner, Bengaluru City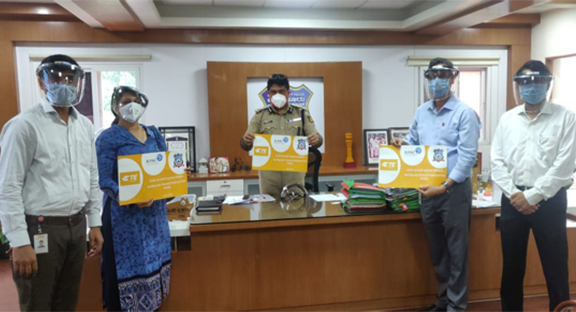 Revathy Ashok, CEO, B.PAC along with Team TE Connectivity, handed over face shields to Bhaskar Rao, Commissioner of Police, Bengaluru City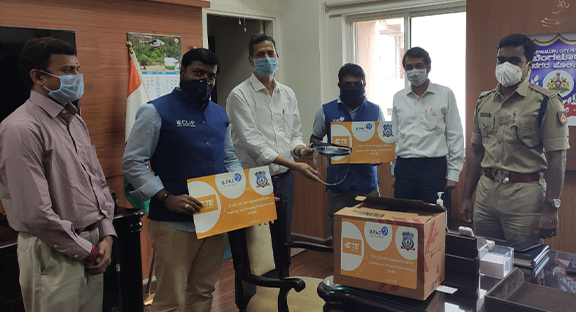 B.CLIP Civic Leaders along with Team TE Connectivity, handed over face shields to M N Anucheth, DCP, Whitefield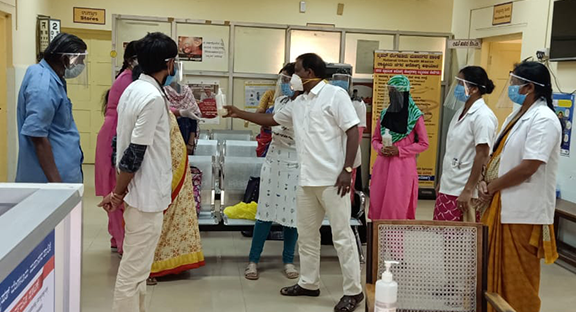 B.CLIP Leaders handing over sanitsers to ASHA Workers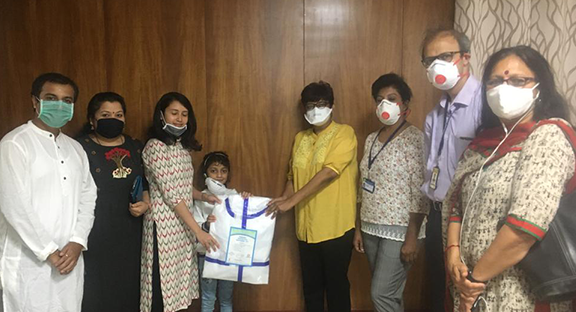 Handed over PPE Kits & Face Masks to Dr Smitha S Segu, Plastic surgeon, Victoria Hospital