Legislative Participation of MLA's
An MLA is the elected representative of the people in a constituency and is responsible for representing their interests in the state legislature. Bengaluru Urban elects 27 MLAs to the Vidhana Sabha and knowing about your respective MLA is essential for active participation in the democratic process.
By knowing who our MLA is, we can communicate our concerns, opinions, and ideas to them, which improves accountability and transparency. Engaging with the MLA, provides an opportunity to be a part of the local political process and participate in the development of policies and programs that impact communities.
In an effort to bridge the gap between the governance and citizenry, B.PAC has collected details of the incumbent MLAs of Urban Bengaluru. Equip yourself with information regarding your MLA with respect to their attendance, questions asked, net worth, education, legal cases, contact details, etc.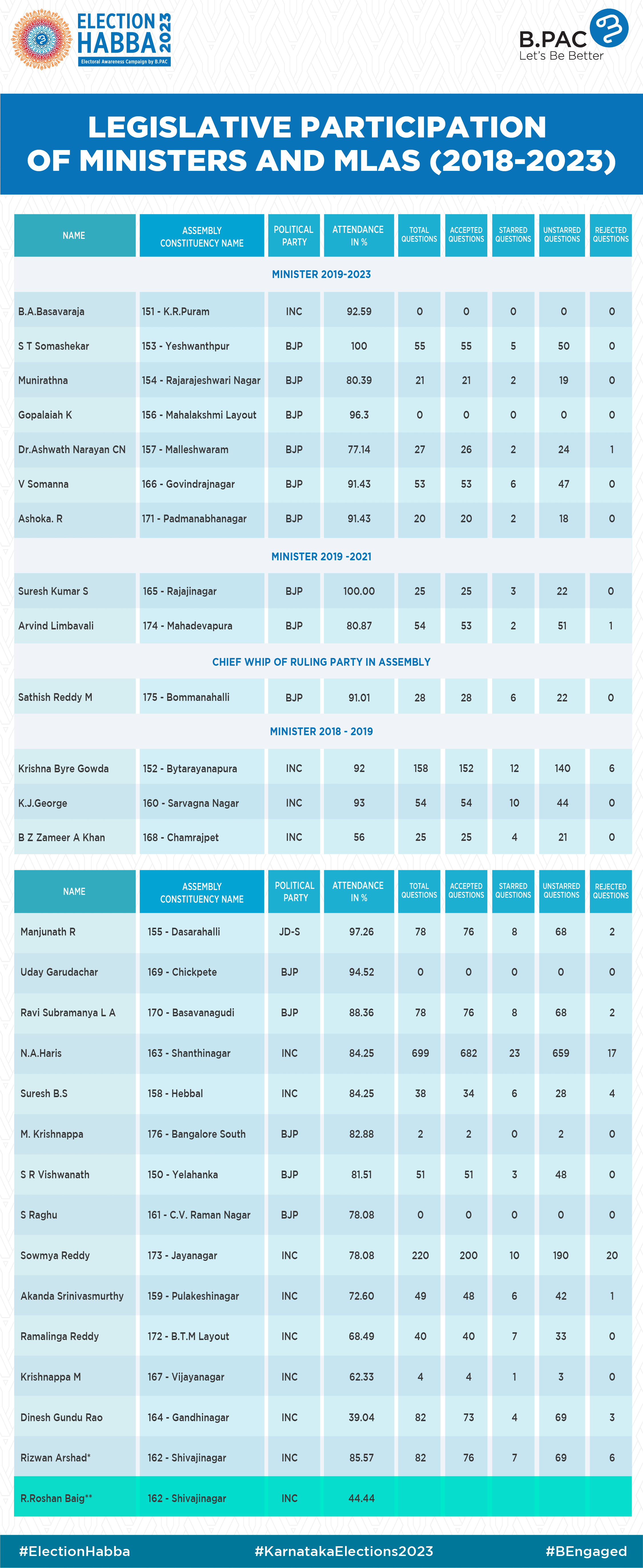 Source & Disclaimers
1. Data collected from the Office of Karnataka Legislative Assembly Secretary, Vidhana Soudha, through the Right to Information Act application.
2. Ministers attendance & questions is not shared as they are the executive branch and are expected to be present in both upper and lower houses of the Legislature.
3.Number of days applicable for each MLA who went on to be a Minister has been indicated
Unstarred Questions are the questions MLAs ask in the Sessions without prior notice. No written answer is expected for Unstarred Questions.
Starred Questions are structured questions from MLAs to particular ministries. These questions are submitted to the Speaker in advance and expect a written answer from the minister/Govt
Starred Questions Related to Constituency – Those Starred Questions which have sub questions in which MLAs specify issues particular to their constituency.
To understand more on Questions in Legislative assembly; Chapter 7, page 18 onwards – https://www.kla.kar.nic.in/assembly/rop_e.pdf