B.PAC and WRI India Team Up for Personal2Public Campaign for Sustainable Urban Mobility in Bengaluru
Release of Bengaluru Commuter Study Report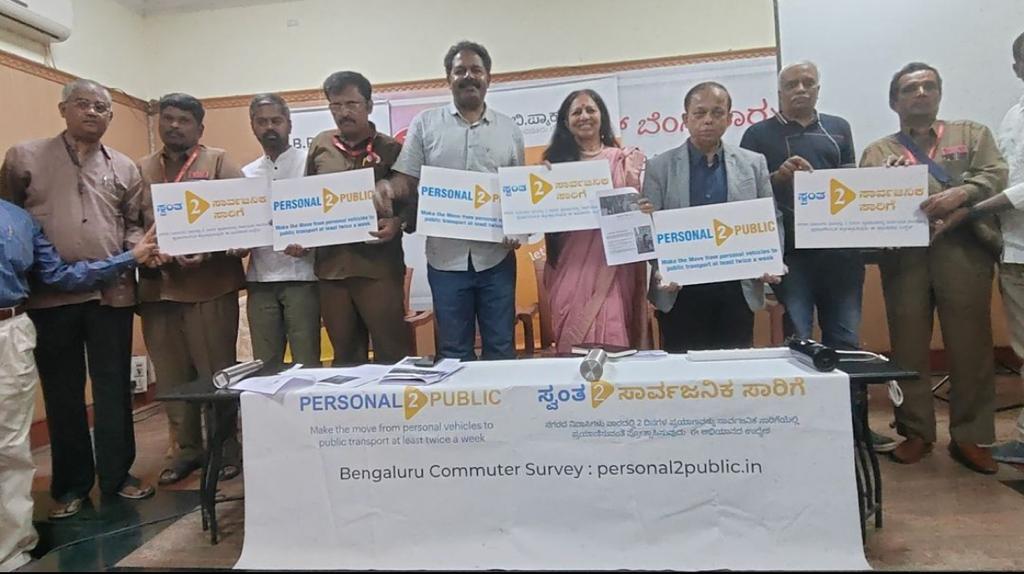 As one of India's fastest-growing metropolises, Bengaluru grapples with traffic congestion, air pollution, and the depletion of natural resources. Embracing sustainable transportation solutions such as public transit, cycling infrastructure, and electric vehicles not only reduces the strain on the city's overburdened road networks but also curbs harmful emissions, thereby improving air quality and public health.
In a collaborative endeavour aimed at redefining Bengaluru's urban mobility landscape, B.PAC and WRI India, in partnership with various other corporate entities and citizen groups, have introduced Personal2Public Campaign. This campaign is a call to action for Bengaluru's citizens to make a conscious shift from personal modes of transportation to sustainable public transit options. It seeks to address the city's growing traffic congestion and air quality concerns by encouraging individuals to embrace eco-friendly commuting choices like buses, metros, and cycling. By doing so, not only can we collectively reduce our carbon footprint and ease the strain on our road networks, but we can also contribute to a cleaner, healthier, and more sustainable Bengaluru.
As Bengaluru eagerly anticipates the launch of the much-awaited metro lines to Whitefield (expected in September 2023) and Electronic City (anticipated in January 2024), the Namma Metro network will extend to approximately 93 kilometres. This expansion marks a significant turning point for public transportation in the city. With the impending expansion of the metro network, we have a golden opportunity to decongest the city's roads and reduce the burden on personal vehicles. The Personal2Public Campaign seeks to make the most of this moment by urging citizens to switch to public transport for their daily commutes.
To better understand the challenges and opportunities in promoting public transport, we conducted a study in July. The questionnaire looked at commuter travel patterns to identify gaps in accessing public transport. Of the 3,855 respondents, a majority (~60%) use their personal vehicles for travel every day – 1,172 being car users and 1,046 using two-wheelers. The study received an overwhelming response, with 3,855 participants sharing their commuting habits. Astonishingly, nearly 60% of respondents rely on personal vehicles for their daily travels. Of these, 1,172 individuals use cars, while 1,046 opt for two-wheelers.
This data underscores the importance of our mission. It's clear that there's a significant segment of the population still dependent on personal vehicles. Through #Personal2Public, we aim to change this by showing citizens that public transport can be efficient, convenient, and environmentally responsible. Personal2Public study marks the onset of the shift from private to a more sustainable transit mode.
Personal2Public campaign can prove to be a transformative journey to make Bengaluru a city known not just for its IT prowess but also for its sustainable and efficient public transportation system.
Key Insights:
95% of 3,855 respondents in Bengaluru are keen to Shift to Metro.
Car users and two-wheeler users are ready to shift to the metro if it reduces their door-to-door travel time. Seamless integration and travel time were a priority over travel cost.
Car users spend about 1-1.5 hours in one direction as compared to 45 mins to 1 hour spent by existing metro users, when travelling to the areas mentioned earlier.
62% of the respondents who currently use public transport also want better footpaths and 33% of them want increased bus frequency.
Existing public transport users and non-users unequivocally stated that improved first and last mile connection, with seamless multi-modal integration, will encourage more people to use public transport.
40% women respondents highlighted key challenges such as the lack of reliable first and last mile services; and the need for seamless connectivity as well as a common ticketing service.
"This study communicates the ground realities that citizens witness in their day-to-day life. Bengaluru Commuter study findings have yet again clearly established that citizens of Bengaluru are willing to shift away from private vehicles and travel in public transport to their workplaces provided there is seamless, predictable and comfortable access to first and last mile connectivity. We intend to convey these insights to the government so that they can take the necessary actions and meet the expectations of the Bengalureans."
– Revathy Ashok, Managing Trustee & CEO, B.PAC
"The only long-term solution to our traffic problem is public transport. 2023 is going to be a milestone year for Brand Bengaluru, as Metro connects Whitefield to the rest of the city. #Personal2Public is a citizen's movement with active participation from corporates, auto unions and citizen groups. We are working together to improve first and last mile access by collaborating with government agencies. The responses have made it clear that Bengalureans will shift to public transport if we make their everyday travel reliable and seamless. As ORR has a maximum number of daily commuters, running faster feeder buses from purple line metro stations to tech parks on ORR will make a big difference. Our sincere appeal to commuters is to adopt public transport starting at least two days a week."
– Srinivas Alavilli, Fellow, WRI India
Our Next Step Towards Action:
The feedback from the commuters has been presented to the representatives from the Brand Bengaluru Committee, Bengaluru Metro Rail Corporation Limited (BMRCL), Bengaluru Metropolitan Transport Corporation (BMTC), Bruhat Bengaluru Mahanagara Palike (BBMP), Directorate of Urban Land Transport (DULT), Bengaluru Traffic Police (BTP). This will help further dialogues on improving public transport in the city.
Review meetings will be conducted, chaired by Prof. M. V. Rajeev Gowda, Vice Chairmen, SITK and Brand Bengaluru Committee with department representatives to execute inter-departmental works with respect to sinages, predictable, reliable and seamless feeder buses from metro to tech parks in ORR.
Click to Access the presentationಪ್ರಸ್ತುತಿಗಾಗಿ ಲಿಂಕ್ ಕ್ಲಿಕ್ ಮಾಡಿClick to Access the Press Release (English)Click to Access the Press Release (Kannada)
List of Partners supporting Personal2Public campaign
Corporate Partners
Sustainability Ecosystem Collaboration Initiative (cosponsored by VMWare and Intel) is a collective of over 100 IT companies promoting sustainable practices
Outer Ring Road Companies Association (ORRCA)
Electronic City Industrial Township Authority (ELCITA) (representing 160 companies in Electronic City Area)
Whitefield Export Promotion Park Industrial Association (WEPPIA)
International Tech Park Bengaluru (ITBP), Whitefield
Auto Unions
ARDU – Auto Rickshaw Drivers Union
Adarsha Auto Union
Civil Society Partners
Bangalore Apartments' Federation (BAF)
Changemakers of Kanakapura Road Association
Whitefield Rising
RR (Raja Rajeswari) Nagara I-Care
Bengaluru Praja Vedike
Council For Active Mobility – CFAM
Malleswaram Swabhimana Initiative
Citizens For Sustainability ( CiFoS)
Namma Bengaluru Foundation (NBF)
Citizens for KR Pura
The Mobility Agenda
Sensing Local Foundation
Citizens for Sankey
Community Task Force, HSR Layout
Frazer Town RWA
Greenpeace India
Para Badminton Association, Malleswaram
Senior Citizens Group, RR Nagara
Reap Benefit
Citizens Movement, East Bengaluru
Furthermore Initiatives
Global Concerns
Civil Society Organisation Trust
Towards Public Police
Vrikshamitra Foundation
Capitaland
HPE
Research Organisations:
IISc Sustainable Transport Lab