B.CLIP Media coverage 2019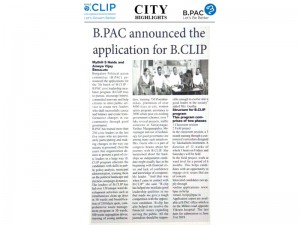 Bangalore Political action committee(B.PAC) announced the applications for the 7th batch of B.CLIP – B.PAC's civic leadership incubator program

.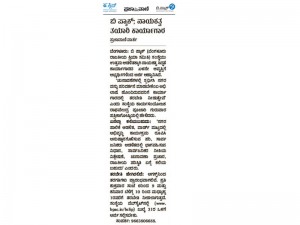 ಬಿ ಪ್ಯಾಕ್ (ಬೆಂಗಳೂರು ರಾಜಕೀಯ ಕ್ರಿಯಾ ಸಮಿತಿ) ಸಂಸ್ಥೆಯು ಉತ್ತಮ ಆಡಳಿತಕ್ಕಾಗಿ ನಾಯಕತ್ವ ಸಿದ್ಧತೆ ಕಾರ್ಯಾಗಾರದ ಏಳನೇ ಆವೃತ್ತಿಗೆ ಅಭ್ಯರ್ಥಿಗಳಿಂದ ಅರ್ಜಿ ಆಹ್ವಾನಿಸಿದೆ.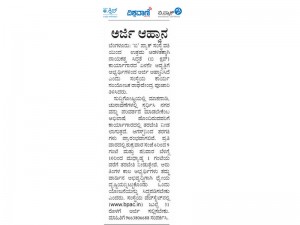 ಬೆಂಗಳೂರು: "ಬಿ' ಪ್ಯಾಕ್‌ ಸಂಸ್ಥೆ ವತಿ ಯಿಂದ ಉತ್ತಮ ಆಡಳಿತಕ್ಕಾಗಿ ನಾಯಕತ್ವ ಸಿದ್ಧತೆ (ಬಿ ಕ್ಲಿಪ್‌) ಕಾರ್ಯಾಗಾರದ ಏಳನೇ ಆವೃತ್ತಿಗೆ ಅಭ್ಯರ್ಥಿಗಳಿಂದ ಅರ್ಜಿ ಆಹ್ವಾಿಸಿದೆ ಎಂದು ಸಂಸ್ಥೆಯ ಕಾರ್ಯ ಸಂಯೋಜಕ ರಾಘವೇಂದ್ರ ಪೂಜಾರಿ ತಿಳಿಸಿದರು.
Media coverage of Election Habba 2019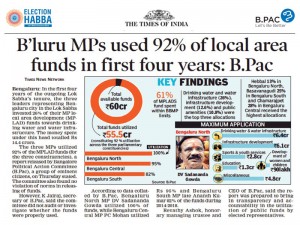 In the first four years of the outgoing Lok Sabha's tenure, the three leaders representing Bengaluru city in the Lok Sabha invested 26% of their MP Local Area Development(MPLAD) funds towards drinking water and water infrastructure. The money spent under this head totalled Rs 14. Crore.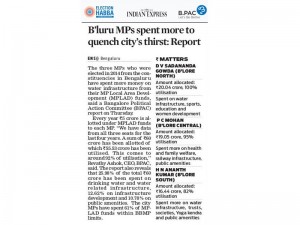 The three MPs who were elected in 2014 from the constituencies in Bengaluru have spent more money on water infrastructure from their MP Local Area Development (MPLAD) funds, said a Bangalore Political Action Committee (BPAC) report on Thursday.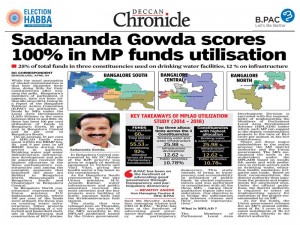 While the usual perception of elected representatives is that they squander their time, doing little for their constituencies after winning the polls, Bengaluru's members of parliament, it appears, have not been sitting idle since 2014.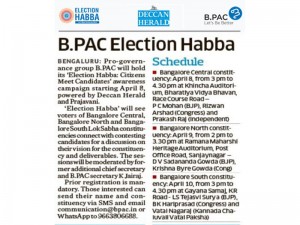 Pro-governance group B.PAC will hold its 'Election Habba: Citizens Meet Candidates' awareness campaign starting April 8, powered by Deccan Herald and Prajavani

.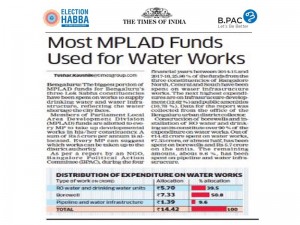 The biggest portion of MPLAD funds for Bengaluru's three Lok Sabha constituencies have been spent on works to supply drinking water and water infrastructure, reflecting the water shortage the city faces

.