Are you stuck with a new term but can't seem to figure out it's meaning? Are you stuck with an earworm but cannot recall the artist? Well, what do you do in these two scenarios? We know that the first thing that popped into your mind was 'Google'. 
We cannot imagine our lives without text messages, emails, browsing the latest movies & shopping online. Google, or, for that matter, any digital resource, has become an inevitable part of our lives.
Surely, it has made lives easier in many ways, but have you thought about the impact this digitalisation has on the environment? Can digitalisation promote sustainable living and practices? These are a few things that we would like to discuss and encourage you to think about as well.
Impact of digitalisation on ecosystem
Each activity we perform online comes with an additional cost to the environment; a small amount of CO2 is emitted  and it is generated every time we perform a search, stream or browse a website on our devices, etc. Imagine the amount of CO2 emissions generated by large data centres & servers which store terabytes worth data.
Google says it spends about 0.3 Watt Hours of energy on an average search query, translating to roughly 0.2g of carbon dioxide which is enough to light up a low powered bulb for 18 seconds.
According to Shift Project 2019, the digital share of carbon dioxide emissions globally increased from "2.5% to 3.7% between 2013 and 2018." Another study by Bitkom, 2020 mentioned that overall greenhouse gas emissions from digital devices and infrastructure are around "1.8% to 3.2% of the total global emissions till date."
Digitalisation is also power-hungry in the sense that the digital data centres usually have an energy requirement of "200 to 500 billion kilowatt-hours per year, i.e. 3% of world electricity," according to Stolz & Jungblut, 2019. It also produces tons of electronic waste; for instance, a United Nations report has estimated that the world produces around 50 million tons of electronic waste (UN, 2019).
What is Digital Sustainability?
The creation, usage, distribution and regulation of digital tools and technology for protecting the environment and adding value to society and the economy could be termed digital sustainability. However, there is much more to the concept of digital sustainability.
It has to be understood from two perspectives majorly: 'Sustainability of Digitalisation' and 'Digitalisation for sustainability' (Stuermer, 2019).
1) Sustainability of Digitalisation focuses on the effects technology has on the ecosystem in terms of, say, usage of electricity, waste generation, carbon dioxide and other greenhouse gas emissions and so on. As the graphs and charts below indicate, digitalisation does have a negative impact on the environment. It is estimated that GHG emissions due to digital technology will continue to rise & could double by 2025 by reaching 8%.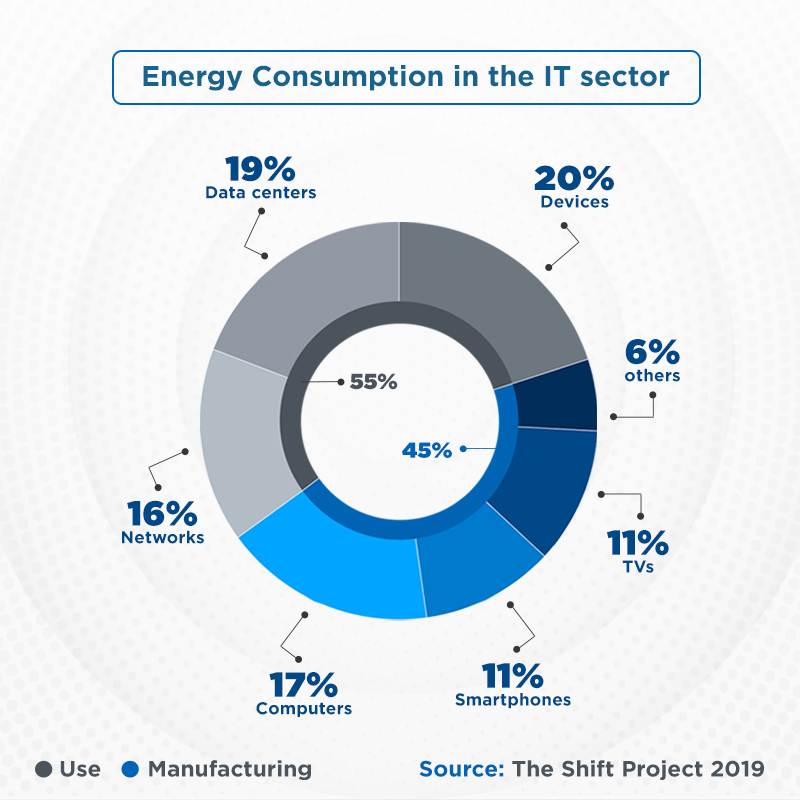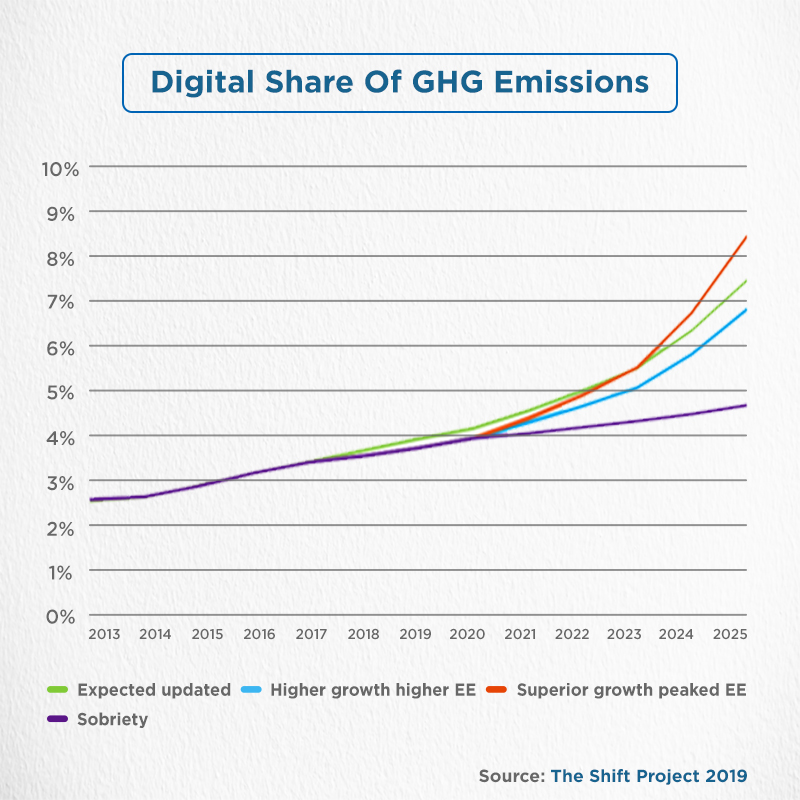 2) On the other hand, Digitalisation for Sustainability focuses on leveraging technology and digital devices and tools to protect, conserve, and sustain the environment. It also focuses on how technology is used to provide social justice and public welfare.
As seen from these two perspectives, digital sustainability is best understood as the following: It is mainly associated with the sustainability as well as long term availability of digital ecosystem including the digital artefacts, tools, devices etc.; and  focuses on how this sustainability can have a beneficial impact on the environment, society and economy.
Characteristics of digital sustainability
Based on the rules of sustainable development of a digital product on the environment as defined by Spindler and to obtain more in-depth knowledge about digital sustainability, we have highlighted specific characteristics which a manufacturer or developer should keep in mind. (Stuermer, 2014):
Intergenerational Justice: Any digital data, device or content must have long term use & should be available for the present as well as the future generations. The future generation should have access to technology as well as the knowledge required to use that technology.
Regenerative Capacity: Information & communication technologies keep changing, so it is important for everyone in an organization to participate in production and bring in their innovative ideas on making a product sustainable. 
Economical Resource Usage: This translates to open use, reuse and distribution of the digital resources. It is important to ensure unrestricted technical reuse of digital items.
Risk Reduction: Digital resources must be reliable and verifiable. Digital goods involve multiple risks on different levels, so it is important to ensure that they do not bear dependencies towards the manufacturers, are trustworthy & carry transparent information architecture. 
Absorptive Capacity: This implies that in this world where information overload is common, society must have the ability to use the technology appropriately & adapt well to the new requirements. 
Thus, in short, one can define "digital sustainability as an organisational activity that seeks to advance the sustainable development goals through the creative deployment of technologies that create, use, transmit, or source electronic data." (George, Merrill & Schillebeeckx, 2019)
How to reduce digital carbon footprint?
During 1989, the concept of World Wide Web (WWW) was introduced to the world. Today, 31 years later, the internet has changed everything & has given a new definition to  modes of communication, entertainment & access to information. On one hand, the industry demands extraction of rare elements for the manufacturing process of devices & on the other hand data centers & servers use 'cloud' technology which is synonymous with energy consumption for storage & constant data flow. A report by Climate Care states that internet & other digital technologies emit upto 1 billion tonnes of greenhouse gases per year which accounts to 3.7% of global GHG emissions; almost equivalent to the aviation industry. The above stats clearly indicate that it is more necessary than ever to be more ecologically conscious in terms of ways we utilise internet & digital devices, to tip the balance.
Those of you stunned by the impact digitalisation has on our ecosystem and the planet, can take it upon themselves to decrease their digital carbon footprint and avoid energy wastage at their level. Here are some ways in which you can reduce the negative impacts and use technology for sustainable living:
Consume digital artefacts consciously and opt for products that are ethically produced and seem sustainable. Ethically manufactured products tend to last longer & are easily recyclable. This way we can reduce manufacturing costs as well as limit CO2 emissions.
Unplug your devices like mobiles, internet boxes & laptops from charging, when they have sufficient battery percentage. Anytime a cord is plugged to the socket, you are drawing energy in the form of electricity which contributes significantly to the carbon footprint. Keep the brightness to a minimal level and shut it down when not in use instead of using sleep mode. It saves electricity bills & also the planet!
Avoid purchasing e-readers if you don't read books on a regular basis. Many people who are not avid readers end up purchasing e-book readers & downloading more books than they are actually going to read. This way they contribute more to the carbon footprint as the device requires energy for charging & downloading data. If you are an occasional or a one-time reader, opt for libraries & recycled books instead.
Opt for Wi-Fi networks for browsing wherever possible as it uses less energy than 4G mobile networks. Using Wi-Fi to connect to the internet drains less battery life as compared to mobile networks. Since Wi-Fi is faster than mobile networks, you won't spend too much energy transferring data. So switch to Wi-Fi if you live in an area where data fluctuates a lot.
Try to avoid adding to the pile of electronic waste, by repairing electronic products and goods or re-buying second-hand electronics where possible. We generally replace our smartphones & other devices to keep up with the trend, even before they stop working. Thoughtless disposal of old gadgets pose a threat to the ecosystem as the outdated components turn hazardous to nature. So be mindful while disposing of electronics.
Instead of streaming videos and music, download them for your convenience. A huge amount of traffic is consumed while streaming videos or playing online games, as there is continuous influx of data & several ads & pop-ups run in the background. So, make sure to  download whenever possible as it draws data only once. Web designers should also avoid using automatic video launching features or video pop ups as they make the website data heavy. 
Use Cloud storage technology reasonably. Instead of storing data on the cloud, store it in external hard discs or USBs whenever possible. Cloud technology is highly secure, therefore frequent updation & creation of  multiple backups of the same file is inevitable. Due to these reasons, a massive chunk of energy is consumed in maintenance of storage. 
Keep cleaning your emails on every email platform. Every email which lands in your inbox consumes certain space & requires computing powers. So try to keep your inbox clean & cut down on spam & irrelevant promotional emails. Unsubscribe from irrelevant newsletters & youtube channels to save energy.
Use your browser intelligently. Rather than searching on search engines, use bookmarks or visit the website directly. This way you can save 0.3 Watt Hour worth electricity. You can also minimize the number of tabs, ensure the autoplay of the videos & cookies from third parties are turned off in the settings.
How do companies approach the problem of digital impact on the ecosystem?
Companies are  significant stakeholders that can promote digital sustainability. Some businesses are cutting down on paper usage by converting paper documents, pictures, etc., into digital content and distributing it to relevant stakeholders responsibly. Some analyse their GHG emissions and then make a strategy to approach the problem of carbon footprint. Some switch to renewable sources of energy, reduce non-essential air travels, switch to online conferencing, encourage employees to use carpooling services and so on. 
In 2011 Samsung launched a solar powered laptop that doesn't need electrical charging & also created "green" mobile phone series — Replenish, Reclaim, and Blue Earth —which are made of corn starch bioplastic, and have energy-efficient chargers and fully recyclable packaging. Nokia also started an initiative to reduce e-waste by encouraging consumers to drop their old Nokia phones for recycling  the components of which will be later reused. Another measure taken by Nokia was to stick labels on their chargers as a reminder to unplug when not in use. In 2007, Google & Intel jointly founded Climate Savers Computing Initiative to encourage the purchase of power efficient computing products. Members of the Climate Savers Computing Initiative include Dell, HP, IBM, Lenovo and Microsoft. Other brands like Apple use 100% renewable energy & has committed to be 100% carbon neutral for its supply chain by 2030. 
Whether digitalisation is a real boon for the environment, society and economy or will further cause harm to them, is dependent on how we work towards harnessing its positive potential. Let's be aware and take initiatives to make digitalisation a positive process and achieve practical digital sustainability outcomes.