Ravi Kumar S, a dynamic, young man had an interest to indulge in causes of social relevance. This made him give up a plush corporate job at Standard Chartered and make a career jump
He was very recent conferred with the Bangalore Youth Icon Award for his relentless efforts in the area of solid waste management (SWM)that was very unlikely back then. Since then, he has worked in a very divergent environment.
He began working as a training coordinator in an NGO involved in providing vocational training in job skills that help empower the lesser privileged youth.
His never say die attitude led to the formation of GREEN TECHNOLOGIES, a Proprietorship firm, basically an Environmental Engineering firm,which works in close quarters with Government agencies. Ravi Kumar has designed and developed modules apart from skill development in RainWater Harvesting (RWH) and Solid Waste Management(SWM) for the Ministry of Labor, GOI in addition to various other concerned citizens.
He has been working vigorously in popularising scientific RWH methods across the city . He even developed and manufactured a Sand Bed Filter for rainwater harvesting, aptly named 'VARSHA'
It's said that Knowledge is power …Power to do things that helps one achieve success in his/her endeavors. He began working on SWM around 10 years ago, having undergone training under Dr. Balasubramanyam, a well-known scientist (retired from NASA) who had developed 'Aerobic Composting Technology'
Through the self-owned Green Technology Company, he has been implementing the enhanced version of this technology in organizations of repute like the IIM Bengaluru, local head office of State bank of India and Bangalore Central Prisons.
Everyone talks of community apathy but there are a few good men, who strive relentlessly to aim high in achieving project objectives and succeed. He has designed and built a state of the art waste management center KASA-RASA at Koramangala. He also ran a composting center at Malleshwaram vegetable market and runs two dry waste collection centers in North Bangalore. There has never been a lull in his efforts to serve the city.
As a Director of an NGO named Full Circle, he has been animatedly campaigning for Sustaining Environment Programs .He has to his credit of imparting this well-honed knowledge and skill to District Commissioners and other KAS ranked officers across the state. He is the visiting faculty (on RWH & SWM) to IIM Kozhikode, Jain Degree College, Christ University, a regular faculty on the same subjects at the Mahatma Gandhi Institute Of Rural Energy Development at Jakur, Bengaluru.
To go by the numbers he has so far initiated around 150 SWM programs and 1000 RWH solutions, including awareness and training programs in apartments and educational institutions, all across South India. He also has to his credit of providing gender sensitivity training for more than 1500 BMTC drivers and conductors.
Ravi Kumar being what he is, multifaceted and restless in pursuit of varied initiatives, also dedicated his attention towards Save Lakes Campaign. He is also associated with One Bengaluru for Lakes. Chikalsandra Lake for which Mr. Ravi Kumar and other activists have worked tirelessly, has drawn attention from Press and Politicians alike.
Responsibility and Power are well wedded companions.
So Ravi Kumar like any other soon realized the importance of being in politics. It offers a sound platform to carry on with one's goals in the society. He is the City General Secretary of the Lok Satta Party, says he chose the party for its ideology- Corruption free and Inclusive governance.
Ravi Kumar so far, having been there and done that, craved for more wisdom regarding civic leadership. He joined the B.CLIP Program. It is an extremely innovative and popular initiative by B.PAC, to motivate and create a cadre of good civic leaders. Many will participate in social work, but the tenor and fervor and the ability of leadership is a matter of pure training that B.CLIP is imparting with such enormity of success that all its alumni are proud of B.PAC. The training is so enriching that the trainees gain inspiration and direction in civic issues in the city. It is immensely helpful for the future political aspirants.
He says he owes it to B.CLIP, that he is better informed and well-focused in taking up future endeavors. Impressed with his achievements B.PAC has made him the Program Director heading their B. Clean & B.Green program.
We might be forced to explore a new abode as we have made the Earth inhospitable and uninhabitable through Pollution, water contamination, resource depletion, lake encroachments and garbage dumping.
Sounds scary….!
Still there is hope as long as a few good men acting like Earth Warriors are around.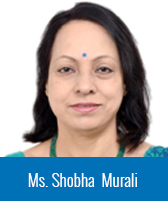 About the Author
Ms. Shobha Murali is a Bengalurean, born & educated in Bengaluru. She practiced as an advocate in Karnataka High Court at Bengaluru and has also worked as a secondary school teacher and held posts of the Principal. She has also helped in social work under the aegis of AFWWA a welfare organization for the wives of IAF Personnel. Presently, settled in Bengaluru, she is actively involved in social activities of civic importance.
She is also trained by B.PAC as part of its B.CLIP Program.