If you live in a dense and populous city such as Bangalore, space comes at an absolute premium. Chances are that you might not have access to an expansive backyard for all your gardening needs.
This is where terrace gardening comes into play. In a world where healthy eating habits, organic food, and environmental awareness are rapidly becoming more widespread, terrace farming can be an extremely worthwhile pursuit. 
Before we get into how you can start your very own terrace garden, let us take a look at some of the benefits:
A healthy source of vegetables: Terrace gardens are capable of producing herbs, tomatoes, potatoes, and much more. Since you have complete control over your own garden, there is no need to worry about pesticide-laced vegetables.
Cooler interiors in your home: The plants growing on your terrace can absorb heat from sunlight to a certain extent and can noticeably decrease temperatures inside your home.
Improved air quality: If terrace gardening is practiced on a community level, it can have a significant impact on the surrounding air quality. It is well documented that certain species of plants have the ability to minimize the effects of Carbon monoxide, dust, and soot.
A guaranteed stress buster: The act of gardening and tending to plants is considered to be an excellent way to de-stress after a hectic day of city life. In addition to this, having a well-maintained terrace garden can in certain circumstances increase the value of the property it is on.
Now that we have explored the various benefits of investing in a terrace garden, what goes into actually starting one?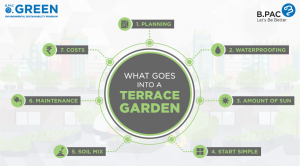 Planning:


Before you set out to get the raw materials required to start your very own terrace garden, it is essential that you take into account whether or not your roof can physically handle the weight of an elaborate garden. Talking to an expert beforehand is an absolute must.

Waterproofing:


Once your terrace is deemed safe for gardening, the next step is to completely waterproof the rooftop surfaces. This is to prevent water damage and ingress into your home. This is also an absolute can't miss-step in your quest towards safe and sustainable terrace gardening.

Calculating how much sun your terrace gets:


It is important to note that to grow a variety of plants successfully, your terrace will need to receive at least 3 – 6 hours of direct sunlight every day. You will therefore have to take into account the different obstructions to sunlight on your terrace at different times of the day.

Start off simple:


To ease into the practice of terrace gardening, it is advisable to start off with potted plants and herbs. This gives you an understanding of how to take care of plants and lets you work your way up to more demanding projects eventually.

The perfect soil mix:

Depending on the type of plants you are planning to grow, getting the soil mix right is absolutely essential. A "one size fits all" approach will not provide the best results and hence plenty of research has to be conducted in advance.

Regular maintenance:

One of the major challenges of having your own terrace garden is the maintenance involved. An elaborate garden may require up to an hour of diligent work every day. This included watering, pruning, pest control, and so on. Therefore, you must ensure that someone is always at hand to tend to your garden.

Understanding the costs:
There are plenty of costs involved in gardening from containers to acquiring the seeds. It is therefore always recommended that you increase the size of the garden in gradual steps. This helps you calculate the costs involved and prevent you from being overwhelmed.
The rewards: All the efforts put into a terrace garden are definitely worth it in the long run. For example, one square meter of terrace garden area can produce 25 – 30 kgs of vegetables every year. So tend to your garden carefully and reap the benefits!
As you can see, even though terrace gardens require quite a bit of patience and effort, they can be extremely beneficial in the long run. Not just for the individual, but for the community as a whole. So if you have a vacant terrace space that isn't being put into good use, why not consider growing a terrace garden of your own?