In November 2019, The Directorate of Urban Land and Transport (DULT), a statewide nodal agency formally announced the commencement of an integrated pilot project; 'Cities on the Move Challenge- Where there is a bus, there is a way'. This infrastructural project was a cognizant step towards sustainable mobility and comprehensive mobility planning in the state of Karnataka. This Bus Priority Lane (BPL) project began on the Outer Ring Road (ORR), a high-density corridor from KR Puram and Central Silk Board (CSB) covering a distance of 34 KMs (17 KMs on either sides) with futuristic designs to develop infrastructure such as parking bays, bus stations, cycle tracks– and to expand to other sections of the ORR (Tin factory to Mysuru Road), Bengaluru airport roads and other cities like Vijayapura and Kalaburagi, among others in the state. 
By virtue of Bengaluru's heterogeneous traffic– road congestion, delay in travel time and increase in vehicular accidents have caused a grave inconvenience to commuters using modes of both private and public transportation. Bengaluru Metropolitan Transport Corporation (BMTC) reported an exponential vehicle growth of 128% from 2008 to 2018. The primary objectives of bus priority lane schemes, which have been implemented in many urban cities across the world, is to increase the appeal and efficiency of using buses in turn making them more competitive with other means of transportation. Bus priority projects also offer operational diversity. Countries around the world have adopted Bus Priority Lanes (BPL), Bus Rapid Transport Systems (BRTS) and Pop-Up Lanes, that differ in functionality and infrastructure, but their objective of prioritizing efficient bus transit remains. 
As of February 2022, BMTC possesses a fleet of 6812 buses, 45 depots, 54 bus stops and travels almost 9.41 lakh kms/ year. However, due to an increase in private two-wheeler and four-wheeler vehicles, bus time and speed has drastically decreased over the years. With this context in mind Bangalore began campaigning 'Nimbus', to draw attention and create awareness on the need to make bus transit more efficient. It strived to achieve its goal by mobilizing agencies such as the Bengaluru Traffic Police (BTP) and the Bruhat Bengaluru Mahanagara Palike (BBMP). 
Bengaluru's Bus Priority Lane (BPL) model: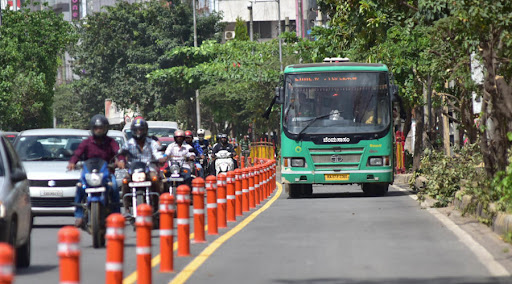 Image Courtesy: Deccan Herald
Left lane designated as BUS ONLY lane
BPL is marked with either reflective rubber/ metal bollards or yellow lines for buses and response vehicles only.
Private and Public buses allowed. 
Yellow board vehicles allowed in priority lanes on roads reduced to 9m because of BPL.
The results of this pilot project are also said to help with route rationalization and development of other last mile connectivity features such as pedestrian facilities. 
A survey by UITP, recorded two weeks prior to the project's commencement and after, showed a 22% improvement in bus speed, a whopping 200% increase in ridership and predictability of service delivery and improved data collection. 
A survey conducted by Bengaluru Political Action Committee (B.PAC) in 2020 showed hesitation by 50% of the respondents to use public transport post lockdown relaxation– highlighting the necessity to make public transport more appealing to promote the transition to more sustainable mobility. Whilst the bus priority lanes have proved to increase speed and reduced travel time in few corridors, it is plagued by challenges causing it to reach its success at a snail's pace. 
Challenges 
With future plans of increasing bus routes and number of buses in existing routes, the design of the BPL is posing a major challenge. 
The current BPL model designates one lane for all buses irrespective of designated bus stops. This will inevitably increase queuing as the presence of bollards and absence of an overtaking lane disallow both buses and response vehicles from high-speed transit. 
Left-lane BPLs pose a danger for adjoining vehicles from service roads and make left turns nearly impossible with no robust signal system introduced by the BTP, prioritizing both general traffic as well as buses. 
Left-lane BPLs leave slow moving vehicles (two-wheelers, cycles, non-motorized vehicles, animal powered vehicles) with no safe space to travel.
Left-lane BPLs strip autos, taxis, private buses from pick-up /drop-off points / official stands. 
While BPLs are exclusive to bus and response vehicles, disallowing and penalizing lane intruders is highly unlikely due to inefficient designation and integration of BTP resources (CCTV cameras, manpower).
Installation of bollards restrict buses and response vehicles to the lane but don't prevent two-wheeler users from entering. 
Loss of parking space.
The BPL is also said to disrupt the ecosystem of public spaces. The BPL displaces hawkers and other roadside establishments that greatly contribute to the safety of individuals commuting through these areas during uncrowded hours. 
As compared to other modes of transport, BMTC carries the largest number of commuters daily. Many of whom are among the working class. With great infrastructural developments within the city of Bengaluru driving inflation in the real estate market, more working-class individuals are being displaced to the periphery of the city, who need to be reconnected. BPL in its current implementation is losing popularity among the citizens of Bengaluru. Although BRTS have proven to be more efficient in cities such as Pune, Ahmedabad, Jodhpur, Chennai and even tried in Delhi, its demand for space, departmental integration, investment and infrastructural change remains high. 
Recommendation
A probable solution to a more effective implementation of rapid transit systems in Bengaluru could be pop-up lanes. An appropriate example would be London's bus transit system. A left lane priority lane, marked by red paint, light signals (red or green) are installed at the beginning of the lane- indicating allowance of general vehicles (general vehicles are prohibited during peak hour). Pop-up lanes have been proven to be more effective in cities that have space restrictions and high-density traffic as it allows flexibility and high utility of road space available. 
Prof. Geetam Tiwari, Architect of Delhi BRTS and Professor at IIT Delhi argued 'While METRO represents aesthetic development of a city, buses still remain crucial to our social fabric due to its flexibility, popularity and affordability'. Bengaluru's adoption of the bus priority lane is a way forward, however a shift away from a hub and spoke model, increased integration of agencies and use of technology, as well as a more tailored approach to Bengaluru's challenges; will allow for the pie crust promise of decongestion and better public transport facilities to transition into a legitimate one. 
Disclaimer: The views expressed in the content belong to the author and not the organization, its affiliates, or employees.