Clean drinking water is still a great challenge in the country; in 2008, 96 per cent of urban Indian and 84 percent of rural India had access to improved water averaging to 88 per cent which is a drastic improvement from 72 per cent in 1990.
But unfortunately 67 per cent of Indian households do not treat their drinking water, even though it could be chemically or bacterially contaminated, thereby increasing the vulnerability to water borne diseases.Clean drinking water is directly linked to health of the nation, lesser diseases would only mean a healthier and more productive human resource, and hence access to clean drinking water cannot be a privilege for the few but should a Right for all. Many innovative approaches have been taken to improve the quality of drinking water in India, one such innovative step that has see a large scale success is the Any Time Water (ATW) project initiated by HK Patil in Gadag few years ago.
Taking cue from Gadag success Kanakapura MLA and current Energy Minister Sri DK Shiva Kumar undertook a large scale implementation of ATW's under the banner of DKS Charitable Institution Trust in every single Panchayat of Kanakapura Assembly constituency and later extended to several parts of Bengaluru Rural.
Over the last 7-8 months my visits to Bengaluru Rural on various projects gave me a first has information of the working of the swanky ATWs in most remote Panchayats. The citizens are happy that at a drop of just Rs 1 into the vending machine they are getting 10 liters of clean drinking water. Many of them said that they are demanding more ATW's in Panchayats where there are more number of villages. It is indeed commendable that the access to clean drinking water has almost become a Right in this part of the country.
Success is indeed contagious; off late few Bengaluru Urban MLA's are making an earnest attempt to replicate the model in their constituencies, and why not with urban poor almost at an alarming 25-30% clean drinking water is the least one could provide to ensure that urban poor do not spend their earning on medical bill due to diseases arising for unsafe/contaminated water.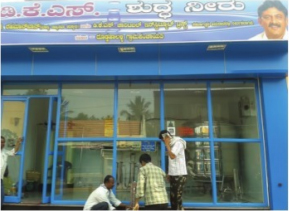 Every BBMP ward has its fair share of lesser privileged and poorer population and efforts should be made to provide clean drinking water accessible in these urban pockets/areas. In wake of hike in BWSSB supplied water and linking of usage and making it slab based, access to low cost rather no cost clean drinking water for the urban poor will be a logical and right step.
Elected representative should indeed push the drinking water project aggressively and effectively in their respective Assembly segments and Wards making clean drinking water accessible to urban poor in their locality.
A well planned localized monitoring and distribution mechanism to avoid misuse will go a long way in truly democratizing of clean drinking water. I also urge the citizen groups, RWA's, political activists and NGO's to take an active role and emphasize the need to provide clean drinking water for a better and healthier India.