"BENGALURU-Rediscovering Roots, Conserving Heritage"
Bengaluru: Monday, July 20th 2015
Bangalore Political Action Committee (B.PAC) under its B.PROUD initiative, in association with SUCHITRA-Center for Film and Drama and Urban Research Lab (URL) and Alliance Française today organised public lecture titled "BENGALURU-Rediscovering Roots, Conserving Heritage".
This public lecture is part of a series of talks and events to be organized around the topic of Bengaluru's Heritage and highlighting the issues, approaches and possible actions that can be taken to protect, preserve and conserve the city's Heritage.
During his presentation Sanjay Sridhar an Architect and Urban Development Planning and Policy expert presented an detailed study of "Evolution of Bengaluru from its historical past into the urban future". His presentation traced the history & the evolution of the fort area, highlighted archival material in to it's present state. The presentation brought maps from a bygone era and brought to light the sad state of conservation in an integral part of Bengaluru's history. His emphasis was on preservation of economic activities that keep these areas alive, instead of focusing on simply the conservation of buildings.
The presentation was followed by a QnA session with Prof. RJ Vasavada, one of the eminent architects in India & Sanjay Sridhar.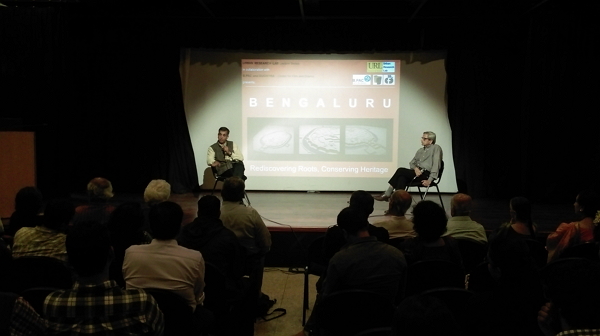 The public lecture is a product of a vision outline for the City of Bengaluru wherein Heritage Conservation is considered as a positive and integral part of the city's development goals. This vision outline was framed in 2010 and since been the focus of a series of studies and research projects.
The lecture aimed at inviting public participation in this important effort to build up a positive public opinion on the values of Bengaluru's historic heritage. It is intended that this beginning will ensure effective stakeholder participation from NGO's, institutions and citizens of Bengaluru in order to generate an effective action plan through series of presentations.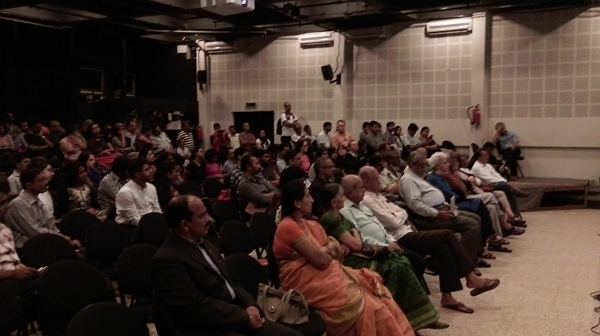 The talk intended that the first action plan would work around enlisting important heritage sites and cultural aspects through nominations from stakeholders of the city, which will help build a Bengaluru Heritage Register Said Revathy Ashok, CEO, B.PAC.
The event saw participation of more than 70 concerned citizens and heritage lovers of the city.
ABOUT SPEAKERS
Prof. RJ Vasavada is one of the eminent architects in India, focusing besides his practice on historic preservation and has been a member of several national committees on protection and conservation of heritage across the country. He has also been a member of an International group studying Aspects of Authenticity in Architectural conservation at the Cluster of Excellence, Karl Jasper Centre at University of Heidelberg, Germany. He is also the Head of the Technical Committee for the World Heritage City Dossier, for Historic city of Ahmedabad, which was the first city from India to be on the Tentative List of World Heritage Cities. Prof. Vasavada was an expert adviser the Namma Heritage Report that was prepared in the process of formulation of the 2010 Draft Bengaluru Heritage Policy.
Sanjay Sridhar is an Architect and Urban Development Planning and Policy expert. He is currently the Regional Director for South and West Asia for an international organization that deals with sustainable urban development and climate change issues, where he is responsible for facilitating cities in the region to participate in the exchange of best practices to reduce the sources and their impact of climate change. Sanjay has a Bachelors degree in Architecture from Bangalore University in India; is a LEED Accredited Professional (AP) from the US Green Building Council; a Masters Degree in Urban Development Planning and Policy from Erasmus University in the Netherlands and has also studied Urban Affairs and Public Policy at the University of Delaware, US. Sanjay along with Dr. Ashwin Mahesh was the Co-Author of the 2010 Draft Bengaluru Heritage Policy.
ABOUT B.PAC & B.PROUD
Bangalore Political Action Committee (B.PAC) is a citizen's group that aims to improve governance in Bangalore and enhance the quality of life of every citizen.
B.PAC is specifically targeting good governance practices, integrity and transparency in all arms of the government, improving the quality of infrastructure in the city, conserving the culture and heritage of Bengaluru through active engagement of citizens and advocacy for appropriate legislation and budgetary support for conservation.
B.PAC along with other civic groups, stakeholders and citizens of Bengaluru saved the Balabrooie and Carlton buildings from being demolished through timely advocacy and dialogue with the government. Through its B.PROUD initiative, it is now working on proactive ways to enlist citizen participation in conservation of the city's culture and heritage, building a heritage registry and a heritage policy.
About Urban Research Lab
URL is a not-for-profit organization focused on understanding the interconnections between urban systems and its components. The areas of expertise are Urban Development and Policy, Urban Planning and Design, Urban Management, Conservation and Heritage studies and Architecture.
Urban Research Lab has worked on the following projects:
ABIDeTask Force Heritage Study
Historic Documentation of the Fort at Bidar
Historic Documentation of the UNESCO World Heritage Site
About Suchitra Centre for Film and Drama
CFD sought to create an international school in Bangalore which catered to cinema and dramatic arts. Their aim was to produce plays for the stage and educate and train teachers of different institutions in the performing arts.
CFD offers a one year post graduate programme in film-making and a short term certificate course in acting, editing, cinematography, graphics and animation, film appreciation and arts appreciation. Courses like these are important in promoting cinema culture and research on visual and dramatic arts. It also creates an accessible facility for the screening of films and the staging of performances.
Media Contact: Sharath | sharath@bpac.in | +91-9886196640