COVID-19 has indeed altered the world's outlook dramatically as it has brought momentous and unexpected changes in many people's lives. The raging second wave of pandemic brought along a new strain of COVID-19 virus, creating widespread impact. 
Social Media and digital platforms are flooded with special reminders regarding vaccination, sanitizing and personal hygiene. This deadly virus pops up in every conversation, whether in schools, businesses, homes or shopping. The pandemic indeed has drastically brought an emotional upheaval in people's lives for those who previously perceived the world as a safe and peaceful place. Moreover, people who experience anxiety, depression and distress can notice that these feelings have magnified.
COVID-19 FACTS
If you have several doubts and questions concerning this pandemic, then you are not the only one! We all know that news and statistics regarding the virus vary based on the source. Few people consider it casual, while others treat it as an apocalyptic disaster. It is challenging to trust anyone in this turbulent situation. So, rather than creating panic, trying to keep oneself safe, healthy and gathering accurate information can be very helpful. 
As per KFF analysis of the Household Pulse Survey, throughout the pandemic, a substantial number of young adults have reported symptoms of anxiety or depressive disorder – 56% as of December 2020 – compared to older adults.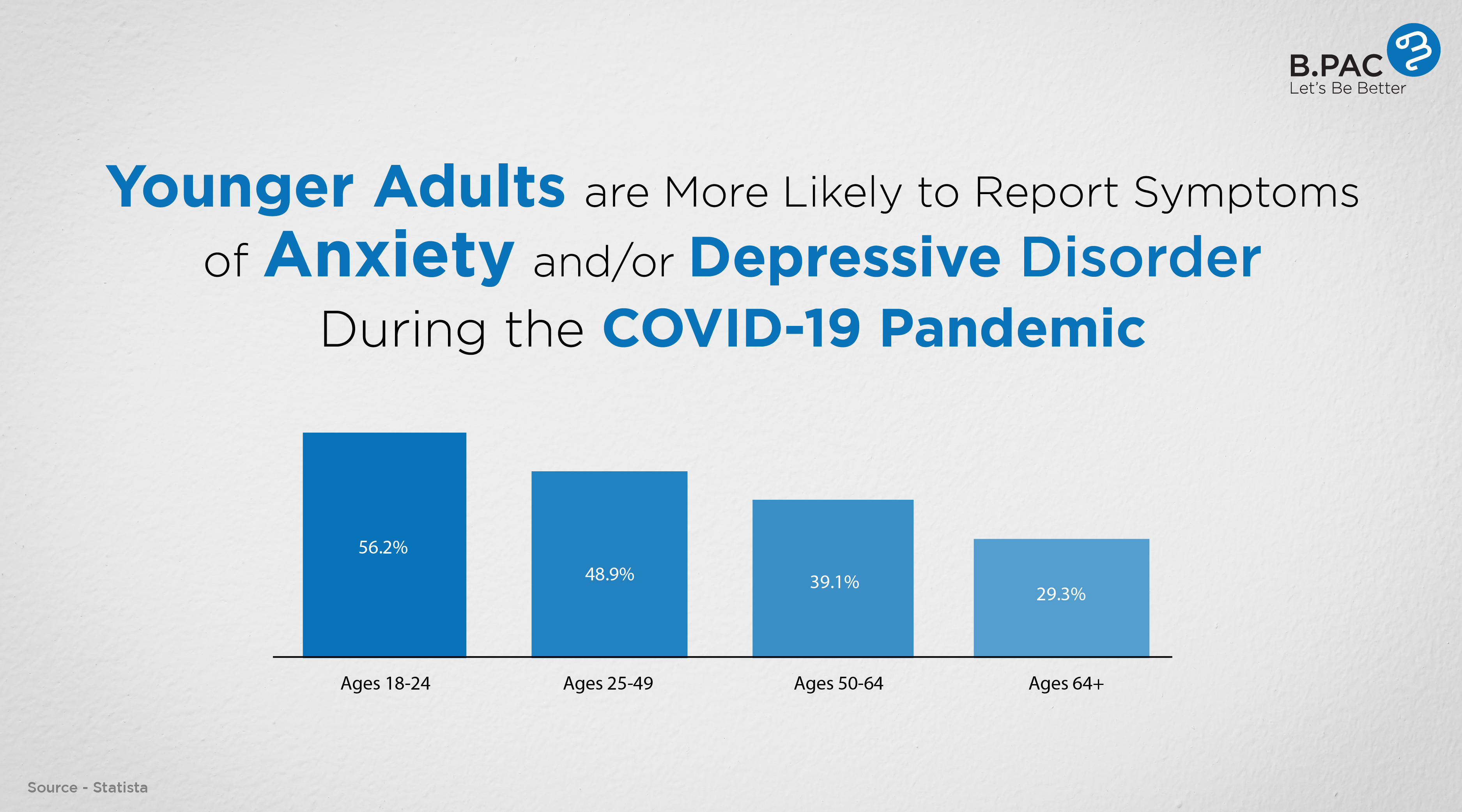 MENTAL HEALTH IMPACTS DUE TO COVID-19
Mental health issues in several countries all over the world have become a new chronic illness. The problems have been compounded by those who had contracted the virus. Studies have explained that most people are resilient and can bear the stressors and sudden complications, whereas many people have a higher level of anxiety and distress. 
According to Statista, a survey was conducted among 5,922 Indian youths about their lives during the pandemic. Over 53% of respondents who were living alone stated that their wellbeing was strongly affected by COVID-19.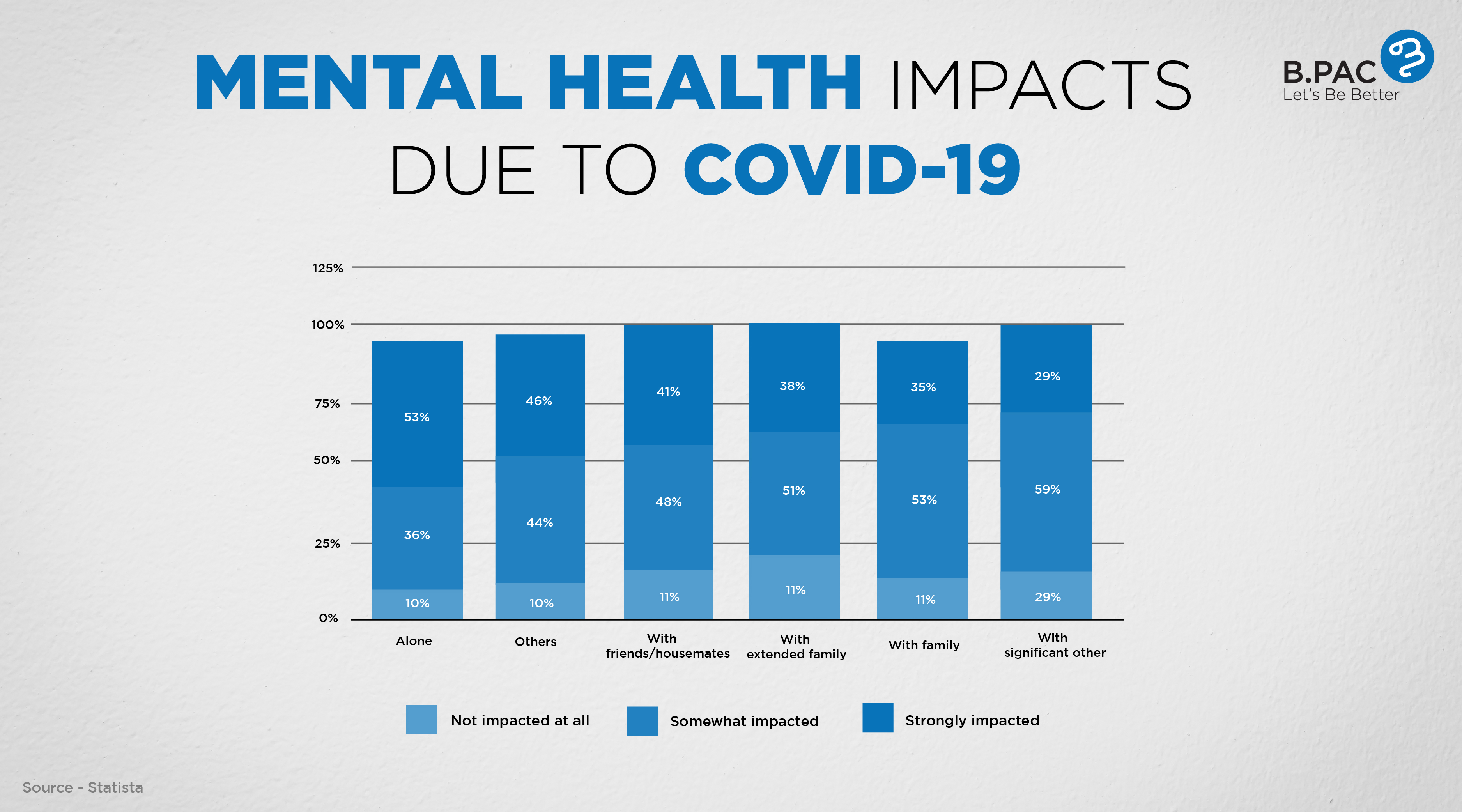 COPING UP WITH MENTAL HEALTH EFFECTS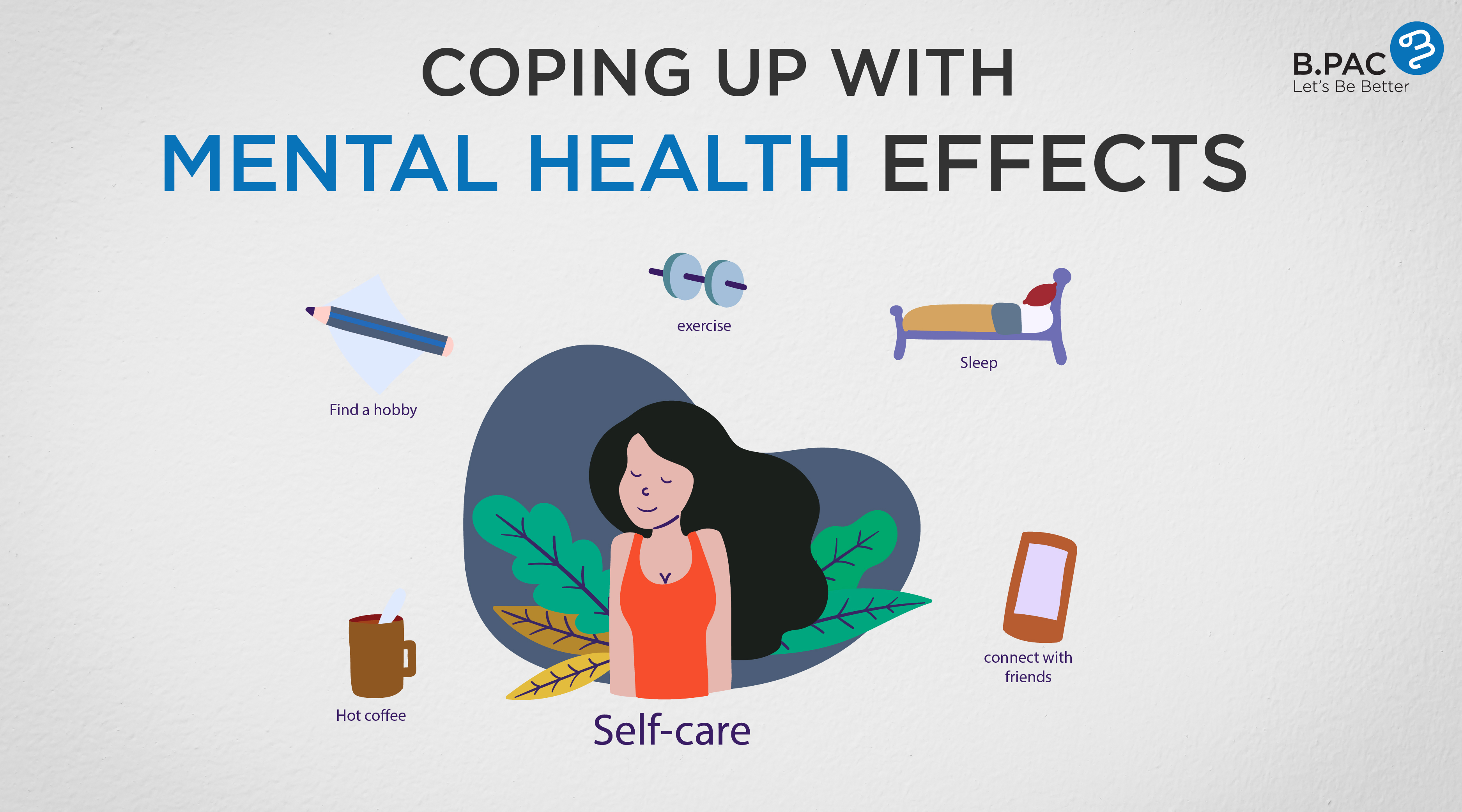 Stress is a physical and psychological reaction to the demands of life. Everyone reacts differently to difficult situations, but multiple challenges daily, due to the COVID-19 pandemic, can push you beyond your ability to cope. People prone to mental health conditions, like anxiety and depression during this time, have the most challenging times. It is vital to manage the emotional burden in healthy terms. Learning to cope up with stress will help you and others around you become more resilient. As per WHO & Mayo Clinic, following tips can make it easier to cope up with pandemic:
Get yourself prepared and don't panic: Prepare yourself to get quarantined and isolated from the crowd and spread positive news only. Remember, various cases have been recovered from the virus too. 
Stick to reliable sources for facts: Practice mindful exposure by getting the correct information about the Covid-19 pandemic. Keep yourself aware of your society and take proper precautions. Constantly being exposed to news from all types of media can heighten fears, resulting in paranoia. Consider limiting social media exposure to avoid rumours and false information.
Stay connected:  Since lockdown and curfews have been imposed, gatherings and social events have been banned, but that does not mean one needs to forego contact entirely. Stay connected with your friends and relatives via social media and communicate your feelings. Opting for virtual connections via email, texts, phone, or FaceTime can help to de-stress. Enjoy virtual socializing, sharing coping tips and talking to those in your home.
Practice good self-care habits: Exercise helps in relieving stress and anxiety. It is important to exercise daily rather than spending your time  thinking of the pandemic only. Regular exercise & physical activities can help combat anxiety and improve mood. Consider indulging in activities that include movements, like dancing, or stepping into the backyard for strolls.
Follow a healthy diet: Try having a balanced diet, but that does not mean you cannot have your favourite meals. Be sure to avoid loading up on junk food and refined sugar frequently. Consider limiting caffeine as it aggravates stress and anxiety. Enjoy your food and promote wellness of mind and body. 
Maintain a healthy sleep routine: Avoid using phones, news, media before sleeping. Proper sleep cycles and regular meditations can help maintain a healthy mind.
Be Kind to yourself & others: It is natural to feel lost & worried given the situation. Allowing oneself to be more compassionate & patient towards the struggles is helpful. There is a thin line between positive thinking & toxic positivity, so make sure not to force yourself to remain positive by denying the reality of the current situation. If family members or friends need to be isolated or quarantined for safety reasons, come up with ways to stay in contact through electronic devices or by sending a note to brighten the day.
Avoid tobacco, alcohol and drugs: If you smoke tobacco or vape, you have a higher risk of developing lung disease. Because COVID-19 affects the lungs & respiratory tract, your risk increases even more. Another misconception is, alcohol consumption can help  kill the virus in the system. The virus attaches itself to the respiratory tract or lungs where alcohol can't reach. Consuming alcohol can only make matters worse as it reduces your coping skills. Avoid taking drugs to manage unless your doctor prescribed medications for you.
Set aside time for yourself: Taking a break and dedicating a few minutes of quiet time to yourself can be refreshing and help you quieten the mind. Activities such as deep breathing, tai chi, yoga, listening to music, or reading books are encouraged to help in relaxation.
Creative games for children: It's a no-brainer that young children feel most restless by staying indoors & studying for prolonged periods of time. Creative plays & activities like drawing, singing or dancing can help children express their feelings, relieve stress & also reduce screen time.
STOP REACTING AND START THINKING WISELY
We can learn a lot from slowing things down. Before we dive back into society, we must take a moment to mindfully contemplate the life lessons we learnt from this extraordinary time. maintain distance, keep yourself isolated from the crowd, and positively guide others through the pandemic. Religiously following self-care practices will help to increase the ability to cope up with life's ongoing challenges.