Launch of B. SAFE Constituency Initiative Supported by CGI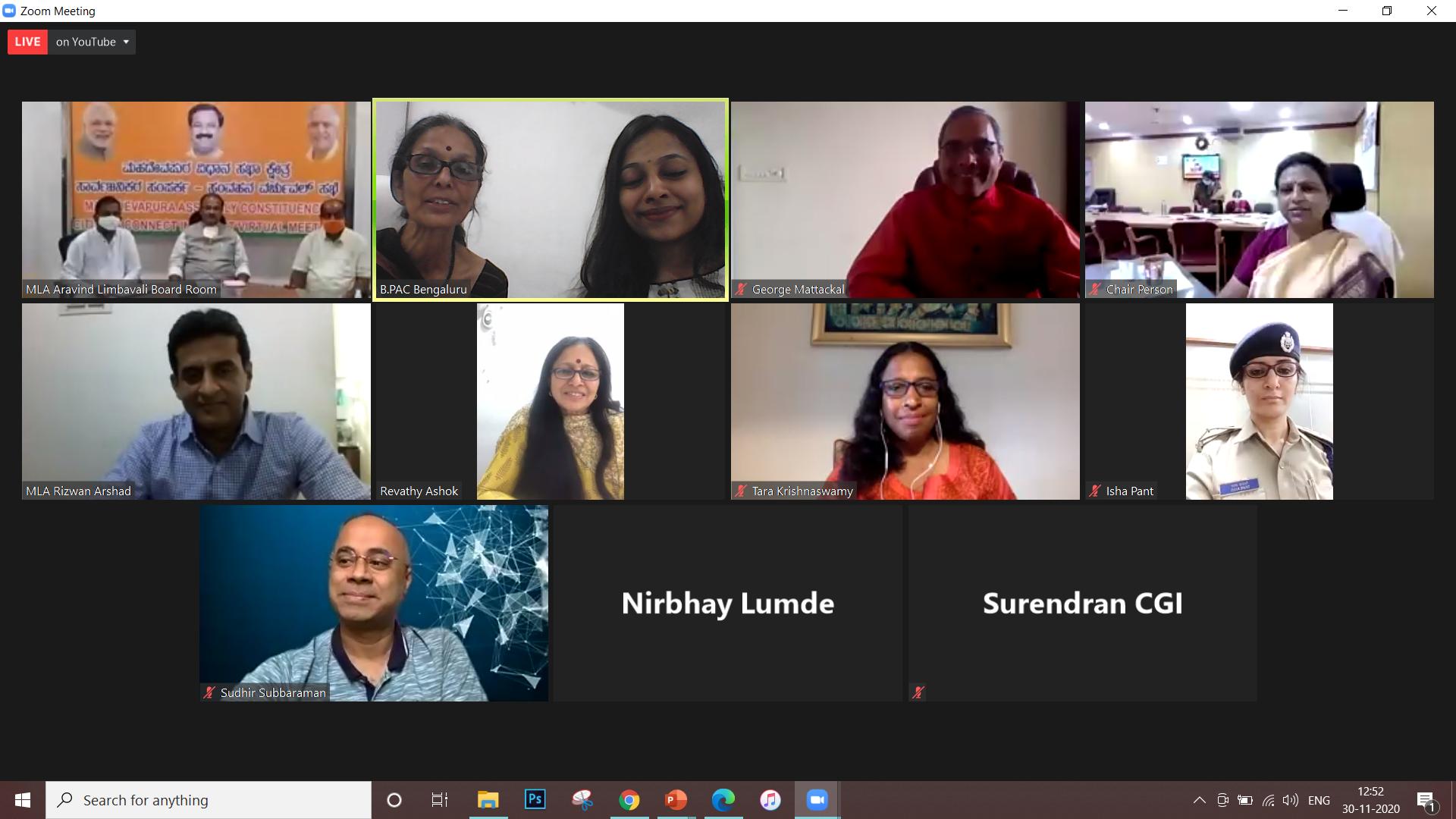 B.PAC along with CGI, a global IT Company organized a virtual launch of its program titled B.SAFE Constituency, an initiative for Safety and Empowerment of Women, on Monday 30th of November 2020.
Ms. Siri T K (B. SAFE Program Co-Ordinator) gave a welcome address, which was followed by Ms. Chitra Talwar (B.SAFE Program Head) providing a brief introduction to the B.SAFE Constituency program which aims to train 25 women leaders in each of the two selected constituencies, Mahadevapura and Shivajinagar, covering a total of 15 wards. The program comprises capacity building, public spaces gap analysis, citizen engagement, and Advocacy for the Safety and Empowerment of Women.
Mr. George Mattackal, President, CGI, Asia Pacific Region, Global Delivery Centers of Excellence emphasized on the importance of being responsible Corporate citizens, with CGI's focus on women's empowerment and leadership both in the internal and in external environs of an organization. Mr. Mattackal also said that engaging a community in creating awareness and enabling access to resources will result in sustained safety and empowerment. He added his appreciation to the two Hon'ble MLAs for their big support to this CSR initiative.
This was followed by a brief Panel Discussion on Safety and Empowerment of Women: Citizen Expectations and Stakeholder Priorities. The session was moderated by Ms. Chitra Talwar, B.SAFE Program Head
Panel members were:
Ms. Pramila Naidu R, Chairperson, Karnataka State Commission for Women
Ms. Isha Pant, IPS-DCP, Command Centre, Bangalore City Police
Ms. Tara Krishnaswamy – Political Shakthi and Citizens for Bengaluru
Ms. Tara Krishnaswamy while saying "Justice must not only be served, but it must be seen to be served", identified 3 key areas of citizen expectations-
Full commitment by all  stakeholders to Zero Tolerance on safety issues
Emphasize the need for Eyes on the Streets that calls for encouraging more women to occupy the streets, which can make women feel safe to commute and interact in public spaces safely and
Refer to urban planning that should provide an enabling environment given women's varied, lifecycle needs.
Ms. Pramila Naidu put forth her points by stressing that education is the foundation to empower women from all sections of society. Education strongly supports employability and employment makes a woman financially sound and confident. Women should develop a good understanding of fundamental and legal rights in their power within the framework of the Indian constitution.
Ms. Isha Pant responding to the challenges faced by the Police force in ensuring women's safety in Bengaluru, remarked Bengaluru to have a diverse population and called it a global city. A diverse population leads to a varied understanding of freedom, liberty, and women empowerment that calls for a need to undo the existing stereotype and to work from the perspective of what legally is right and wrong. She also mentioned the various schemes coming to force to make Bengaluru city a much safer place for women, one such being the installation of 7500 plus CCTV cameras across the city under the Nirbhaya Yojana.
As a closing note to the panel discussion, Ms. Tara Krishnaswamy made a point that Eyes on Streets in many ways provides great confidence of safety for women compared to just  CCTV cameras. Both are important for greater confidence and enforcement of women's safety.
Hon'ble Shri Aravind Limbavali, MLA Mahadevapura Constituency expressed support to this Program starting with a mention that the safety of women starts from the home. Women to be treated respectfully and responsibly by the family and then extending that respect and safety in the public spaces. He appreciated the idea of 7500 plus CCTV cameras installation from the perspective of safer streets across the city under Nirbhaya Yojana and calling it a powerful initiative to ensure safer streets for women in Bengaluru. He concluded that awareness and rule should go together, and he extended full support and best wishes to the implementation of the B. SAFE Constituency program. Following his remarks, the Hon'ble MLA officially launched the Program in Mahadevapura with a video.
Hon'ble Shri Rizwan Arshad, MLA Shivajinagar Constituency expressed his appreciation of the program focused on the need for safety and empowerment of women. He made a notable point that society needs to be sensitive in understanding the needs and spaces to grow as a community together, stressing that women be given equal roles and responsibilities to achieve their success in the community.  He also pointed out that the major percentage of the women who we need to reach out to are those who are economically challenged. He concluded that as a progressive community we need to channelize our efforts to empower women. Hon'ble MLA extended his hearty support to the program with a launch video for Shivaji Nagar.
Ms. Revathy Ashok, Hon Managing Trustee, and CEO, B.PAC stressed the point that transformation of society is required to implement and sustain a safe environment for women. This program is powerful and carefully structured with lots of inputs from experts on gender legal, financial literacy, etc. . While thanking the MLAs, CGI, and Panel members for their full support, Ms. Ashok emphasized the real work of B.SAFE Ambassadors begins after their training sessions. B.SAFE Constituency program is data-based and committed to continuous engagement with all stakeholders through our B.SAFE Ambassadors and the success of this program in the two constituencies will enable our advocacy effort for a model B.SAFE Constituency for the safety and empowerment of women.
For more information visit: