Voter Awareness Initiative
Though many might feel, "my votes don't matter" or just a general indifference towards it, one must remind themselves that voting is a constitutional right and a right which we should ardently uphold and avail. Lower voter turnout is the bane to the existence of democracy since only a small sample of the population gets represented. With lower representation, the elected officials would only cater to the beliefs and ideals of the minority who have voted. This leads to an almost partial government which makes its decisions to satisfy only that minority.
A democracy can't thrive without the votes of its citizens, which is why it is of the utmost importance to cast your vote and be part of the millions who help in setting up the direction and growth of our country.
With the above in mind and the elections right around the corner, B.PAC has decided to aid in spreading awareness about voting and why one should vote. The Voter Awareness Initiative was born out of this need to promote and educate the citizens on everything regarding elections & voting. Workshops, talks, parades & marches were some of the activities conducted under this campaign.
Panel discussion "New Initiatives of ECI to Increase Voter participation"
Bangalore Political Action Committee (B.PAC) organised a panel discussion on "New Initiatives of ECI to Increase Voter participation" on Friday 5th April 2019 at the Khincha auditorium, Bharathiya Vidya Bhavan. The discussion was moderated by Harish Bijoor, Member B.PAC and the panel included Sanjeev Kumar, Chief Electoral Officer, Karnataka, Prof. Sandeep Shastri, Pro Vice Chancellor, Jain University, Revathy Ashok, Hon Managing Trustee & CEO, B.PAC, Prakash Belavadi, Journalist and Harish Narasappa, Co-founder, Daksh India.
Sanjeev Kumar, Chief Electoral Officer, Karnataka made a presentation about all the innovative methods used by CEO Karnataka to increase voter participation for the upcoming Lok sabha Elections. Mr. Sanjeev He emphasized and introduced to the audience on a range of new initiatives undertaken by ECI and CEO such as electoral role management system, C-vigil mobile applications to report model code of conduct or expenditure violation to support ethical voting. He highlighted the preparations undertaken jointly with the district electoral office and commissioner of police to conduct free and fair elections in the city.
This was followed by a panel discussion moderated by Harish Bijoor. A wide range of topics under the citizen participation in strengthening democracy were discussed. The highlights are as below
Wider citizen participation during elections and its impact to the day to day quality of life to citizens
Political parties democratizing selection of candidates by involving voters
Urged all Bengalureans to vote without and not consider this as a long weekend for a vacation
Talks and Workshops
by Surya Sen, Joint Chief Electoral Officer Karnataka at Surana College (23rd March,2019)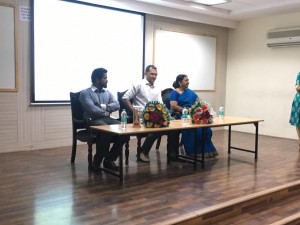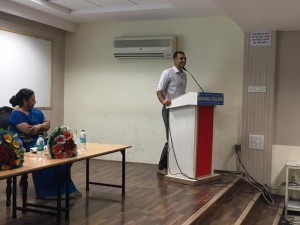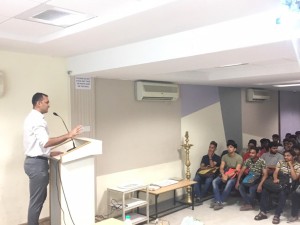 Voter Awareness Jaathre (parades/marches)
B.PAC in association with CEO (Chief Electoral Officer) Karnataka and Reva University had organised Chunaavana Jaatre (parade/march) to create voter awareness at Kodigehalli – Byatarayanapura.