"Creation of UMTA (renamed as BMLTA) for the city is necessary as per guidelines from the Ministry of Housing and Urban Affairs and the National Urban Transport Policy. In this regard, the BMLTA is to be created by an act."
–  Chief Secretary, Vandita Sharma
Among the various monikers that Bengaluru has acquired over time, 'The Most Traffic Congested City' is used more often. There prevails an old joke Bengalureans are all too acquainted with. It says that a person commuting from one part of the city to another will take more time on the road than a person who is flying from Bengaluru to a different city. For those who commute on a regular basis, the adage "commuting on the road is a never-ending saga due to the traffic" rings all too true. As per TomTom's  2021 report, Bengaluru ranks 10th among the 404 cities, globally, that have the worst traffic congestion problems in the world.
Currently, organisations including the Transport Department, Bangalore Metropolitan Region Development Authority, BDA, BMTC, BMRCL, BBMP, and traffic police are in charge of Bengaluru's transportation planning, development, implementation, and management. Due to the involvement of several agencies working on the same objectives concurrently, there is an overlap of duties and tasks that hinders planning and implementation. The projects being carried out by the various mobility bodies in the city occasionally have no connection at all. The city's traffic and transportation services are in jeopardy as a result of this lack of collaboration.
To ensure seamless transportation in Bengaluru, The Directorate of Urban Land Transport (DULT) has submitted a draft of the Bengaluru Metropolitan Land Transport Authority (BMLTA) Bill to the Government of Karnataka which is expected to be tabled in the next Karnataka Assembly Session. The bill proposes a major overhaul in the management of Bengaluru's transportation system by encapsulating all the existing land transport agencies under a unified system, thereby becoming the final arbiter of Bengaluru's transportation policy.
Background of BMLTA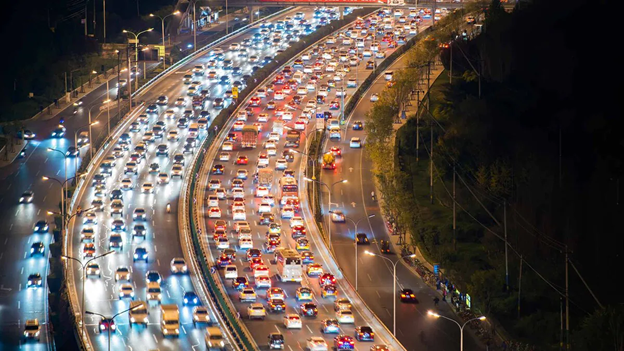 In Bengaluru, there are numerous policies and authorities that overlap, making it impossible to resolve the traffic issue. The Urban Development Department (UDD) and Transport Department are in charge of policies impacting urban transportation (TD). Road construction and administration are the responsibilities of the municipal corporation (BBMP). Most significantly, the Bengaluru Development Authority creates the Comprehensive Development Plan (CDP) for the Bengaluru Metropolitan Area (BDA). Additionally, the structure plan, a strategic direction document for the Bengaluru Metropolitan Region, is the responsibility of the Bengaluru Metropolitan Region Development Authority (BMRDA) (BMR).
The main public transportation service providers in Bengaluru are the Bengaluru Metropolitan Transport Corporation (BMTC) and the Bengaluru Metro Rail Corporation Limited (BMRCL), with a daily combined ridership of about 5 million trips. Their goal is to offer transportation that is dependable, clean, and reasonably priced. However, integration rather than competition between the BMTC and BMRCA is essential for achieving the aforementioned goals. The institutional merger will enable BMTC and BMRCL to collaborate closely and boost the modal share of public transportation. Collaboration between two autonomous public transportation agencies is only possible if there is a formal institutional connection between them.
This can be accomplished by the Bengaluru Metropolitan Land Transport Authority (BMLTA) which will bring multiple agencies together. This agency would be responsible for strategic planning and policy formulation and would set the mandate for different transport utilities, including BMTC and BMRCL. The integration of BMTC and BMRCL would then focus on the tactical and operational functions, including commercial and safety regulations, infrastructure and service planning and coordination of common services.
Timeline of BMLTA Draft Bill
In 2006, the National Urban Transport Policy (NUTP) was created to solve the issue of congested urban mobility. Decentralised urban transport planning was one of its tenets, and it was to be made possible by a new organisation called the Urban Metropolitan Transport Authority (UMTA) for particular cities.
The goal of UMTA is to make coordinated planning and execution of urban transportation projects and programmes, as well as integrated management of urban transportation networks, easier.
Government of Karnataka (GoK) established the Bengaluru Metropolitan Land Transport Authority (BMLTA) in 2006 (via a government ordinance). Its function was to act as a hub organisation for the integrated planning and execution of urban transportation programmes.
In 2007, the GoK also created the Directorate of Land Transport Authority (DULT) with a goal to ensure that land use planning and the development of transportation-related infrastructure were integrated and coordinated in Karnataka's urban regions.
In 2010, the first draft of BMLTA was prepared and consulted with the public. In 2021, Directorate of Land Transport Authority formulated the final draft BMLTA bill, an overarching body with ultimate authority of transport governance in the Bengaluru Metropolitan Region. The bill was vetted twice but never got approved by the state cabinet.
Organisational Structure: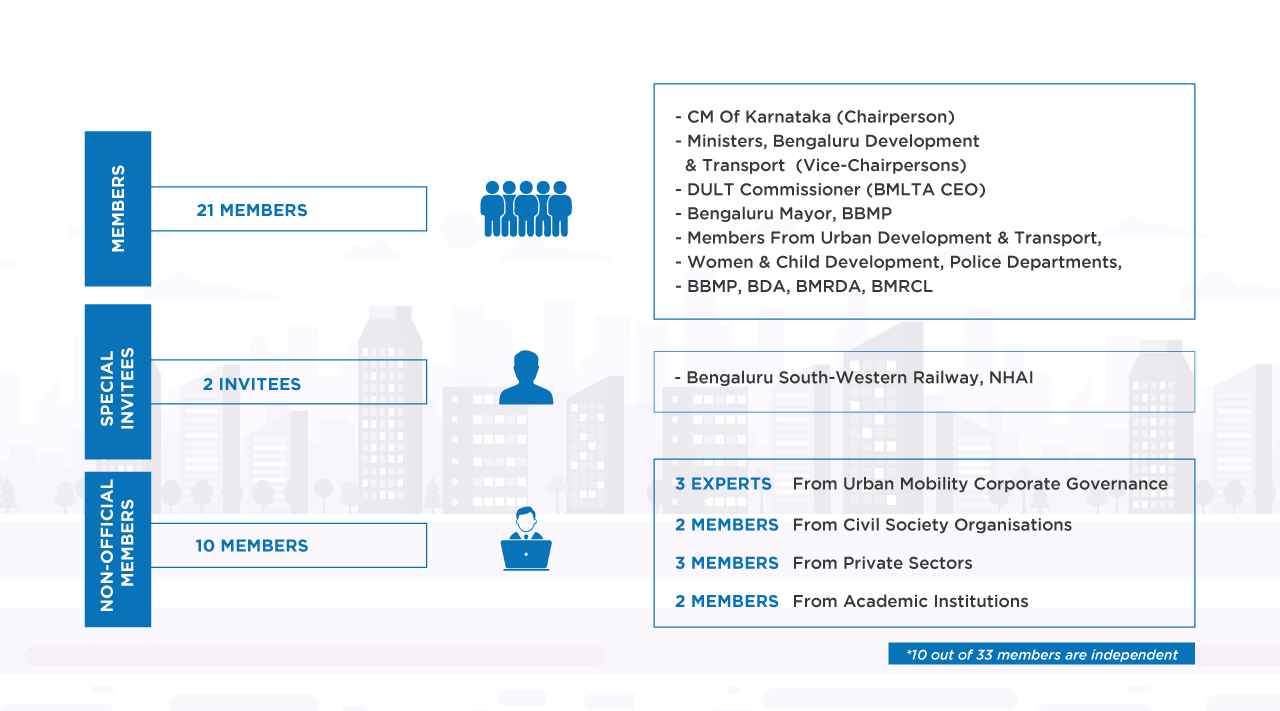 BMLTA is a group made up of senior government representatives from the departments of transportation, urban development, infrastructure, finance, and planning (DULT 2018b). The organisation's structure will consist of 21 members, 2 special invitees, and 10 unofficial members. The elected ministers from Bengaluru Development & Transport will serve as Vice Chairs, with the Chief Minister of Karnataka serving as the Chairperson. The group will be headed by the DULT Commissioner, who will also serve as BMLTA CEO. Other formal members will include the Mayor of Bengaluru (BBMP) and representatives from the departments of Urban Development & Transport, Women & Child Development, Bengaluru Police Departments, BBMP, BDA, BMRDA, and BMRCL, among others. 10 non-official members will be made up of representatives from civil society, educational institutions, and the commercial sector, while two special invitees will be chosen members of the Bengaluru South-Western Railway, NHAI. 10 of the organisation's 33 members are independent, which promotes participation and inclusivity.
Benefits of BMLTA Draft Bill :
Theoretically, one could ride a bus to JP Nagar Metro Station, board the Metro to Yeshwanthpura, and then board a suburban train to Whitefield. However, this is complicated because the numerous forms of transportation's ticketing and scheduling systems are not integrated. An organisation like BMLTA can ensure that auto-rickshaws, cycles, and e-cycles are easily accessible at first- and last-mile sites in addition to providing seamless integration of these modes. If implemented, it will facilitate:
Integrated planning and management of urban transport.
Multi-modal integration of transport services.
Coordinate land transport matters in the metropolitan region.
Rational fare structures.
An empowered committee for all urban transportation projects.
Research, studies and awareness.
Key Urban Transport Functions :
Preparation of CMP, integration with land use plan, common ticketing, multi-modal integration, etc.
Existing functions of agencies like route planning, fare fixation, licensing, etc. to be regularised by UMTA to ensure integration & co-ordination of transport projects.
Recommended BMLTA Functions :
It is necessary to reorganise BMLTA through legislation and finance in order to carry out the city's investment decisions for urban transportation. Additionally, it would require effective authority to collaborate with numerous land use planning organisations, including the BMRDA, BDA, and BBMP, as well as organisations in charge of transportation infrastructure and services (BMTC, BMRCL, Indian Railways). In the context of the institutional system, specific duties to be carried out by BMLTA could include:
Policy Level
Revival of BMLTA through legislation, with dedicated sources of funding.
BMLTA could decide the nature of transport investments for the region, based on the principles of sustainable urban transport planning.
BMLTA could coordinate land use planning, specifically transport infrastructure provision, with city planning agencies (BMRDA, BDA and BBMP).
Regulatory and Planning Level of BMLTA
BMLTA could set up a Public Transport Committee (PTC) to regulate public transport fares and integration of ticket payment systems.
The PTC could be funded by a dedicated transport fund (through collection of congestion fees from private vehicles and cab aggregators).
BMLTA could decide the areas of operations by different public transport service providers (based on timely studies) so as to serve a larger population base and avoid competition between transport service providers.
Apart from the fare fixation committee, other committees could cover the following topics:
Infrastructure charges
Multi-modal integration
Disruptive technologies
Public transport policy development would have to get an appropriate mix of stakeholders from public sector, private sector and civil society to be part of these committees.
Operational Level of BMLTA
In order to improve inter-agency coordination and cooperation, BMLTA could own and run the interchange facilities and intermodal terminals. It would be necessary for BMTC and BMRCL to establish a coordinating structure for integration-related specialised topics. These topics would include route design, infrastructure integration at metro stations (planning and physical features), fare fixing and integration (implementing a common access card). The proposed BMLTA would need to specify the subject areas and the structure for coordination between these agencies because of the competitive nature of the current environment in which these agencies frequently operate. Then, senior personnel from each agency handling the relevant issue would be designated as the point person to coordinate with their counterpart and accomplish the goals.
Challenges of BMLTA:
BMLTA has never had a committed staff; DULT serves as its secretariat. Currently, BMLTA lacks the legislative backing, financial resources, and power to raise and disburse funds necessary to carry out its goal. Evidence on the DULT/BMLTA website demonstrates that DULT is undertaking feasibility studies rather than serving as the coordinating agency as was originally intended. Given the absence of institutional integration in higher levels, line agencies, including transportation companies like BMTC and BMRCL, are not required by law to integrate their operations.
However, establishing a single transportation authority similar to BMLTA, till now, has been an unsuccessful attempt. It is necessary to reorganise the leading agency, by giving it adequate authority. Finding financing sources that will allow BMLTA to carry out its mission is equally crucial.
Current Status: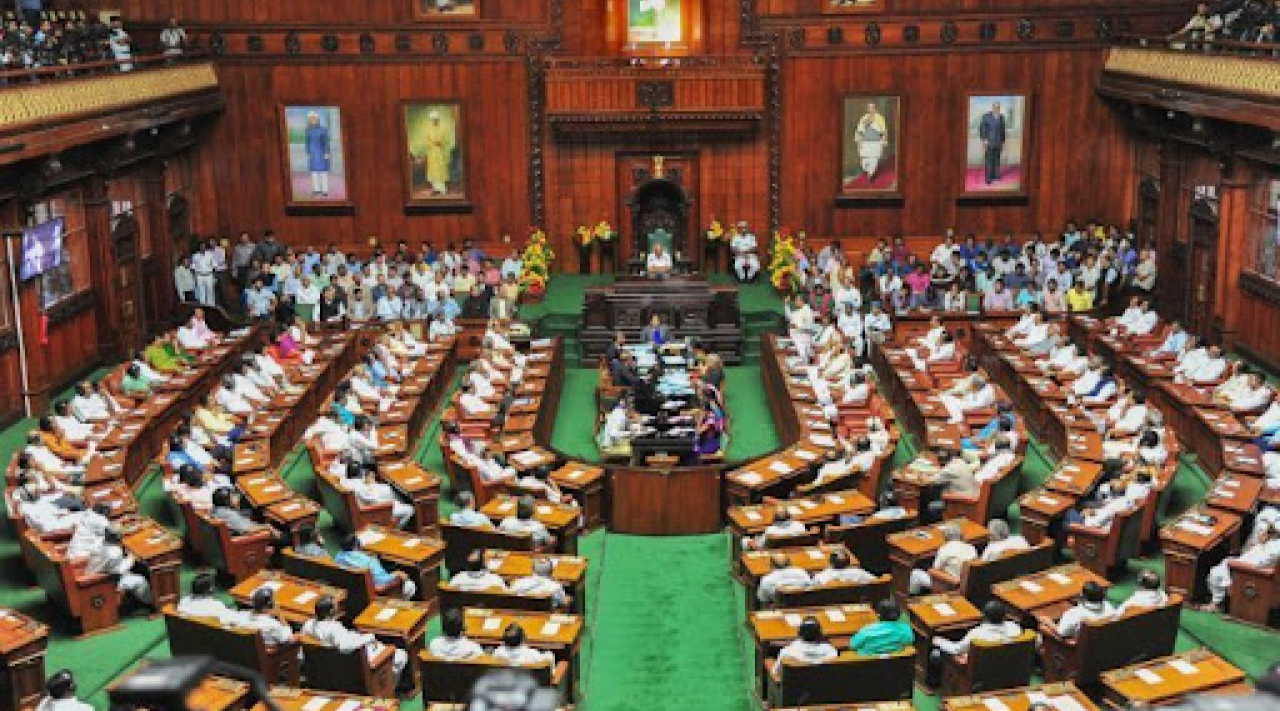 In order to coordinate the planning and execution of urban transportation projects and programmes and to offer an integrated management structure, DULT has drafted the Bangalore Metropolitan Land Transport Authority (BMLTA) Bill. Draft BMLTA Bill is being reviewed by the Department of Parliamentary Affairs & Legislation after being sent to the government's Urban Development Department. The law should have been presented during the previous session, according to the demand. Chief Secretary Vandita Sharma has directed the Urban Development Department (UDD) to introduce the Bangalore Metropolitan Land Transport Authority (BMLTA) Bill at the upcoming assembly session, which is scheduled for August.
B.PAC also has been pushing for the bill with numerous campaigns. One of the recent efforts was the virtual panel discussion on 'Bengaluru Metropolitan Land Transport Authority (BMLTA), A Need Of The Hour To Provide Commuter-Centric, Seamless, And Inclusive Mobility', in context of city transport planning, administration, and governance.
Conclusion:
The gap between planning for infrastructure, services and making policy decisions, which has put mobility at risk, will be closed once and for all by the BMLTA. A commuter will be able to access information on buses, the metro, and trains under one umbrella system using this integrated method, making it possible to plan a seamless trip. It is anticipated that the bill will be brought before the Karnataka Assembly during the ensuing budget session. Let's show our support to BMLTA so Bengaluru gets an efficient transportation service that resolves our traffic problems.