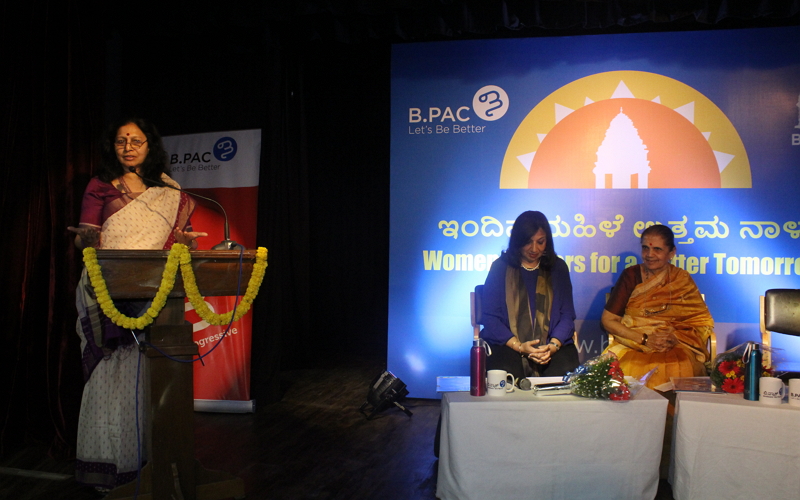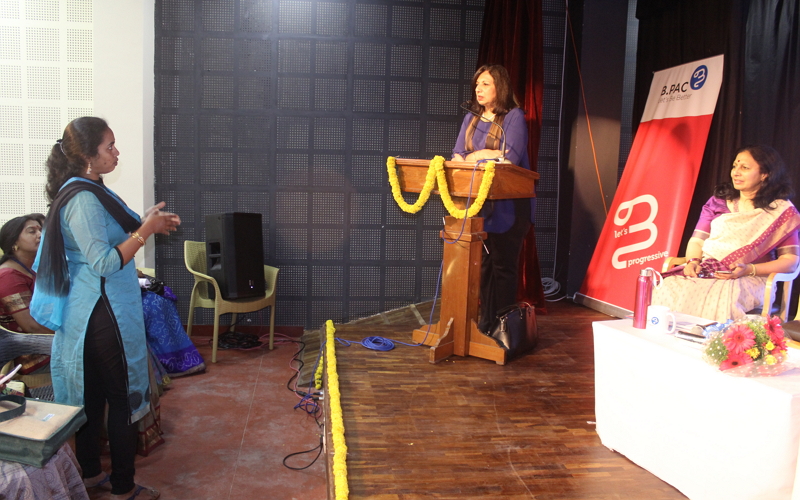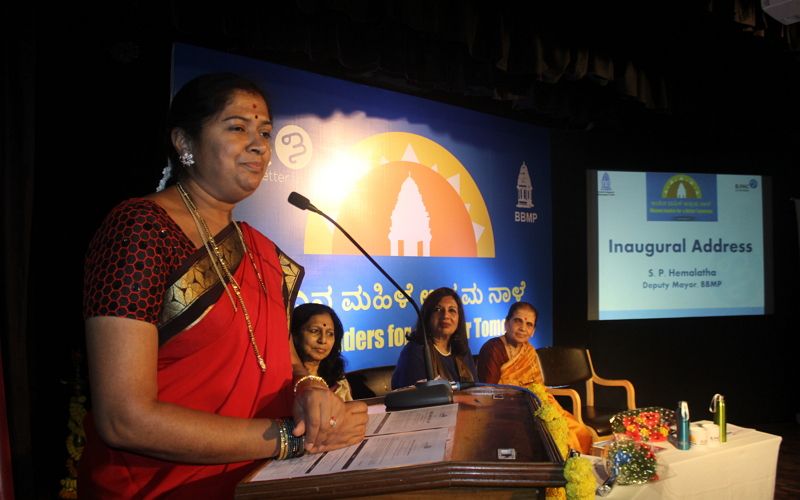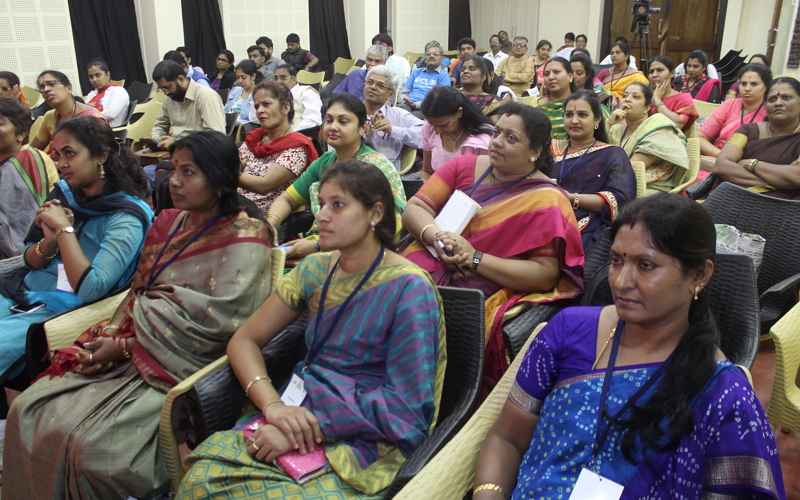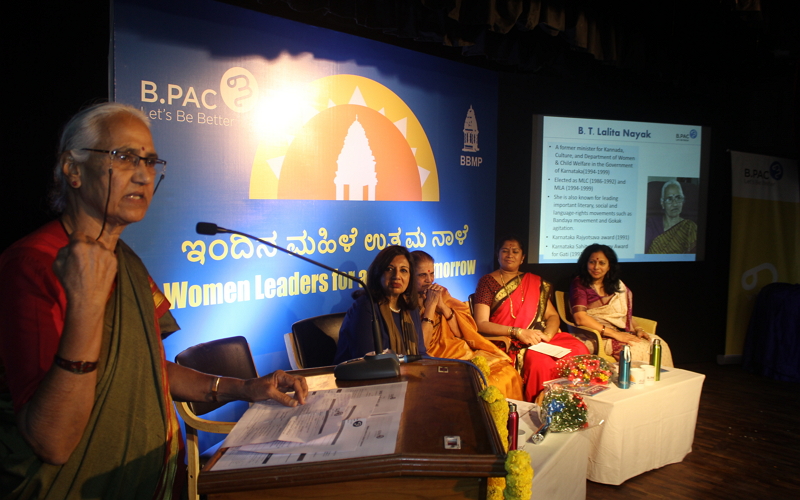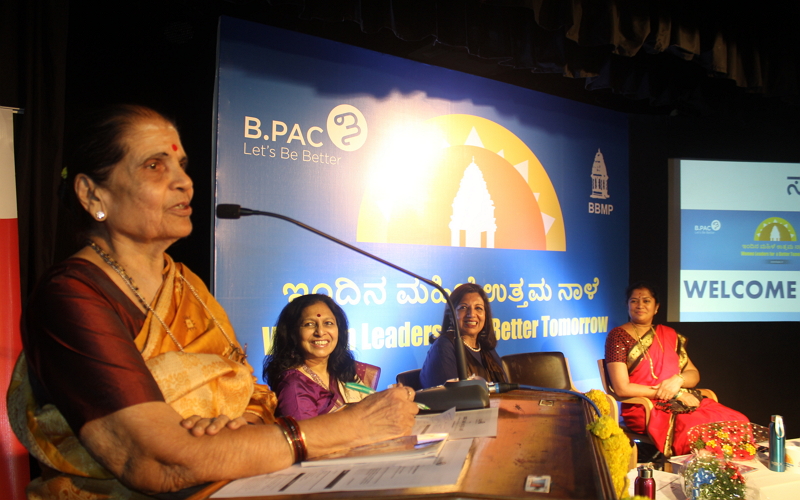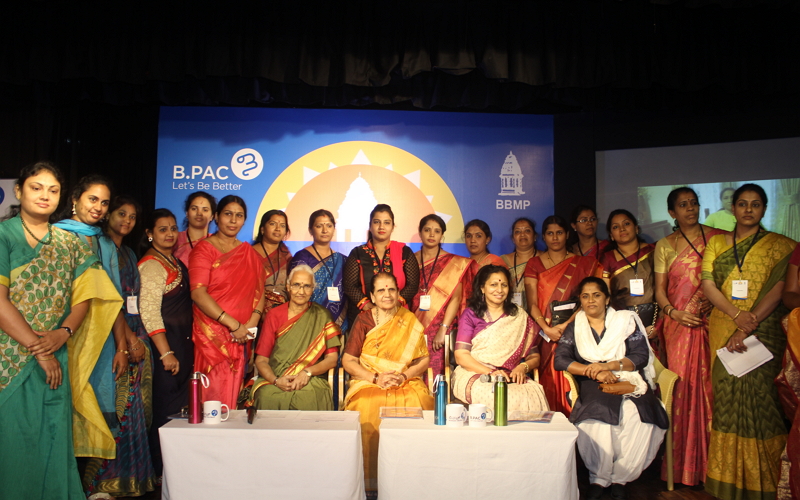 Women Leaders for a Better Tomorrow
As the festive season approaches, we are happy to update you on our recent activities. B.PAC (Bangalore Political Action Committee) in association with the Bruhat Bengaluru Mahanagara Palike (BBMP) organised a workshop – Women Leaders for a Better Tomorrow – the imprint of women leader in political leadership.
B.PAC noted the importance of commemorating the presence of 52 % women elected members in the BBMP council, a truly historic event in Bengaluru's history. We thought that this is the right moment to celebrate this win and inspire our corporators with mind blowing stories of several women political luminaries of Karnataka such as Leeladevi R. Prasad and B.T, Lalitha Nayak.
Leeladevi R Prasad, former Minister, GoK and B.T. Lalita Nayak, former Minister, GoK addressed the young women corporators leaders and shared inspirational insights of their humble beginnings and their political journey in a very tough environment. Their deep commitment to public service and engagement with the city, high standards of governance, integrity, and humility, were the key take always for the participants to emulate.
Originally from North Karnataka, Leeladevi R Prasad was among the first Corporators of erstwhile Bangalore Mahanagara Palike. In 1956, she along with 6 members were elected to the body. At the age of 22 from being a housewife she became the first woman corporator and went on to win three Council elections and MLA Elections before becoming the Minister of Women and Child Development for the state of Karnataka. She has donned various roles in her long stint at the Council. She was the chairman of the education Committee and Health Committee. She has inspired generations of women leaders to deliver beyond what is expected from a traditional politician.
The charismatic leader shed light on the collapse of the local administration and the loss of Bengaluru's brand image. She stressed on the importance of reviving this and reiterated that women are the right candidates to run the Civic Authority. She reflected on the importance of women coming together irrespective of party lines to make sure that the Mayor and the Dy Mayor get administrative powers.
B.T.Lalita Nayak is a writer, and social activist. A former minister for Kannada, Culture, and Department of Women & Child Welfare in the Government of Karnataka. She has also served as an MLC and MLA. She is also known for leading important literary, social and language-rights movements such as Bandaya movement and Gokak agitation.
SP Hemalatha, Dy Mayor, BBMP spoke about the huge opportunity for women corporators to make a mark and spoke of the initiatives on waste management and health related programs and initiatives in her ward that could be successfully replicated by other corporators
When a Woman is educated, the whole family benefits, when women corporators are educated the whole ward and city will benefit said Suresh Moona, eminent historian of Bengaluru. He took the audience through the need to connect the generations with a sense of place by recording the history of each ward and its uniqueness and requested each corporator to install a "Green Plaque" as a symbol of heritage in their respective wards.
There was a video message from the Mayor and from the former Minister Rani Satish exhorting the corporators to bring about positive change in the city. Click here to see their messages.
Nitin Pai, Founder of The Takshashila Institute explained to the participants the need to develop a comprehensive vision for the ward, prioritise, plan and execute on the vision with a well documented and standardised process, so that corporators can leave behind a strong legacy of positive action in their respective wards. Click here to see some ideas for transformation.
C. Manjula, former Chairperson Karnataka State Women Commisison, while addressing the corporators spoke about the delicate balance that a corporator has to exercise between party priorities and greater public good and asked the corporators to be build and fearless in their service to their respective wards.
While the Program was well received by the women corporators and they were keen to work in a collaborative manner along with local citizen groups the attendance of women corporators however reflected the apathy of political leaders towards engaging in public service. While we had a full-house consisting of corporator, ex-corporators, RWA representatives and concerned citizens, we were disappointed that only 20 sitting women corporators out of 101 attended the program.
However, women leaders who did made it to the event were extremely appreciative and enthusiastic about such programs being instruments for developing their leadership skill and bringing about change in their neighborhoods. Amongst the women corporators who attended, Deepa Nagesh, corporator from Srirama Mandira ward in Rajajinagar along with five other women corporators from Mr. Suresh Kumar's constituency and B.PAC endorsed candidate R.J. Lalitha Rathod from Gandhinagar ward offered to collaborate with B.PAC and also said that they would encourage more women corporators to take similar initiatives.
B.PAC, through this endeavour has reached out to women Corporators of Bengaluru city to realise their full potential and capability and to lead important transformational change in city's developments – making the city a pride of place for every citizen. This initiative received great press coverage from leading English and Kannada newspapers.