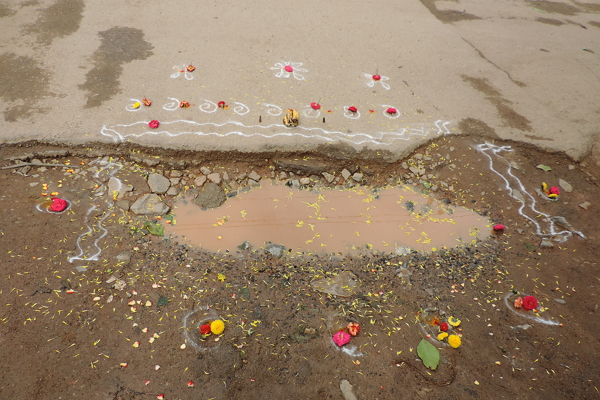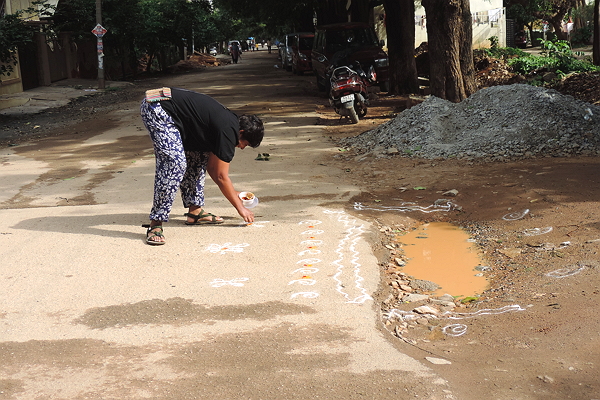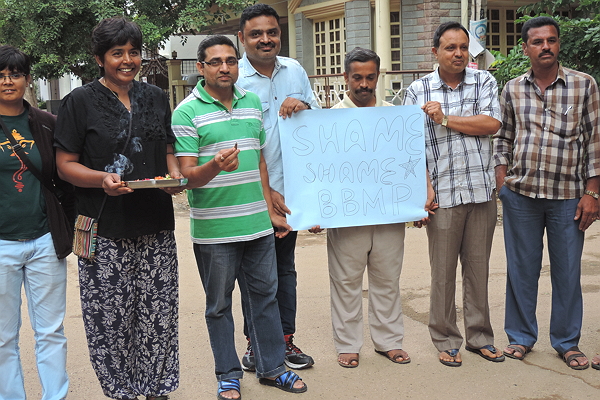 Pothole Pooje Rescues a Road in HSR Layout
Bengaluru, 9th July: Led by Ms Kavitha Reddy, a civic leader and member of the B.CLIP initiative, the residents of Sector 1, HSR Layout performed a 'Pothole Pooje' on the 9th of July. It was done to highlight the number of potholes on the roads, and also to draw the attention of the Bruhat Bengaluru Mahanagara Palike (BBMP) towards civic apathy. The residents, who tried to get the BBMP interested in many ways, finally resorted to this act.
The BBMP, who did know of the Pooje, did not turn up but the residents indiscriminately came in droves and participated wholly.  The Residents' Welfare Associations contributed significantly in this cause due to the pathetic quality of roads in Bangalore. It is a huge area of concern for all, considering the fact that there have been multiple accidents resulting in deaths due to potholes. There have been a few cases, which have caused widespread outrage like Stuti Pandey, who was riding pillion, met with an accident and died, or the case of kindergarten teacher Uma Ramanan who was run over after losing balance over her two-wheeler, all due to potholes and bad quality roads.
A videographic survey taken from the main road leading to the venue of the Pooje showed a shocking 45 potholes on the 200 meters stretch. As the residents claimed that it had been 9 years since the last asphalt, they demanded to know where their tax was going. On being asked about this, Ms Reddy, who came up with the idea of the Pooja, said, "The roads here have been in poor shape for a long time, but the authorities don't care. How is it that the IAS Colony, which is close by, has its roads asphalted often but ours is left to rot? There must be something really wrong."
There was no response from the BBMP as on Saturday, however by Sunday they began floating tenders for the work and also asphalted the roads much to the delight of the residents. Such results can show how much can be done through creative and united endeavors, a message that B.CLIP heavily promotes.   Though this quick response of the authorities was appreciated, citizens now wonder if this is the only way to ensure that civic amenities are provided to them.