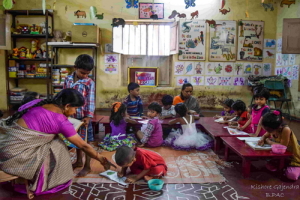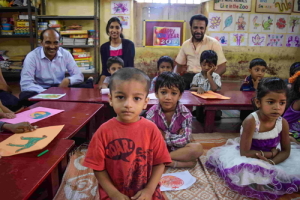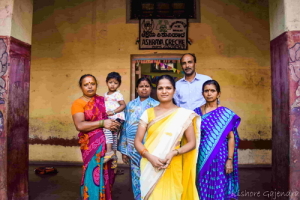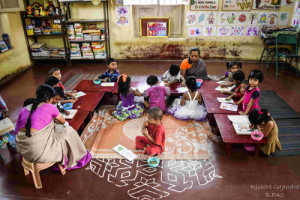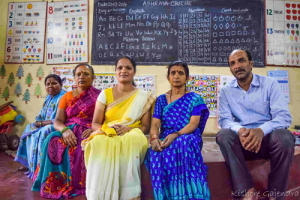 Civic Hub Activist Lauded for efforts to improve Kindergarten in Shivajinagar  
Corporator Steps up, fixes kindergarten's issues swiftly 
Corporators and Citizens have started to work hand in hand, thanks to B.CLIP's Civic Hub initiative in Ward no 110.
B.CLIP participant Sufiyan recently kickstarted his Civic Hub office in ward number 110 on Infantry road. Sufiyan has been a keen observer of the issues pertaining to his ward and has played an active role in helping improve his neighborhood. He along with a few other activists from Infantry road visited a Kindergarten for the economically weaker section and what they saw shocked them.
Lack of water connection to the campus meant that the teachers of the kindergarten had to walk nearly 50 meters outside the campus to fetch a pot of water. Speaking to B.PAC Sufiyan said "We knew we had to do something immediately, because lack of basic amenities such as water could affect the children's health and education outcomes in the long run".
After bringing this to the notice of the previous elected representatives and other Civic Leaders in vain, Ms Rathna, head teacher of the Ashraya finally turned to Sufiyan for help. Sufiyan immediately called the new Corporator Vasanth Kumar. The Corporator visited the kindergarten and was baffled by the lack of water supply to the campus. He then sprung into action and immediately called the BWSSB to instal water taps inside the kindergarten campus. Corporator Vasanth Kumar paid for the materials such as pipes, water taps and service charges from his own pocket and said that this is his personal contribution to the children.
Speaking to B.PAC, Corporator Vasanth Kumar stated that "I am glad Sufiyan brought this issue to light. We have now ensured that kindergarten has water supply inside the campus. I look forward to helping them further with other basic requirements such as books, toys, stationary etc. We need more such activists coming forward to bring issues to light".
The kindergarten located in the heart of Shivajinagar lacks on various fronts including infrastructure, water facilities, books and so on.
The Kindergarten run by an NGO called Ashreya provides breakfast and lunch for the children and in this case water connection was a necessity.
Sufiyan also stated that he would organised a community development activity where residents of Shivajinagar and Sampangiramnagar can come forward and donate books, toys, stationary items and so on.  He previously put an end to illegal waste being on the Infantry road junction. We continue to support Sufiyan in his endeavours and hope that more such residents and activists come forward to help develop their neighborhood.