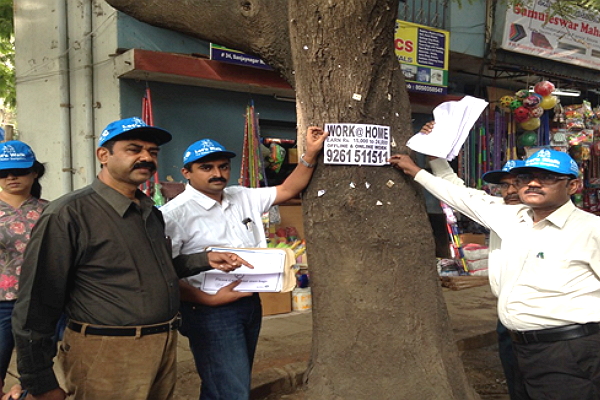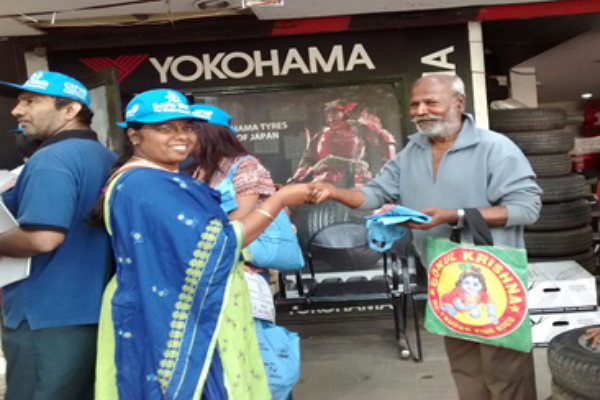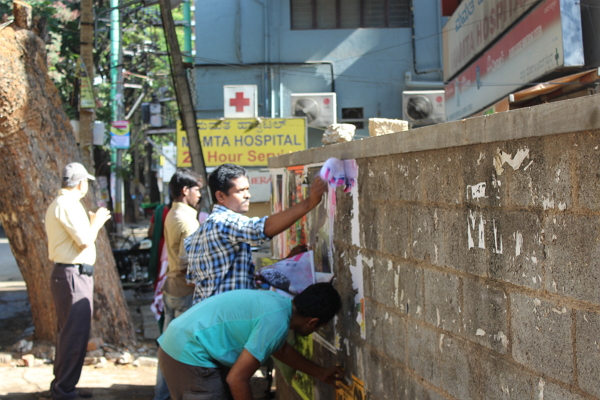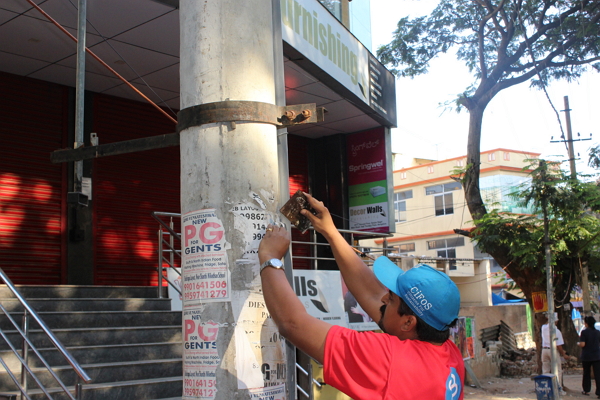 B.PAC Civic Leaders Take On Illegal banners
Bengaluru, August 1st 2016: The B.PAC Civic Hub in Sanjaynagar run by Mrs. Geetha and Mr. Subaiah T.S is always abuzz with activity, with a multi-pronged approach to dealing with civic issues being implemented at all times. One of the most public battles undertaken by the Civic Leaders is the one against illegal bills, posters and banners under the #KillBills campaign that is regularly undertaken to take down illegal banners and flex in the ward. These illegal banners & flex not only deface the city but do not add to the revenue of the BBMP.
Banners promoting a particular group began appearing in Sanjaynagar, and Mr. Subaiah took the initiative to check with the BBMP commissioner if the group had obtained permission to put up the hoardings. The commissioner clarified that they did not have the required permissions, and the BBMP staff then took down the illegal banners. Relentless effort by the Civic Leaders has resulted in the number of illegal banners in the Sanjaynagar area coming down drastically. The tangible results of the efforts of the Civic Leaders to implement the B.PAC agenda for a better Bengaluru is very apparent in the Sanjaynagar area on multiple fronts.
A whatsapp group consisting of both the BBMP officials and civic leaders has been created, where the civic leaders can post pictures of illegal banners, bills that will then be taken down by the BBMP staff. Furthermore, the Civic Leaders are working in tandem with the BBMP officials to put into place a system that will prevent the problem of illegal banners, bills arising in the first place rather than deal with them once they are up.  Mrs. Geetha says, "We have the support of the MLA and the BBMP officials in our campaign to rid the Sanjaynagar ward of illegal bills and hoardings that deface the beauty of the surroundings. We merely notify the officials of any illegal hoardings on our whatsapp group and the BBMP officials kindly ensure that the right action is taken."
The KillBills campaign is a B.PAC initiative to rid the city of illegal banners, posters and bills. It heavily involves citizens taking down the illegal posters, banners and making a powerful statement on not tolerating any compromise on revenue loss and defacement of the city.