Bengaluru, the capital of the southern Indian state Karnataka, is a thriving metropolis and the primary technology hub of the country. Often referred to as the 'Silicon Valley of India', it is home to a multitude of leading multinational corporations. Due to its extraordinarily distinct past with amazing weather conditions, Bengaluru stands out among all the major Indian cities. Bengaluru has witnessed one of the highest population influx owing to the city's rapid economic growth especially in IT and technology sectors, making it a magnet for job seekers and entrepreneurs.
What makes Bengaluru one of the most populated metropolitan cities? How can we mitigate the disadvantages of population boom and transform them into advantages? Let's take a look. 
The Current Scenario
Over the years, the city has transformed into a vibrant melting pot of diverse cultures, customs, and traditions. As per an estimate from the World Population Review, with a population surging past 13.6 million as of 2023, the city has witnessed a spectacular boom from its humble population of 745,999 in 1950. [1]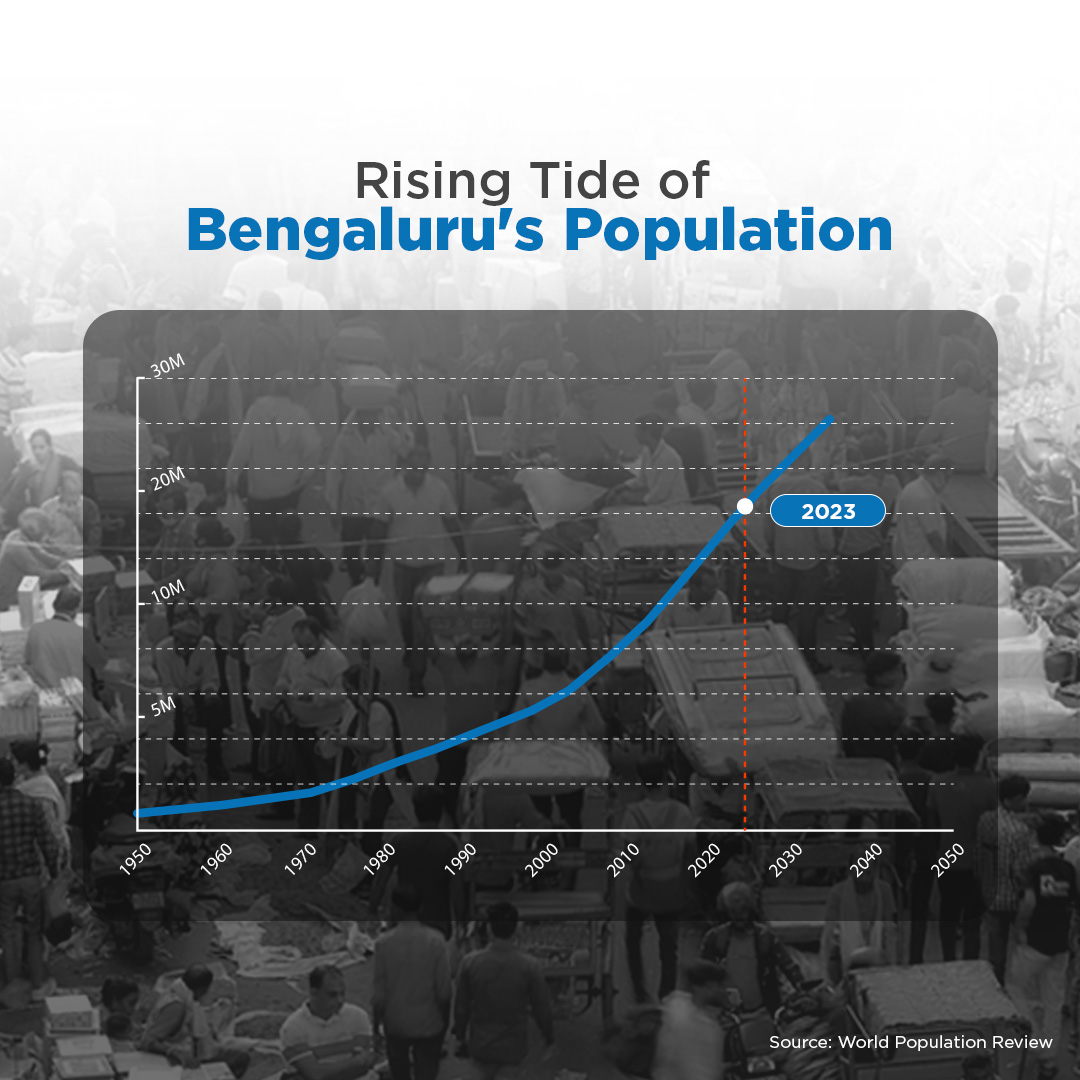 The growth of Bengaluru's population has been nothing short of phenomenal. A rapid climb of 38% was observed from 1991 to 2001. That wasn't all, in a decade from 2001 to 2011, the city's expansion scale tipped another 47%. Bengaluru crossed the significant milestone of 10 million dwellers in the year 2013, growing three times faster than the state as a portfolio. [2] Bengaluru had an estimated 8.4 million residents in 2011 according to the Census of India, and by 2025, that number is expected to rise to 12.5 million.
Factors Fuelling the Growth
A multitude of factors contribute to this burgeoning population. The booming IT sector, which emerged from humble beginnings, has transformed Bengaluru into Silicon Valley, offering abundance of opportunities and career growth prospects. The tech-driven city has not only attracted domestic talents but also oversees job seeking immigrants. The city's trajectory in the IT sector is evident from its remarkable software exports which skyrocketed in the 1900s and 2000s, accounting for close to 40% of the country's total exports today. [3] Today, Karnataka has the second highest number of DPIIT recognised startups, second to Maharashtra with a staggering number of 8,881, as per the Ministry of Commerce & Industry, 2022 report. [4]
Additionally, the welcoming cosmopolitan culture and favourable geography, boasting pleasant climate in comparison to other Indian states, and wide array of educational institutes further contribute to the population influx. One central university, 6 National Institutes, 8+ State Government Universities, 15 State Private Universities, 4 State Deemed Universities, 207 engineering colleges, 61 medical universities, 48 dental universities, 280 management institutions, and more than 60 international schools produce intellectual manpower in Bengaluru. Bangalore University (BU), founded in 1886, is one of the oldest universities in South India and is located in Bengaluru. [5][6]
The factors have propelled Bengaluru into a thriving metropolis, challenging the urban planners and policymakers to formulate sustainable development amid growing population.
The Predicament of Population Growth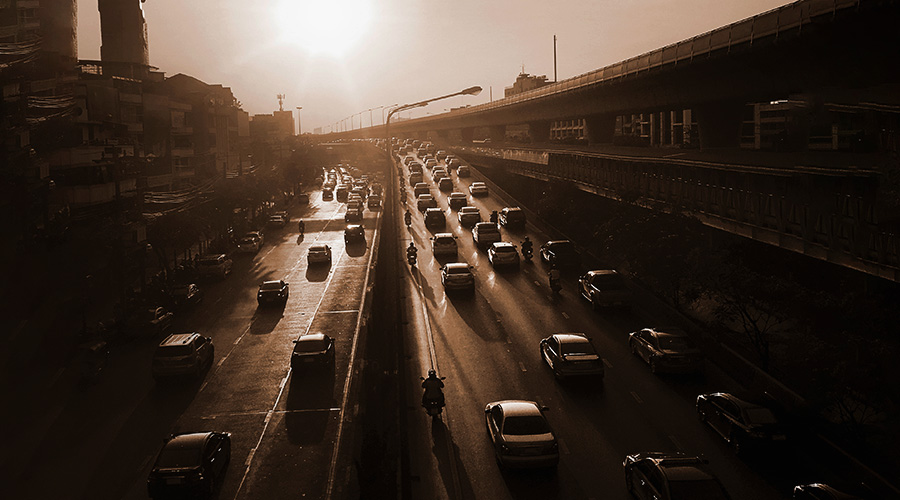 With the upsurge in population, the infrastructure and resources of the city have been stretched thin. The population density has skyrocketed, from 2,985 people per square kilometre in 2001 to 4,378 in 2011. This has spurred issues linked to accelerated urbanisation. Following are few consequences of the rapid population growth.
The Silver Lining of Population Growth
Every cloud has a silver lining and so does the population bloom of Bengaluru. With a diverse and burgeoning population, comes a larger labour force which forms the backbone of the city's strong economy. The influx of people from across the country and globe has brought a rich cultural and culinary diversity to the city.
1- Economic growth:  A growing population means a larger consumer base, leading to increased demand for goods and services. This can stimulate economic growth and attract more businesses to invest in the city, leading to job creation and improved living standards for the residents. With a Gross Domestic Income (GDI) of 6.8 lakhs, Bengaluru is one of the fastest developing cities. This is more than 4 times the national average per capita GDP. This one figure illuminates the cause of the widespread emigration to Bengaluru from both within and outside the state. [12]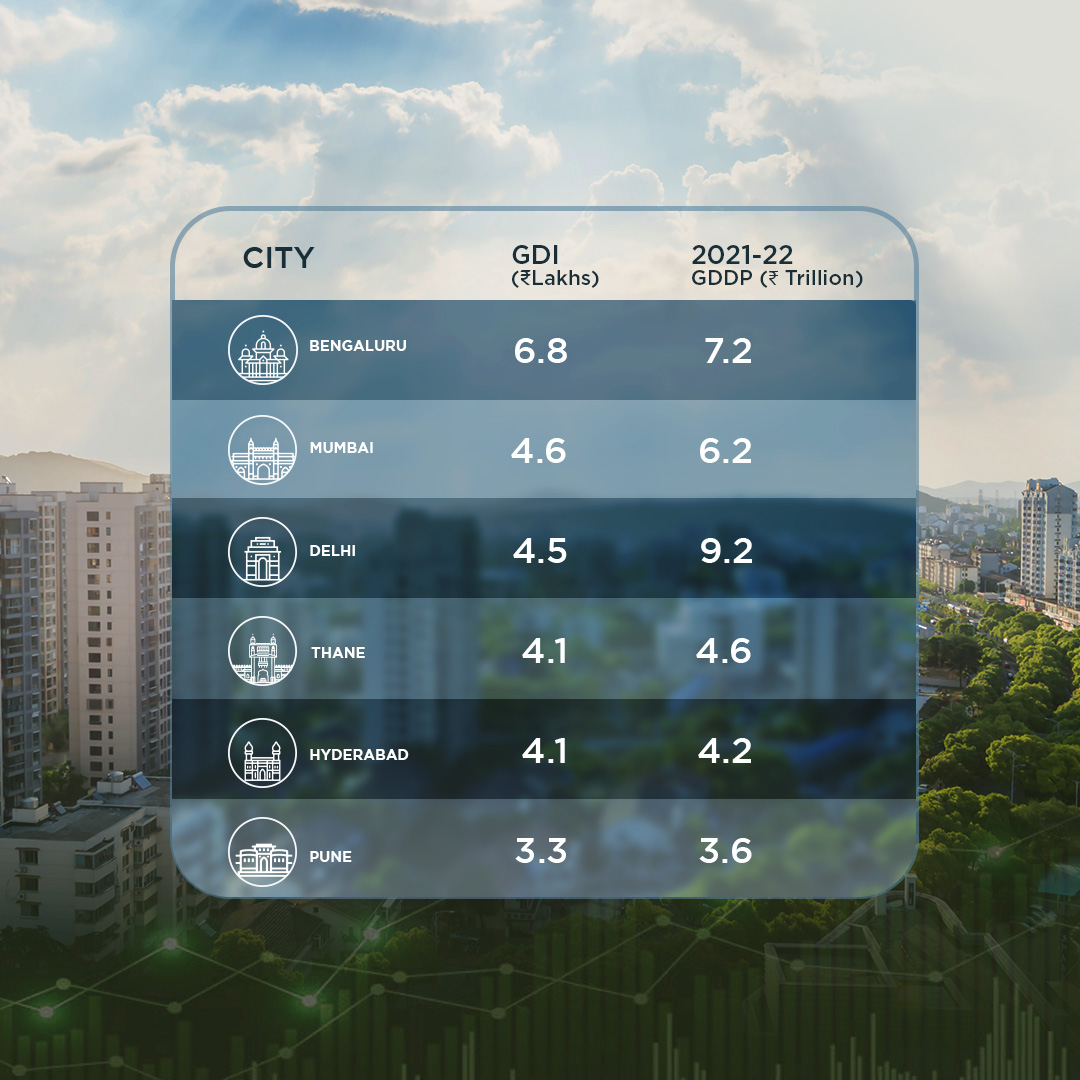 Innovation and Entrepreneurship: Bengaluru's reputation as India's tech hub is further enhanced by a growing population. With more people coming to the city seeking opportunities, there is an influx of talent and diverse skills, fostering innovation and entrepreneurship in various sectors. According to the Financial Times' list of High Growth Companies in Asia-Pacific for the year 2022, Bengaluru continues to be home to the greatest number of high-growth companies in India and is ranked fourth overall among Asian cities. [13]
Infrastructure Development: Increased population usually translates to higher tax revenues, enabling the government to invest in infrastructure development. This includes building better roads, public transportation, healthcare facilities, educational institutions, and more.
Real Estate and Construction Boom: With more people moving to Bengaluru, there is an increased demand for housing and commercial spaces, especially by NRIs. This demand can lead to a boom in the real estate and construction sectors, providing employment opportunities for locals and boosting the economy further.
Attraction for Investors: A growing population signifies a thriving market and potential for higher returns on investments. This can attract both domestic and foreign investors to set up businesses in the city, contributing to its economic development. 
A Way Forward with Potential Solutions
Tackling the challenges spurred by explosive population growth requires a robust, comprehensive, and future oriented action plan. Some of the potential solutions to consider include:
Urban Planning:
The city's planning needs a massive revamp to accommodate the swelling population. Improvement of infrastructure, expansion of public transport, and provisioning of affordable housing should be prioritised. Implementing well-planned urban development with a focus on sustainable practices and efficient land use, improvising and expanding public transportation to reduce traffic congestion and encourage eco-friendly travel, developing satellite towns to decentralise the population and reduce pressure on the city's core areas are few action points to be considered to accommodate the growing population. 
B.Mobile program, by B.PAC, strives to enhance sustainable mobility within the city, responding to the growing traffic concern arising due to inadequate transportation infrastructure. The initiative is centred around research and policy advocacy in areas such as non-motorized transport and sustainable mobility, and making the city more walkable. Through awareness creation in the form of discussions and workshops, this initiative hopes to drive residents towards public transport usage while discouraging private vehicle reliance.
Resource Management:
The implementation of sustainable practices to preserve and manage natural resources is another critical need. Emphasising renewable energy promotion will reduce dependency on fossil fuels and curb greenhouse gas emissions. Water conservation efforts and proper water drainage are essential to combat water scarcity, especially in the face of rapid urbanisation. Implementing effective waste management practices will not only reduce pollution but also promote recycling and reuse. Furthermore, incorporating green energy sources into the city's infrastructure can lead to a cleaner and more environmentally friendly energy supply. By prioritising resource management, Bengaluru can create a greener and more resilient urban environment for its growing population. 
Through the B.Green program, B.PAC proposes a Bengaluru Sustainability Manifesto, a ten-year plan for the city's sustainable development pathways to counter the increasing environmental degradation in Bengaluru. The initiative encourages the city to go green and save lakes, while promoting thoughtful planning for sustainable development within the city. B.PAC's B.Safe program is yet another initiative that is designed to ensure safety and inclusivity of women and children, through a myriad of empowerment programs. 
Effective Grassroots Governance:
Effective governance and policy implementation are pivotal for managing the challenges of explosive population growth in Bengaluru. The Karnataka Govt. and  Bruhat Bengaluru Mahanagara Palike (BBMP) must ensure that policies designed to address urban growth are not only well-formulated but also rigorously enforced. This includes monitoring and regulating population growth and building codes to prevent haphazard urban sprawl and promote sustainable development. Conducting research and collecting data on population trends and urban patterns are crucial steps in understanding the city's evolving needs. By utilising this data, decision-makers can make informed choices and tailored strategies to meet the demands of the growing population effectively. A proactive and accountable approach to governance is vital for securing a prosperous and sustainable future for Bengaluru amidst its rapid growth. 
To ensure effective governance, B.PAC's flagship program, B.CLIP trains individuals who desire to improve city life by running in municipal elections, thus promoting transparency at the grassroots level and encouraging citizen engagement, which ultimately fosters better governance practices.
Decentralisation:
To ease the pressure on Bengaluru, the growth of other satellite cities should be encouraged. This could be executed by creating diverse job opportunities and improving infrastructure across the state or country. Improving infrastructure across the state or country is essential to support the growth of these new urban centres, making them more attractive for businesses and residents alike. By fostering economic development and improving living standards in other areas, the migration pressure towards Bengaluru can be mitigated, leading to a more balanced and sustainable distribution of population and resources throughout the region or country. Through powerful citizen-centric initiatives like the B.Engaged program by B.PAC, fostering active citizen participation and engaging with local authorities to address pressing issues can contribute to the city's development.
Balancing Today: Bottom-Lining Population Growth
Bengaluru's astounding population growth presents a unique studying ground to understand the challenges and opportunities spurred by rapid urbanisation. While it continues to grapple with the pressures of its success, it also provides an opportunity to explore and implement sustainable and innovative solutions for urban growth. After all, Bengaluru isn't just a city; it's a testament to the incredible spirit of innovation and resilience India is known for.