Discussion – 'Sustainable and Green Transport in Bengaluru'
Monday 20th January at Bharatiya Vidya Bhavan, Bengaluru
The Government of India has signalled the beginning of a new era of mobility for India. Global technology trends and India's rapidly growing economy have led to focus on electrification of transportation as the primary technology pathway to achieve this transformation. The Government of India has finished with FAME I and started with FAME II. 27 states have formulated strategies for transforming their mobility systems in MOVE summit  and 10 states have formulated their EV policies where Karnataka state was the first state to formulate EV policy with the objective of making Karnataka the EV hub of India and a preferred destination for EV manufacturing by 2030 and have 50% of the vehicles getting converted into EV. In this regard a roundtable discussion followed by focused panel discussion was conducted by B.PAC and Uber India on "Sustainable and Green Transport, Bengaluru "which was conducted on Monday 20th January at Bharatiya Vidya Bhavan, Bengaluru. 
The roundtable was divided into two sessions: 
Roundtable Discussion on "Potential for EV in Public Transport and Shared Mobility" 

Roundtable Discussion on "Potential for EV in Logistics and Delivery"
 The discussion was attended by representatives of fleet operators such as Uber, Lithium Urban Technologies, Bounce Share, Yulu bike, delivery services such as Freshworld, manufacturers such as Pi Beam Labs, Grinntech Motors, EV Investor, manufacturer, operator -Micelio Mobility and think tanks such as WRI, TERI, Urbanmorph among others. 
 The participants discussed and deliberated the current EV opportunities, operational issues and challenges and how that can be catered through policy, regulatory and infrastructure interventions.
For an EV to run smoothly, battery plays an important role, hence the current and future needs of batteries were also discussed. 
Opportunities
Focus on high utilization vehicles which operate commercially on defined routes have a high chance of creating a big impact. Cost of EV being high, operating cost analysis shows that a four-wheeler needs to do about 125km -150 Km per day and two-wheeler needs to do about 70km -80km per day for EV to become financially viable.  
 Hence the growth in EV vehicles will first happen with fleet owners, public transport, last mile deliveries and logistics rather than a private owner. Integrated multi modal mobility – first and last mile connectivity is a major target for EV because of the lack of public connectivity. EV is fast becoming a growing use case for short distance travel.  For such commercial operations, battery swapping is one of the viable ways to operate a fleet of 20,000 to 30,000 two wheelers per every large city. 
 Some of the early adopters are likely to be for the following use cases:
Fleet Operators, Platform based ride-hailing, Employee and customer transport
3 and 2 wheelers for people related travel and for food delivery, courier delivery, grocery delivery B2B and B2C players.  

Micro Mobility Vehicles for within campus employee movement and material handling in warehouses, factories, campuses and public workspaces

Municipal Corporations using Electric Vehicles for garbage collection  
 Operation issues and challenges
Limited pool of EV manufacturers 

Limited form factors for various use cases (especially logistics)

Need of better battery technology for varying temperature conditions, speed, distance and payload    

Battery Swapping Stations yet to take off 

Less availability of Charging Stations; limits usage

The lack of proper parking facilities for EVs leads to the damage of the vehicle and adversely affect the possibility of charging the vehicle

Rental EV witnesses theft and vandalism.

Resale value decreases as form of the vehicle is customised

 

EV adoption is more challenging for platform aggregators where vehicles are owned by individuals but operated for commercial as well as personal purposes. Personal use requires flexibility in distance travelled and because of range anxiety and lack of proper financing models to support the upfront high cost of the vehicle and battery swapping requirement, it is not attractive for such hybrid use cases.
Policy, Regulatory and Infrastructure Ask
Move away from tracking just number of EV Vehicles to green trips and green miles travelled

Green mile incentives for every km run using EV which will encourage fleet operators in reporting number of EV trips 

Inclusion of e-NMV in EV Policy of GoK

FAME II must include under 25km EV 

FAME subsidy needs to be applicable for E Carts

EV definition to include vehicles without pre-installed batteries, treating electric vehicles and batteries as separate entities and extending demand incentives for both.

Distributed Public Charging Infrastructure with the help of DULT and BESCOM, public charging station which could cater to different categories of 2W, 3W, 4W

Policy interventions and financing models to encourage high utilization of battery as a service model. Vehicles without batteries and batteries separately need to be incentivised.

Policy specifically targeting B2B customers to transition to EV

Policy which encourages financing for EVs

Dedicated EV parking/charging spaces

Standardisation for the battery charging infrastructure and the battery swapping mechanism in order to create a uniform EV ecosystem.

Single window to apply for subsidised electricity from BESCOM, simplify the procedure

The draft amended Model Building Byelaws 2017 mandating residential and commercial buildings in the state to allocate 20% of their parking space for EV charging facilities is still pending before the law department. This needs to be mandated.

Start-ups have the potential to reimagine technology and push EVs, as connected vehicles with a lot of intelligence. Dedicated manufacturing, testing and R&D labs need to be provided by the government for start-ups to pilot a product market fit at low cost.

Safety standards for charging stations to be specified.
Battery and chargers
EV batteries in India are mostly imported and form a significant part of the high EV cost. 

Hence, the Indian market needs encouragement for indigenous technologies that are suited for India from both strategic and economic standpoint

Need of better battery performance
 Battery life 
Ambient temperature becomes important for battery life. The type of batteries operating in Bengaluru can't be operated in Delhi.

Battery life also depends on when, at what voltage and how the charging takes place

Quality and size of the battery needs to be designed depending on use case, expected performance and cost.
Disposal/ Recycling battery  
Battery disposal is going to be a big challenge. We need to encourage good recycling technology for batteries to be recycled for lower order static functionality and disposed responsibly. Battery Recycling and Disposal methodology and guidelines should form a part of the EV policy and suitable incentives should be provided for this.
 Panel discussion
 The workshop was later followed by a panel discussion moderated by Ms. Revathy Ashok, CEO, B.PAC. The panelists included – Shikha C, MD BMTC; Srinivas, CME, BMTC; C K Sreenath, Deputy General Manager, BESCOM; Sanjay Krishnan, Founder, Lithium Urban Technology; Pawan Mulukutla, Head – Urban Mobility, Bosch and Anand GCP, COO, Micelio Mobility Pvt Ltd
BMTC is looking at converting the entire fleet into EV by 2030 and to achieve this target and plans to move to 100% EV procurement by 2022. BMTC is procuring 300 EVs under FAME II this year and 500 more for the next financial year. 90 EV feeder buses tender is out under the SMART City fund. BMTC is setting up four charging stations in identified bus depots.

The Government of Karnataka needs to support BMTC financially to achieve its target of 100% EV by 2030.

BESCOM has already created 126 charging units across Bengaluru city of which 26 are quick charging units. These are ready for inauguration.

The

current requirement of power for EVs is just 0.0001% and if by 2030 50% of the vehicular population of Bengaluru gets converted into EV, the increased energy requirement will be less than 10% and this additional load is not likely to be a problem.

Start-ups from India are coming up with specific solutions for problems typical to India. Hence, they have a lot of potential to drive the EV market.

BMTC charging stations should provide charging access to Private buses as well.
 Bengaluru needs to urgently work on a Comprehensive EV Mobility Plan that sets short term, medium term and long-term targets for us to achieve our overall EV goal of 50% by 2030. This requires policy interventions and regular monitoring of progress. 
The roundtable and the panel discussion were intended to provide a platform for the service providers, citizens, civil society organizations and the Government representatives to discuss and deliberate on the challenges of providing Sustainable & Green Transport in Bengaluru.
Participants of the Roundtable discussion
C. K . Sreenath, BESCOM

Sanjay Krishnan, Lithium Urban Technology

Nikhilesh Mishra, Grinntech

Visakh Sasikumar, PiBeam

Rajat Rawat, Yulubikes

Hariti, Uber India

Priyanka, Uber India

Subhadeep, WRI

Sugandha Pal, TERI

Sharif Qamar, TERI

Sonal Kulkarni, Urbanmorph

Anand GCP, Micelio

Rajiv Rao, Freshworld

Karthik, Bounce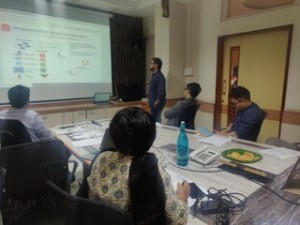 Karthik Gogula from Bounce making a presentation on "Potential of EV and shared mobility"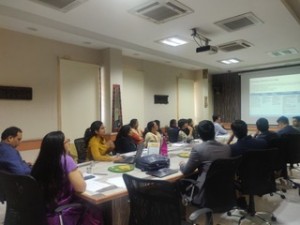 Round table discussion on "Potential of EV and shared mobility"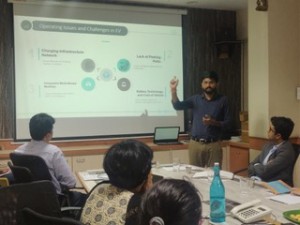 Rajat Rawath from Yulu making a presentation on "Potential of EV and shared mobility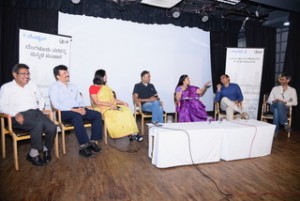 Panelist (Left to Right) – Srinivas, CME, BMTC; C K Sreenath,Deputy General Manager, BESCOM; Shikha C, MD BMTC; Sanjay Krishnan, Founder, Lithium Urban Technology; Revathy Ashok, CEO, B.PAC; Pawan Mulukutla, Head – Urban Mobility, Bosch & Anand GCP, COO, Micelio Mobility Pvt Ltd