WORKSHOP NOTE: INCENTIVIZING SHIFT AWAY FROM PRIVATE TRANSPORT
In the growing vehicular population in the city, well networked and connected public transport is an ideal alternative. The current falling ridership on BMTC buses – from 50 lakh in 2014-15 to 36 lakhs in 2018-19, raises an alarming concern about people choosing private transport as a commuting option over public transport. Over the years, multiple initiatives have been taken by organizations in Bengaluru to promote the usage of public transport system. The much-awaited bus priority lane on 18 km stretch on ORR recently announced by BMTC, is a first step in encouraging people to use public transport. In that continuing effort to encourage usage of public transport, and as a part of B.PAC's and Uber's initiative on "Sustainable Mobility for Bengaluru", a workshop was organized on Wednesday, October 16th, 2019 on the topic of "Incentivizing shift away from private transport". 
In the first segment of the workshop, the participants representing industry groups, think tanks and citizen forums, presented all the key mobility challenges in their neighbourhood and their requests from the government to promote usage of public transport and incentivizing people to move away from private transport. The key aspects for people to use public transport are identified as: Accessibility, Speed and Comfort, Affordability and Reliability.
Representing the industry group Naveen Kumar, from Outer Ring Road Companies Association (ORRCA) highlighted that companies on ORR have come together to take initiatives to ensure smooth flow of traffic. However, physical infrastructure needs to be improved in order to ensure better usage of public transport.  Supporting his view, Rama NS from Electronic City Industries and Township Authority (ELCITA), proposed that similar to the free shuttle buses currently operated by ELCITA, BMTC should introduce smaller buses which acts as a better service for first and last mile connectivity from the metro station and the suburban railway station. 
While it is important to understand the various incentives for people to shift from private to public transport, it is equally important to assess what the current public transport could offer. Emphasizing on this, Alok Mukherjee from World Resource Institute (WRI) said that the funding for public transport, specifically bus network is not consistent to deliver quality service throughout. He highlighted that in 2011-12, the BMTC buses on an average would cover 225 km/ day, which now has reduced to 200 km/day as of 2018-19, owing to falling travel speeds. Therefore, immediate and serious measures to improve travel speeds along with a thorough review of the bus schedules need to be undertaken. Additionally, route rationalization needs to be done to make it direction oriented rather than destination oriented to improve capacity utilisation and reduce route duplication. 
Data availability on travel pattern is very important for right and timely decisions on mobility and infrastructure; however, the official data on travel pattern available for Bengaluru is a decade old, as highlighted by Anatha Lakshmi from Centre for Study of Science, Technology and Policy (CSTEP). She suggested that a study needs to be initiated at ward level to understand how the travel pattern has changed over the course of 10 years. 
The citizen forums and groups participating in the workshop emphasized the need for better first and last mile connectivity options as an incentive to use public transport – buses and metros. Zibi Jamal from Whitefield Rising said that at present, the public transport covers only the arterial roads leaving the inner areas with less or no connection. Therefore, feeder buses with better frequency need to be introduced to connect the inner areas. Adding on to that, Muralidhar Rao from Praja RAAG highlighted that extending the stage carriage permits to private buses to operate as first and last mile connectivity option will be a major incentive for people to use public transport. Srinivas Alavalli from Citizens for Bengaluru (CfB) underlined the importance of ward committees to address the local mobility challenges and in encouraging the use of public transport. He further suggested that the city should realistically set the target for modal share and release this data in a regular interval which will help to address the gap in public transport usage.
Below are the few asks to the Government from the industry group, think tanks and citizen forums which will be key in incentivizing shift away from private transport to public transport: 
Smaller buses to and from the metro station and suburban stations for better first and last mile connectivity 

Integrated payment card for all modes of public transport and at a later stage integrate with private transport 

Legalize shared autos since they help in better connectivity at the last mile 

Dynamic Passenger information system to be implemented at the earliest which will make the BMTC buses more reliable and help in planning the trip 

Involvement of BMTC in ward committee meetings to be able to assess and address the issues of mobility locally 

Scientific studies of the travel patterns to be conducted at ward level since each area has differing travel requirements 

Better route rationalization of BMTC buses 
Panel discussion
In the second segment of the workshop, a guided discussion was organized which tried to address the above asks by the participants. The panel for the discussion included – Ms. C Shikha, MD, BMTC; Ms. Kalpana Kataria, Executive Director, BMRCL; Ms. Kavitha M C, Assistant Commissioner of Police, Bangalore City Police and Mr. Mallikarjun, Joint Commissioner, Transport Department, Government of Karnataka. The session was moderated by Ms. Revathy Ashok, CEO, B.PAC.
Ms. Shikha, speaking about the falling ridership of BMTC buses in the past few years, said that the growing congestion and vehicular population has adversely affected the speed of the buses which is the main reason for people shifting to private modes of transport. She further suggested that any amount of incentivizing will not be successful unless certain disincentives are introduced parallelly. Taking the example of bus priority lane on ORR she said, this initiative will be a success only if the companies located on ORR are able to disincentivize their employees to use private transport. Agreeing with the citizen groups and forums, reliability of buses is a major criterion for people to choose public transport. She said that BMTC will soon be providing real time and dynamic information about the buses which will enhance the commuter experience. 
Data integration between various public transport is a necessity for seamless transits. At present, there is lack of data integration between metro, bus and sub urban railways which is a huge setback for users of public transport. Speaking on this, Ms. Kataria said that BMRCL is currently in the process of integrating their data with BMTC to offer a seamless first and last mile connectivity to metro stations. Further, the existing Namma Metro Card will be made compatible with BMTC. In the new metro stations proposed, she said that bus bays and transit plus zones for intermediate public transport is being planned. With this, an effort is being made towards multimodal integration. 
Responding to the question on issuance of stage carriage permit to private operators, Mr. Mallikarjun said that a National Transport Policy is in the pipeline, which once implemented will give way for better modes of commuting in the city. 
Bus Priority Lane 
The highlight of the discussion was BMTC's announcement on bus priority lane on an 18km stretch from Central Silk Board to Baiyyappanahalli, which is expected to be piloted from November 1st.  This a major step in encouraging the usage of public transport on one of the high density corridors. Ms. Shikha told the participants of the workshop that, ideally on a business as usual (BAU) day, during peak hours, BMTC carries 15,000 passengers, which is equivalent to 50 % of commuters travelling at that time. With implementation of bus priority lane, half the load on ORR will be limiting itself to 1/4th of the road space. The bus priority lane will be demarcated by installation of bollards; and any private vehicle entering the lane would be fined for violating the rule. 
BMTC is making all efforts to make this a success – installing CCTV camera on 70 buses plying on bus priority lane to help fine the violation by private vehicles, training drivers, assessing the optimal number of buses to run on bus lane, holding meetings with commuters and reaching out to the public on the need to adapt to public transport, said Ms. Shikha. 
The participants in the workshop unanimously agreed that the only sustainable solution for reducing congestion levels in the city is to move to public transport. The existing modes of public transport in Bengaluru can cater to a larger set of commuters by being more accessible and reliable. The interaction with the government representatives provided insight into their plans of making public transport options more commuter friendly in the city. A few other models highlighted which could encourage a shift to public transport are: congestion pricing, dynamic lanes and transit plus zones among others.  A quicker and efficient first and last mile connectivity and integrating existing modes of shared mobility services with public transport could act as a major incentive to shift people from private transport to public transport. 
Participants making a presentation about Current situation, Key Challenges, probable suggestion & asks from the Government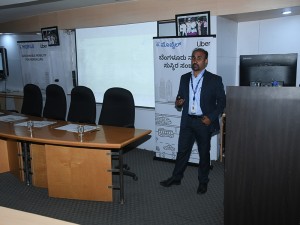 Mr Naveen Kumar, Outer Ring Road Companies Association (ORRCA)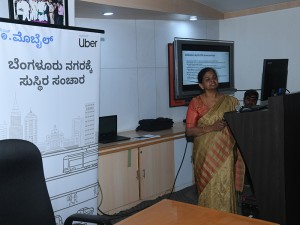 Ms Rama NS, Electronics City Industrial Township Authority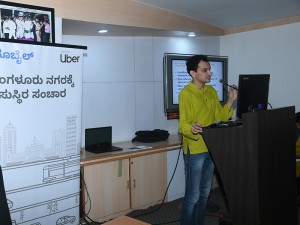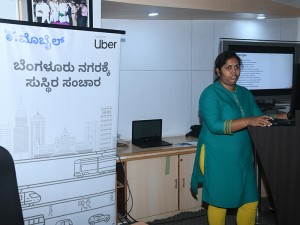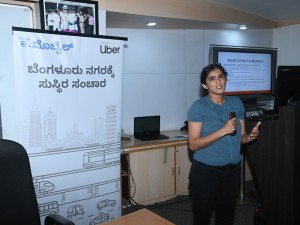 Zibbi Jamal, Whitefiled Rising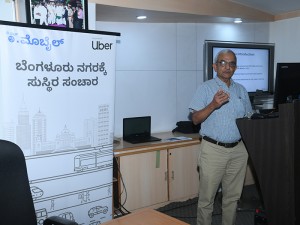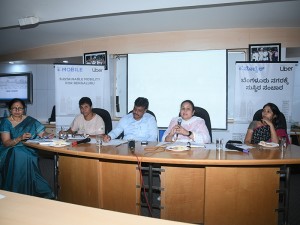 Ms Revathy Ashok, Honorary Managing Trustee & CEO, B.PAC, Ms Kavita MC, ACP (Traffic and Planning), Mr Mallikarjun, Joint Commissioner, Transport , Ms Kalapana Kataria, Executive Director BMRCL, and Ms C Shika, MD BMTC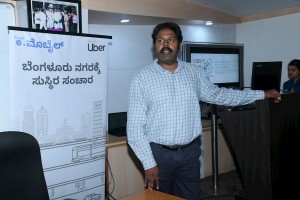 Srinivas Alavalli, Citizens for Bengaluru