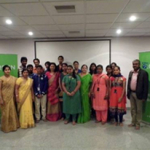 B.CLEAN – Green Ambassador
Green Ambassador is a six month internship program offered by Full Circle in association with B.PAC for college students with focus on solving urban environmental issues such as Solid waste management, Water management, and Energy conservation. The Green Ambassador program is inspired by 'Swachh Bharat Abhiyan" a national level campaign spearheaded by our Prime minister.
Click edit button to change this text.