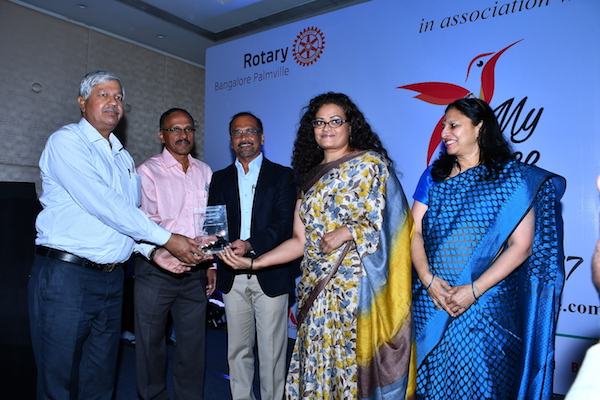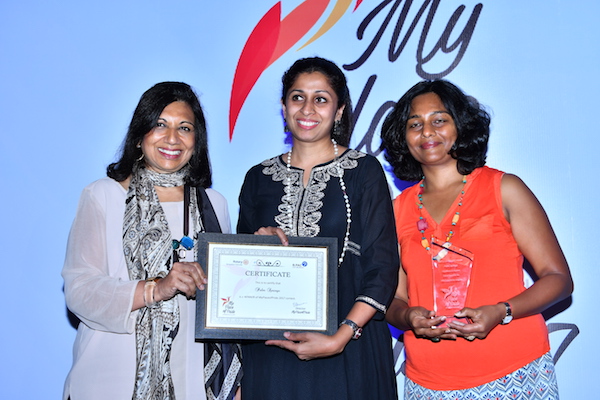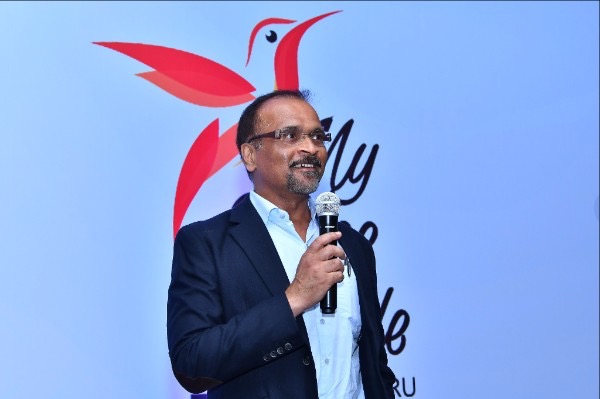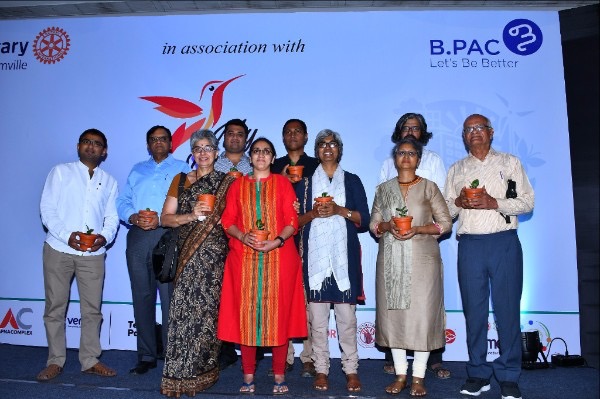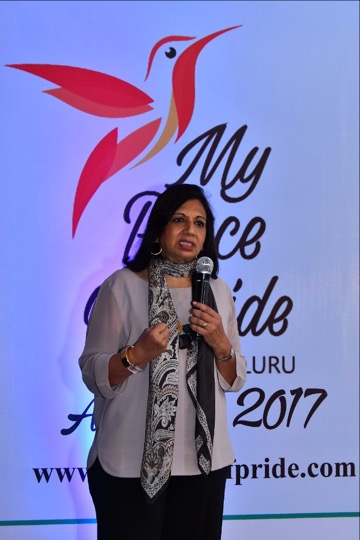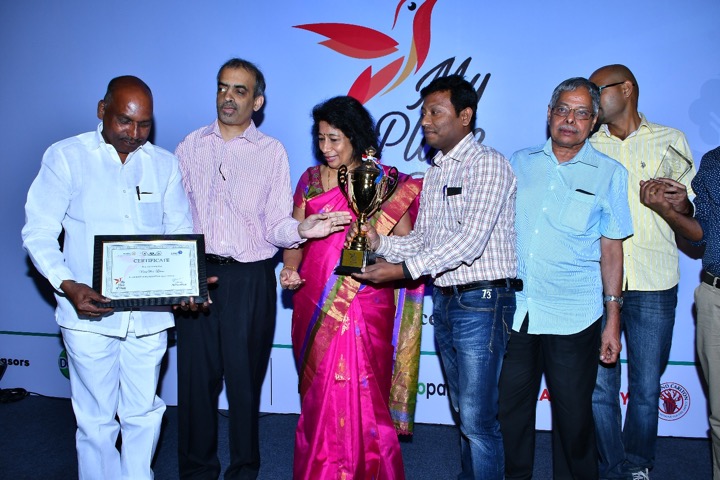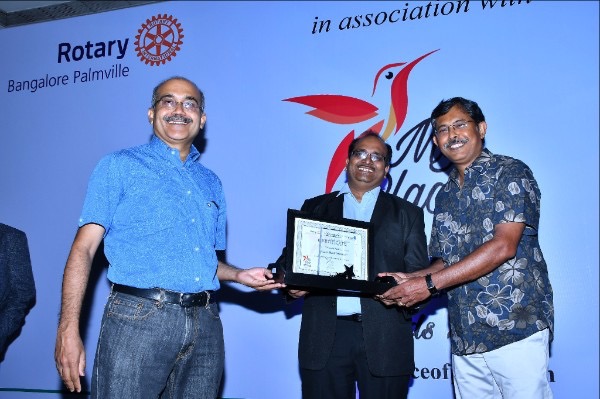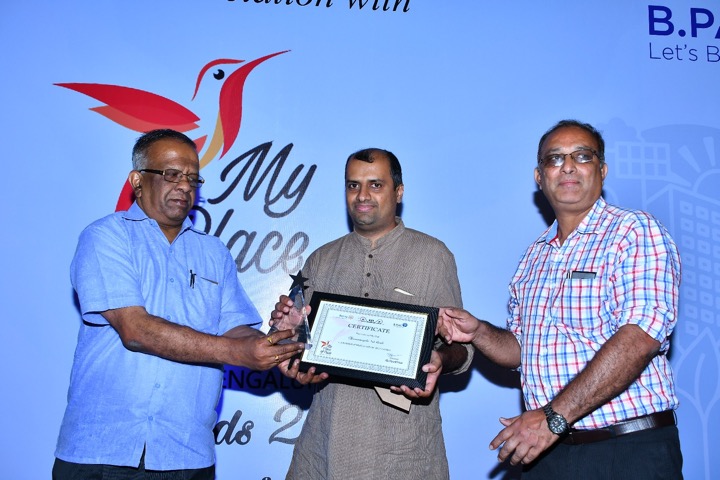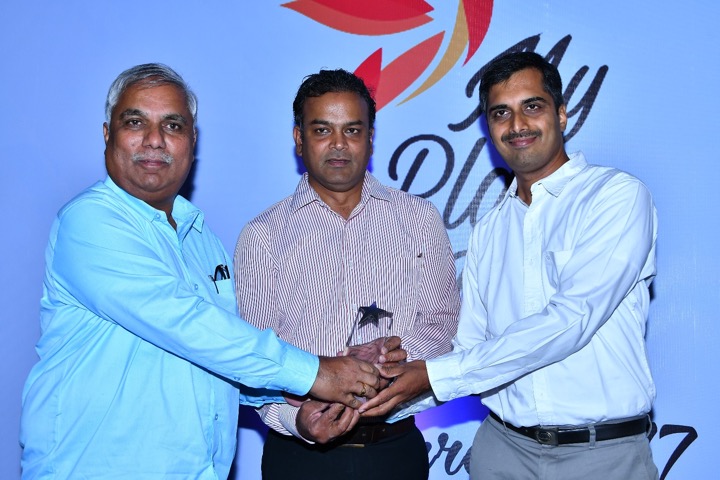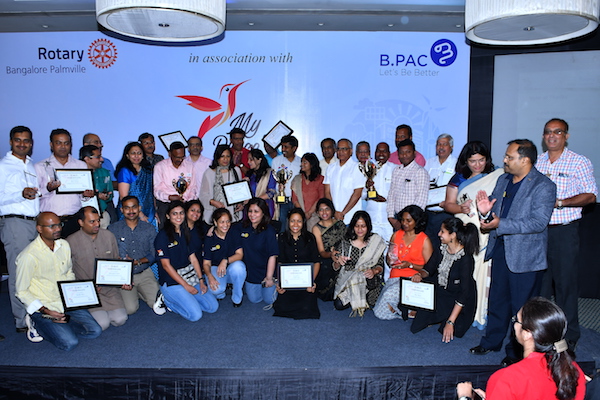 My Place of Pride Awards to recognize eco-friendly communities of Bengaluru City
25th March, 2017. Rotary Bangalore Palmville in association with Bangalore Political Action Committee (B.PAC) today organized an award ceremony to give away My Place of Pride Awards 2017.
The unprecedented growth of Bengaluru city has led to complex urban problems. Our City has a vibrant civic society and its ability to voice concerns arising out of such growth is well known. Bengaluru is currently facing serious challenges in the areas of Solid Waste Management, Water, Energy sufficiency and fire safety. Various communities have responded to these challenges in a commendable manner through creating awareness, setting examples and placing pressure on the governmental institutions.  My Place of Pride is an initiative to acknowledge and appreciate such communities for their efforts and their ability to demonstrate being environmentally responsible.
MyPlaceofPride  is a contest to rate, rank and award the communities that have exhibited best practices in Solid Waste Management, Water conservation, Power management, Fire Safety and Hygiene & Cleanliness. This is a  platform for communities to showcase their initiatives, create awareness and further encourage others to emulate the best practices.
My Place of Pride is an initiative to recognize eco-friendly communities in Bengaluru city and encourage sharing of best practices and motivate people to adopt sustainable practices.
The contest was for the following categories: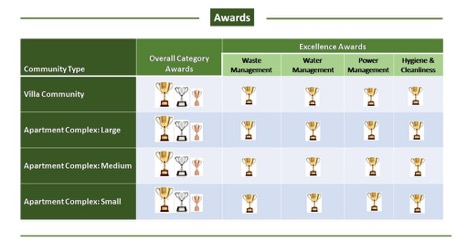 The Contesting communities were evaluated on the following:
Self declaration
Polling
Physical inspection
102 communities comprising over 200,000 citizens across the city registered for the contest.
57 communities made it to the second shortlist base on their Self – Declaration submissions detailing out best practices on the above-mentioned areas of the contest. Further, a residents' poll was conducted to opine on the practices being followed by their respective communities.
Based on the above, 30 communities were shortlisted for physical inspection. Each of these communities were inspected by subject matter experts in the areas of Waste Management, Water Management, Power Management, Cleanliness & Hygiene.
Technical Partners
Waste Management:
Solid Waste Management Round Table members N.S Ramakanth, Dr. Meenakshi Bharath, Sandhya Narayanan. Wilma Rodrigues and Shobha from Saahas Zero Waste
Water Management:
Shubha Ramachandran, Aditi, Sandipa, Shreyas from Biome Environmental Trust
Water & Power Management:
Pravinjith KP, Shrividhya Satish, Aamir Hyder, Anagha Varma, Skanda Bharadwaj , Ayeesha and Gopi H from Ecoparadigm Environmental solutions
Safety & Security:
Vedanarayan Cheluvakumar, Vikram Kalbag & Uday Vijayan from Beyond Carlton
In today's program excellence Awards and overall winning communities' awards were given away to reward the best practices carried out by the communities.
Following table summarizes the awards: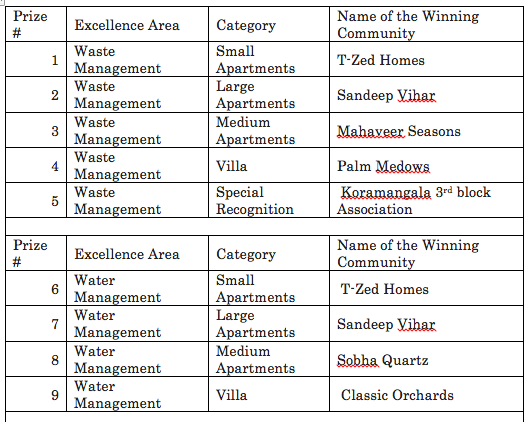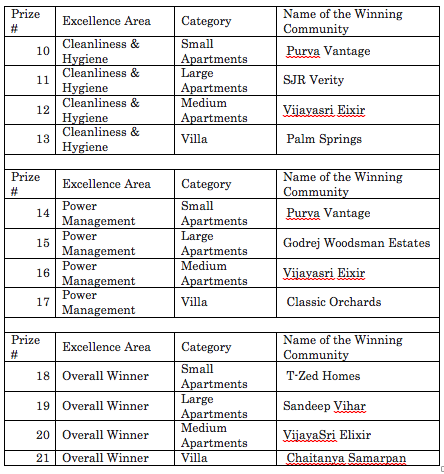 It is gratifying to see that Bengaluru has come such a long way that we are in a position to award communities for sustainable practices in waste, water, power etc This fills us with hope and optimism for a sustainable future for the city.
My Place of Pride  is not just a contest for the communities, it is a platform for learning from the well managed communities on SWM, Water management, power Management etc.
Mr. Mahendra Jain, Addnl Chief Secretary(UDD) Said "It is overwhelming experience to learn about proactive measures taken by communities and it is commendable that B.PAC & Rotary Palmville have jointly taken this initiative"
Ms. Kiran Mazumdar Shaw whiling addressing the audience said "Bengaluru city will continue to grow in size adding more people. The government must partner with citizens to
work towards sustainability. My Place of Pride awards is a recognition of the communities to go beyond their call"
The Award program was well attended by over 180 members from participating communities, civic agencies officials including BBMP, BWSSB, BESCOM, KSPCB.
This program is also an opportunity for the registered communities to move a step forward in responsible management of their community and immediate neighbourhood. We are happy that the civic agencies are supporting such initiatives.
Ms. Kiran Mazumdar-Shaw President, B.PAC, Mr. Ashwin Mahesh Founder Mapunity, Mr. R.K Misra, Member, B.PAC, Mr. Mahendra Jain,Additional CS UDD, GoK; Mr. G. Ashok Kumar, Chief Engineer, BESCOM, Mr. Viji Karthikeyan, Environmental Engineer, KSPCB handed over the awards to the winning communities.