Field Visit To Adamya Chetana Trust
We visited the 'Adamya Chetana Trust' on 16th February 2019. There are several programmes and activities which the trust undertakes. The most popular phrase attached to the name of this trust is that of 'green kitchen' or 'zero garbage kitchen'. And after the visit I was left with no words as to describe how well they have replicated those words into reality.
The trust was established by Late. Shri. Ananth Kumar in the memory of his mother Late. Smt. Girija Shastry. Smt. Tejaswini Ananth Kumar, his wife was also the co-founder of the trust and currently runs the trust. While Shri. Ananth Kumar was the member of the parliament for 6 terms from the Bangalore South Constituency, Smt. Tejaswini Ananth Kumar has a story of her own from being a scientist by profession to giving up her high fame job and starting to work for the trust to serve a greater cause.
They have further extended the reach of the trust activities to districts of Bengaluru, Hubballi, Kalaburagi in Karnataka and Jodhpur district in Rajasthan.
The field visit began with an hour long session from 11:00am to 12:00pm in the seminar hall of the trust by Shri. Raaju Bannuru, who is one of the volunteers of the trust since its inception in the year 1998. He briefed us about how this trust came up and stands where it is now.
The very first learning for me was after knowing how the trust began. At the start, there was no trust. There were few volunteers who started giving vocational training like tailoring, basic computer education to those girls who had dropped out of the schools after matriculation. While drop out of the girls from the schools that motivated the volunteers, they went about looking for reasons instead of only providing them with vocational training. They thought if providing a healthy and nutritious meal in the schools decreases the drop out rate. There began their well-known mid-day meal programme 'Annapoorna' and it has only increased its scope of activities after that. And the learning here for me was to not let our passion to serve a cause and the ideas thereon die in our minds. You don't have to start big, small progressive steps towards the cause is all that matters.
The midday meal programme which they started , prepared and served nearly 72,000 meals per day to various schools in Bengaluru which has larger chunk of population coming from the less privileged background. Gradually, they noted the growing concern for sustainability and decided to act on it with three important mechanisms of; refusing to do things that produce garbage, reusing and recycling. They adopted this concept of 'green kitchen' where from producing 300kg garbage in the beginning stage to having zero garbage that is generated today. The vegetable and fruit waste which accounts to around 100kgs is used for feeding the cattle's and for composting.
For cooking, starting with LPG cylinders and diesel run equipments, today they only use bio-fuel. They use briquettes made of organic agricultural waste which is burned in a co-generation plant that is installed which produces hot water steam which is used for cooking food. They almost use 1500 kgs of briquettes per day which are made from renewable and non petroleum products. By doing this, they almost saved 1 lakh litres of diesel per year and 12,500 LPG cylinders per year. It was a perfect example to show how it is possible to turn wastage into usage and taking a step towards sustainability. They used pellets made of solid waste in their special kitchen which is used to prepare food in small quantity. Also, wherever there is a possibility of carbon emission like the smoke produced while using a frying pan, they have carbon scrubbers installed which filters out the carbon before the smoke is let out in the air.
In order to leverage the use of natural resources, the trust has solar panels installed on its roof to generate electricity which decreases the reliance on external power and reducing the non-renewable energy usage. Also, water being a limited resource, the water used for washing rice and vegetables which accounts to almost 3000 litres per day is stored and sent to the Lalbagh botanical garden for watering the plants and are also used to wash the vehicles that transport the meals to the school. Also, the water that is drained from the cooking of rice which is rich in starch is used for preparing sambar with 1000 litres of starch being used for the purpose.
As I said before, 'reuse' was one of the mechanisms they adopted. They don't use plastics. They use steel plates, bowls, glasses and spoons which can be washed and used unlike the paper plates or plastic glasses. They also have this 'plate bank' facility where they rent out steel plates, bowls, glasses and spoons to different events to avoid usage of use and throw materials and raise awareness about the same. In order to advocate 'green life style', they avoid transporting cooking materials from larger distance and there reducing the carbon footprint by reducing the food mile from the source of food to the table.
Further, they are also making efforts to increase the green cover in the city by marking every Sunday as a 'green Sunday' involving the local residents and key influencers of that locality. This is towards meeting the results obtained from the study conducted by Indian Institute of Science which showed that, every person needs 7 trees to sustain, but in Bengaluru we have 7 people per tree. They also have internship programme for young kids and youths in collaboration with the Indian Institute of Science where they seek to provide the importance of 'green lifestyle'. Their ongoing efforts also includes about getting permission for electric vehicle to reduce the usage of fuels. They have also adopted a village named Raagihalli near Bengaluru where under the ' Subhiksha Gram' programme they are working for increasing the green cover and building gobar gas plants among several other activities.
This visit has definitely been an eye opener for me. The trust is working exactly in line with what the name stands for 'Adamya Chetana' translated in English stands for 'Indomitable Spirit'. There are many things we are doing so wrongly in our day to day life which is not only affecting us but also our posterity. The nature has all the answers and resources needed to lead our lives in a sustainable way, but we choose to exploit it. For those reading this, who has not visited this place, do visit it once. There are so many things to unlearn and relearn and bring in a sustainable lifestyle making it a way of life.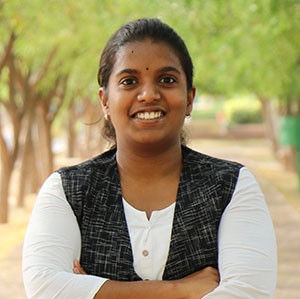 Article by
Pavithra. V
B.CLIP Civic Leader