Bengaluru's rapidly evolving transportation sector is one of the key causes of local air pollution, rising greenhouse gases (GHG), and associated health problems. In Bengaluru, road transport contributes to over 40% of carbon emission (TV Ramachandra et. al, 2015), with many urban transport systems already under strain and mobility demand predicted to grow significantly in the future, mobility needs to change to meet our future needs. It has gone beyond congestion, to also looking at ways of reducing private car dependency and prioritizing sustainable public/ shared vehicle transport. The city also needs to address the immediate need for reducing carbon emission by focussing on cost-effective and efficient green mobility solutions.
Electric Vehicles: An Opportunity
The best way to reduce emissions and congestion is to prioritize sustainable modes of transportation. Recent technology advances offer an opportunity to reduce emissions.
Electric vehicle (EV) technology is approaching a tipping point as newer EV models improve in performance and charging technologies become interoperable both addressing "range anxiety" concerns.
The affordability of four-wheeler passenger e-vehicles in the country still remains a challenge, but fleet operators and logistics pick up e-vehicles are beginning to see a return on investment.
The transition to renewable energy sources on the grid makes charging of EVs more sustainable.
A survey by the Economic Times in May 2019 found that 90% of the sampled car owners were willing to shift to electric vehicles provided there is an appropriate charging system in place and EVs are available at an affordable price. Currently, the EV market has only a 1% share in India with a predominant share of that being two-wheelers. According to the transport department, the current vehicular population of Bengaluru is around 80 lakhs including two, three, and four-wheelers and buses but the number of electric vehicles is less than 1%, of which only three-wheelers exhibit a slightly higher scale of adoption.
| | | | |
| --- | --- | --- | --- |
| Vehicle Type | Total Vehicular Population | EV (as on Dec 19) | EV % |
| Two-wheeler | 57,72,673 | 7545 | 0.13% |
| Three-wheeler | 2,01.017 | 13,522 | 6.46% |
| Four-Wheeler | 17,13,023 | 6050 | 0.35% |
| Buses | 50988 | Nil | 0.00% |
| Total | 77,37,701 | 27,117 | 0.35% |
Percentage of EV in Bengaluru as of 2019
Source: Transport Department, GOK
A Vision for the Future
Karnataka's EV policy aims to convert 50% of its entire fleet into EV by 2030, thus shifting the focus to the electrification of transportation which is the primary technology pathway to achieve the transformation to green mobility. Karnataka was one of the early states to have announced an EV Policy but has seen negligible growth of EVs.  This slow growth is due to the reluctance on part of existing automotive manufacturers to shift to EVs, slow adoption by commuters because of range anxiety, high price, and lack of policy interventions to support faster adoption.
The end goal of the EV Roadmap for Bengaluru is to achieve the vision Karnataka EV policy by electrifying all forms of public mobility, 50% of private mobility including cars, vans, and medium or heavy-duty trucks, taxis, paratransit, emerging mobility fleets, and commuter shuttles, motorbikes, and scooters by providing supporting charging infrastructure.
The EV Roadmap proposes six strategies to encourage adoption and bring about transformative change, namely:
1) Policy and regulatory changes
2) Financial and Non-financial incentives and disincentives
3) Encouraging local manufacturing of EVs
4) Charging infrastructure and battery management
5) Research and development
6) Battery recycling and reuse, campaign, and awareness
Together, these can put the city on track to meet interim goals for  EV adoption and GHG reduction.
The adoption process would be driven by making the state a preferred destination and manufacturing hub for EVs. It is also necessary to identify short, mid, and long-term objectives and opportunities to achieve the goal of 20% by 2022 and 50% by 2025 to reach the 2030 target. For 2Ws to have around 9 million EV's by 2030, there needs to be a target set for reaching 1.8 million by 2022 and 4.6 million by 2025, Similarly for 3Ws, 4Ws, and buses as shown in the figure below which is 20% by 2022 and 50% by 2025 to reach the 2030 target. (calculated based on the CAGR method).
The EV Roadmap complements existing policy frameworks, programs, and initiatives, and how it contributes to equity, health, and economic vitality, in support of the overarching goal to create a more liveable city.

As shown in the table below, the short and mid-term focus should be on vehicle groups that exhibit high growth, strong market demand, good business potential, and investment opportunities where the state can influence faster adoption through its interventions.
The below table provides a roadmap with six strategies to make Bengaluru, EV Capital of India.
For more details about the six strategies, do refer to https://bpac.in/sustainable-mobility-for-bengaluru-report-march-2020.pdf.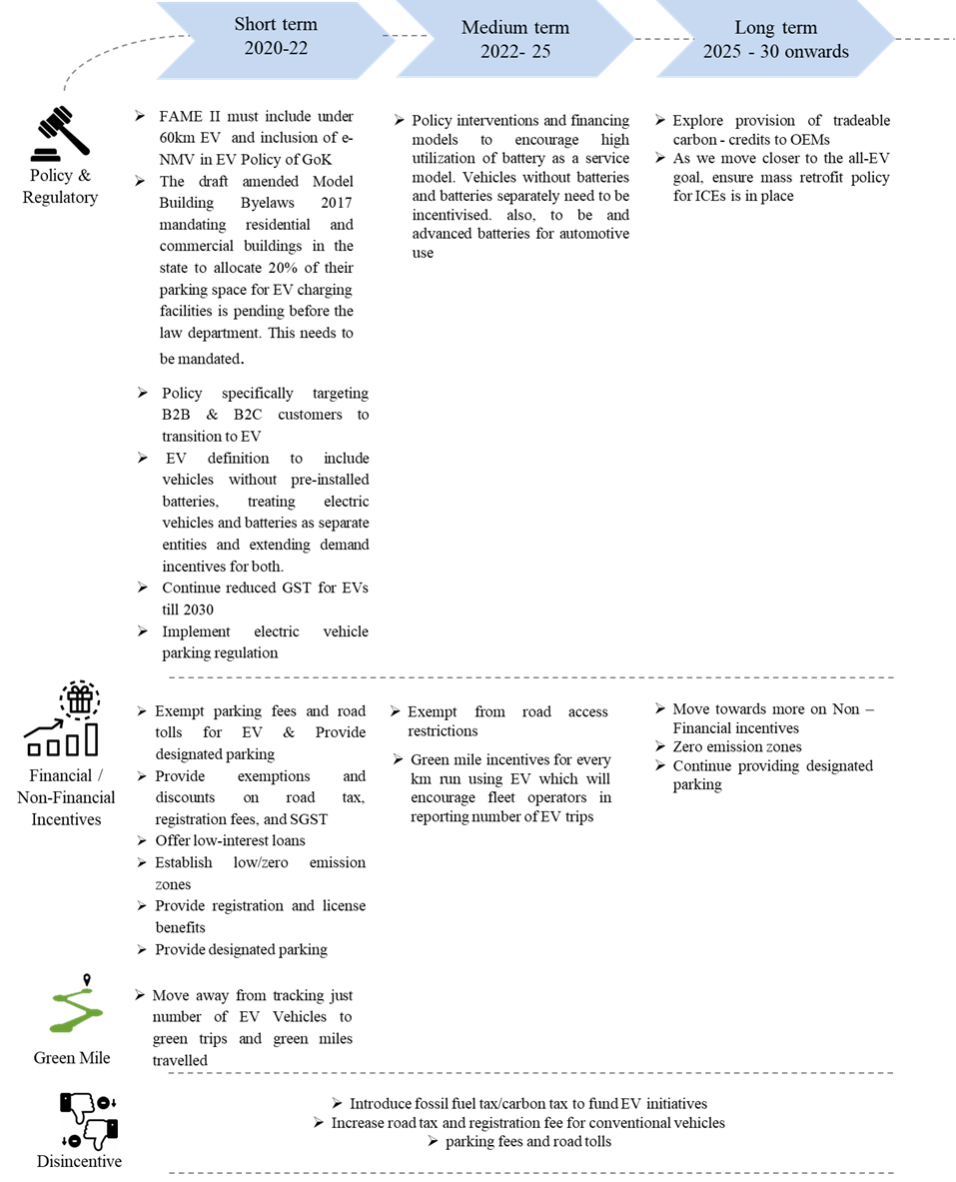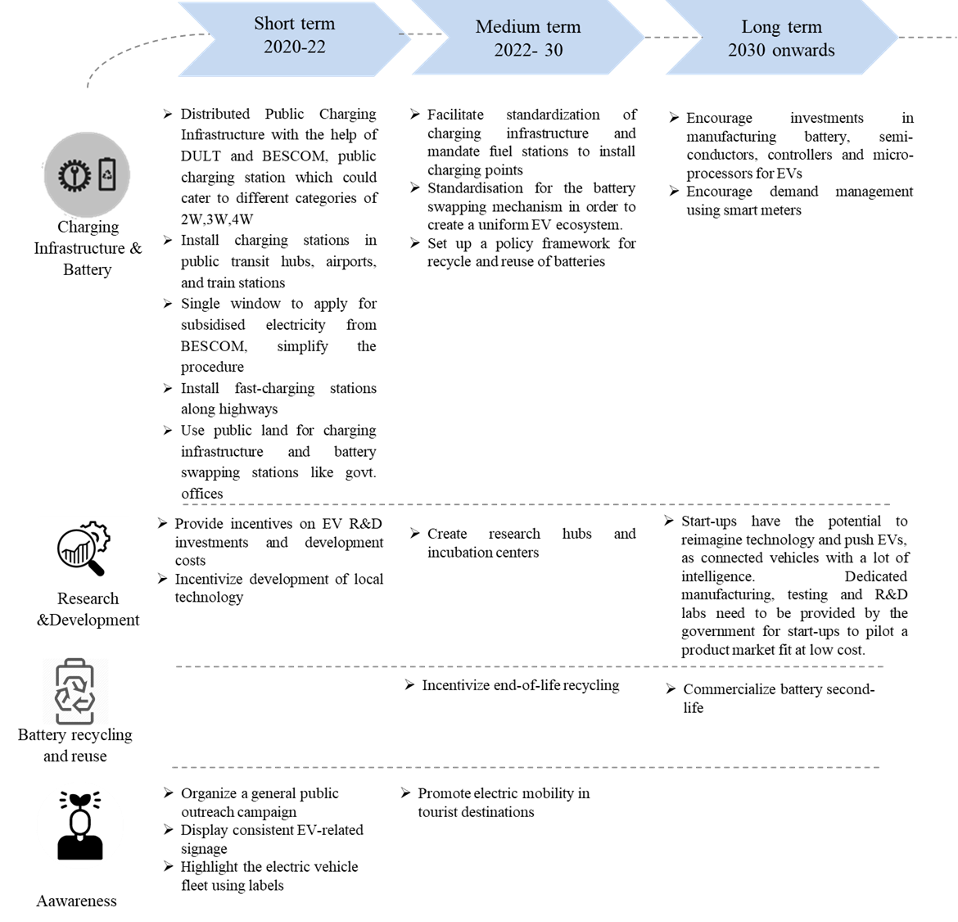 In order to achieve its EV goals, Bengaluru needs to create a detailed implementation plan and a strong monitoring and reporting framework. This also requires a robust community outreach plan to build consumer awareness on sustainable mobility as an imperative for better health and environment outcomes. Buses, two-wheelers, fleet owners of passenger and logistics vehicles and autos are likely to drive early adoption.
The government must take cognizance of these early growth trends and take appropriate policy actions to kickstart the EV growth in the city.