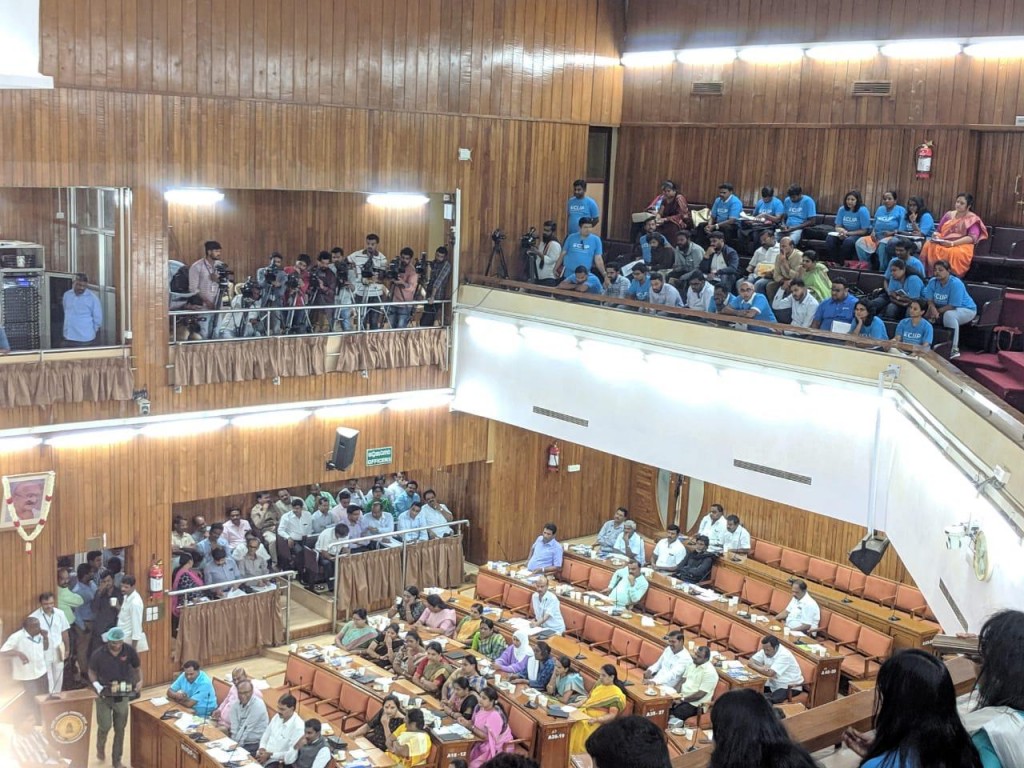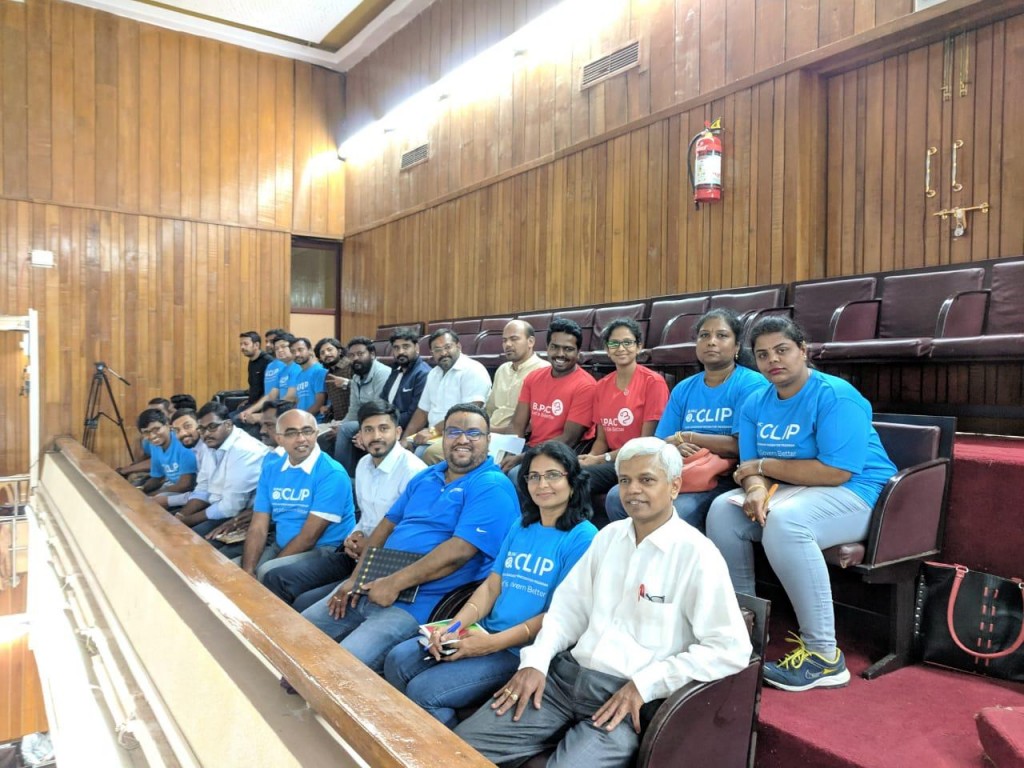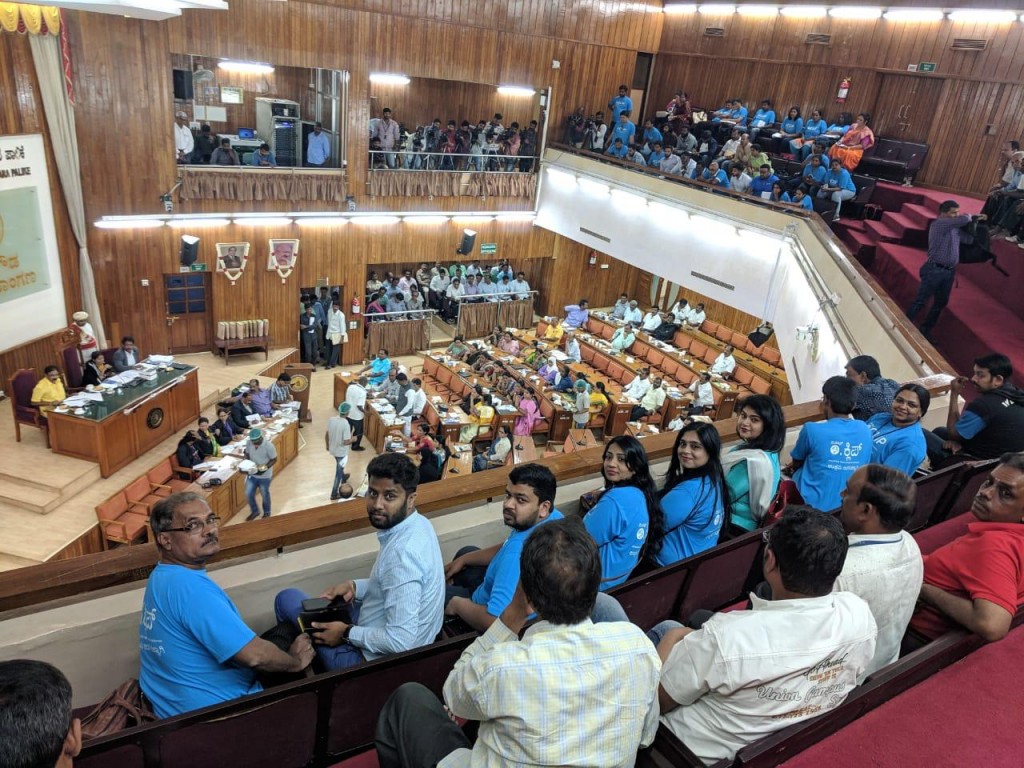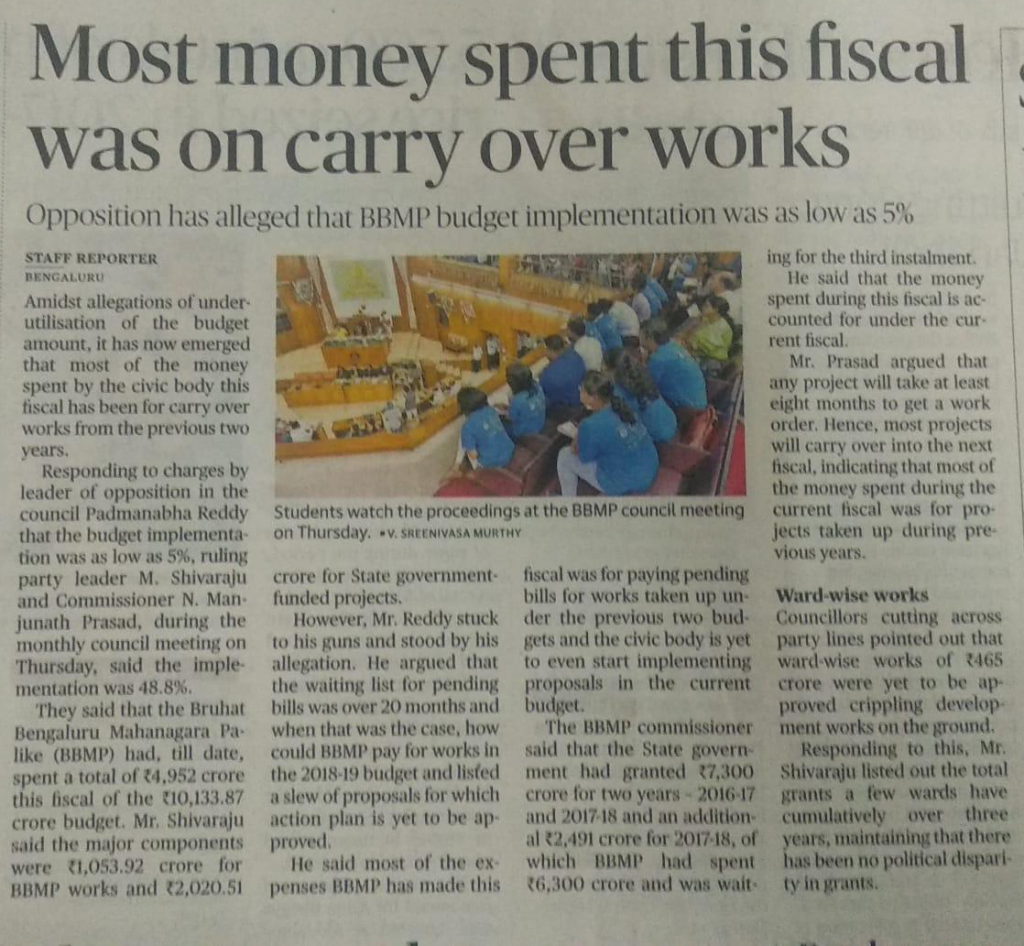 My experience and learnings from visit to Monthly BBMP council meeting
Field Visit of B.CLIP 6th Batch on Dec 27th, 2018
This day is unforgettable day for me. Usually my day starts on a good note, but today I was very excited that I will be visiting BBMP Council Session for the first time. Previous day Raghavendra H S (Coordinator, B.CLIP) shared about the Council, what can be learnt and our objective for attending the council. I had a chance to go through these and went through the BBMP Website and understood the hierarchy & departments and few basic details. I was ready with some basic knowledge.
I was the first BCLIP member to reach the BBMP office at 9.40am, I was received by our guide Advocate Harish. N, Member, B.PAC who was already present. Later Karthik joined us. We had coffee and started discussing the about the nuances of the Council etc. Harish. N was carrying the agenda for the day. There were 14 items that was listed as Agenda to be discussed in the council meeting. What attracted me on the agenda was the ಹಣಕಾಸು (Finance). Since I am from Finance background, I was naturally curious to know more about this. I started to go through what was inside that. It gave me a brief note about the budget, expense and pending bills payment. Oh, what a detailed analysis and it was showing how the public money has been utilized.
All BCLIP participants were present by 10.30am and at 10.45am, Harish. N, Sharath. S.R& Raghavendra give a brief introduction to the following:
Organization Structure of BBMP(earlier BMP/old BCC)
BBMP Council and its officers(council secretary), press &visitors gallery
Elected and Nominated Corporators
Election of Mayor & Dy Mayor, Term of Office
Voting rights of MLAs, MLCs & MP's during Election of Mayor & Dy Mayor
Role of Regional Commissioner& Commissioner
Zones & Joint Commissioners, etc.
Constitution of 12 Standing Committees & their Role
Ward Committees,
Various Departments of BBMP
Functions, duties and proceedings in the BBMP council meeting(Zero Hr,
Do's and Don'ts to be observed by visitors inside the Council
Budget, Govt Grants, Major Works, Minor Works, SWD, Health & Hygiene, Estate etc.
An overview of some of the issues scheduled to be raised on the floor of the Council, such as AkramaSakrama, A- Khata, B-Khata, Betterment Charges, Property Tax Collection, Unauthorised Ads/Flexes/Banners, New Ad/Hoarding Bye Laws, Pot Holes, Major Works, BBMP Properties, Naming of Roads, Waste Management, Social Welfare measures, etc.
About BBMP Council:
Local administrative governing body for the 198 Wards within the limits of Bruhat Bengaluru Mahanagara Palike
The head of BBMP council is Worshipful Mayor who is also popular known as First Citizen of Bengaluru
BBMP council is governed under Karnataka Municipal Corporations Act, 1976
BBMP council meets once in a month (normally a 2 day session) to deliberate, discuss and decide on issues covering development wards
BBMP council meeting is presided over by the Mayor in the presence of Deputy
Mayor and Commissioner of BBMP and attended by corporators of 198 wards.
In addition to elected members, council meeting will be attended by statutory offices, namely Joint commissioner of 8 zones, Chief Engineers and Heads of all BBMP departments
Like Karnataka Legislative Assembly BBMP Council comprised of Ruling and Opposition sides. Hence there will be a leader of the House from the ruling party and leader of the opposition from the largest party in the opposition.
List of Business of the council meeting will be prepared in advance by council secretary in consultation with Mayor, Deputy Mayor, Commissioner and chairmen of 12 standing committees. List of business will be circulated well in advance to all council members.
Issues are enlisted in the list of business covering various subjects which can be raised by the corporators independently and by respective standing committees.
BBMP council will pass appropriate resolutions to implement various schemes and decisions.
Objective of B.CLIP visit to BBMP council:
To get first hand exposure to understand the proceedings and Conduct of Business in the Council.
To Acquaint with the roles and responsibilities of various authorities during the council meeting.
To get an insight in to the procedural aspects of the Conduct of Business in the council.
To get a birds eye view of the council session and observe, absorb and empower themselves with the leadership qualities as future political aspirant.
Things to take back from the visit:
To inculcate the art of making issue-based deliberations/arguments rather than person based arguments.
To develop the quality of constructive cooperation in any deliberation and Not to Oppose for the sake of being in the Opposition base on party affiliation.
Emphasis/focus on the developmental aspects in the larger public interest and welfare of citizens.
To take back positive aspects from the participation of various corporators during the council proceedings such as oratory skills, information with statistical data, logical reasoning, commence and conclude a speech and overall presentation/participation etc.
To learn to appreciate others view point before formulating an opinion on the subject matter of discussion during the council meeting.
At 11.30am, we entered the building and at 11.45am, the Council Quorumbell rang and the Worshipful Mayor, Deputy Mayor and BBMP Commissioner entered the Council Hall and the session commenced with singing of the National Anthem during which all council members, officers, media and visitors stood in honour of the same.
Two New Officers namely Mr. Lingamurthy DC-Administration and Dr. Ashok -JC-Dasarahalli Zone introduced themselves to the Council.
Ruling party leader Sri.Shivaraju, started the session with his speech on Finance with statistics covering spent on various welfare schemes, how the funds have been allocated to various 198 wards.
Opposition party leader Sri.Padmanabha Reddy, presented data on how the finances has not been uniformly allocated, schemes not started, even though funds were allocated etc. The argument reached pinnacle at one stage.
Issues Raised & Discussed in BBMP Council:
A khata& B Katha for properties within BBMP wards.
Arrears of Property Tax Collection. Interest and Penalty.
Betterment Charges Collection of Rs. 300CR whether done or not
Social Welfare Schemes( housing for Weaker Sections, etc) protest by Manjula LaggereCorprtr
Discharge of loans obtained on BBMP properties
Recovery of BBMP properties from unauthorized occupants
BBMP grants of Rs. 3 cr to Jayadeva for stent Rs. 50 Lac to Victoria Hospital
Allocation of Funds to Ward
Pink Baby Financial aid to children born on 1st Jan thru normal delivery.
Contractors Works bill cleared Rs.1053 Cr cleared
Rs.479 Cr loan cleared for 2 buildings Rajajinagr RTO & another building.
Out of grants received from Central Govt, State Govt & BBMP Rs. 4953 Cr spent
Garbage clearance expenses Rs.453 Cr released
Ad/Hoarding Byelaws amendment as per High Court direction
Pourakarmikas to be made Permanent
Regarding implementation of 2018-19 BBMP Budget
Details where all Free Wifi facility is provided
About 1Lac properties are not paying taxes
15 Lacs properties are being covered for property tax collection
Total station survey of properties for collection of property tax.
Hoarding Tax recovery and penalty levied
Removal of empty frames of hoardings not done and is dangerous to public life
Details of OFC cables laid
2 Veterinary Hospitals to be Established.
Walking stick for 100 senior citizens in each ward.
One important lesson for us to learn in this visit was that, all the debates, arguments were issue based and at no point of time personal attack was done.
As a budding civic leader, we had lot to learn and the field visit demonstrated how we should prepare ourselves before entering the Council Session as a Corporator. The key thing to be a successful leader is ವಾಕ್ಚತುರ್ಯ (Oratory Skill) &ಅಂಕಿಅಂಶಸಂಗ್ರಹ (Data gathering & collection).
Last but not the least, kudos to B.PAC team for organizing this field visit.
Write up by
Vijay Prasad, Hemmigepura Ward
(B.CLIP 6)