B.SAFE ADVISORY COMMITTEE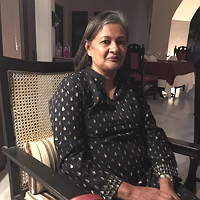 SUDHA THIMMAIAH
She holds a diploma certification in advertising and mass communication and began her career in an advertising firm, however, decided to pursue her interest in the field of mental health. Sudha Thimmaiah is a counselor with 20 years of experience in her field. She is a certified transactional analysis practitioner in counseling. She also holds a diploma in counselling from United Theological College. She trained with Vishwas, an NGO for counselling, and began her journey on this path. She worked with the Child Helpline Makkala Sahaya Vani reaching out to children in distress and as a counsellor in Juvenile Delinquent Home for street children, opening a vocational Training Centre for them as well. She has worked for organizations providing counseling services for management and employee issues. Sudha has her own private practice where she provides counselling for individual or family sessions.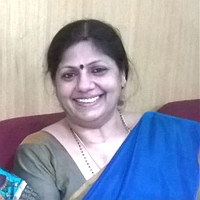 SUCHITRA RAO
Suchitra Rao, with over 20 years of experience in the social development sector, 13 of which have been specifically as consultant with UNICEF and Government of Karnataka, on child development issues, on policy and advocacy matters, has also spearheaded rural and urban projects on girl child labour and child protection. The liaising role with Government and networking with NGOs and community based organisations has provided her with a range of experience that is recognized and utilized by both Government and NGOs. She is also a consultant offering services for evaluations and other research assignments related to child programs and policies. Suchitra is also a senior trainer on development issues for the Government, UNICEF Projects and non-governmental sector. She is a member of state committees for children in Karnataka.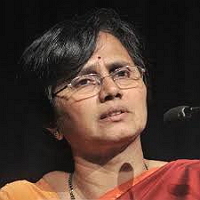 NINA NAYAK
Nina P. Nayak is a social worker and child rights activist with 30+ years of experience in the field of child development, child rights protection and as an administrator, practitioner and trainer. She has dedicated her life to the promotion and protection of child rights. Nina has been a driving force in the implementation of 'Juvenile Justice Act' and the 'Protection of Children Against Sexual Offenses Act'. Nayak was a former Chairperson for Karnataka State Commission for Protection of Child Rights and previously the vice-president of the Indian Council for Child Welfare as well as member of the sub-committee on children in the National Planning Commission of India. As head of the Karnataka State Council for Child Welfare she has facilitated several adoptions in the state. Nina has given a presentation on the role of children in governance in a TEDx event in Bangalore.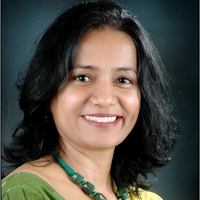 KALPANA TATAVARTI
With 20+ years of experience, Kalpana Tatavarti is a partner at Interweave Consulting Pvt Ltd. And her key focus is on women's leadership development, prevention of sexual harassment and diversity training in corporates. She was the founder of Maarpidid and currently founder of Manasvini, an NGO, that works towards economic empowerment of women in urban slums. In the early part of her career, she has worked in varied marketing roles across India. She is certified in administering and interpreting several psychometric instruments, and has experience in using them to help individuals build self-awareness and drive change. She holds a certification in transactional analysis, and is also a certified NLP master practitioner apart from being a certified executive coach from CFI, Chennai. Kavitha is a board member of an NGO, Durga, which does extensive work for personal safety of women in public spaces. She is a mentor with the Cherie Blair Foundation and a core group member of CII s women's network. She is also an angel advisor and invests in early stage start-ups.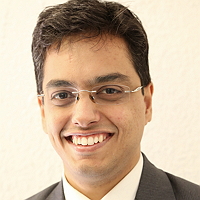 ASHOK GV
Ashok G.V. is a partner at TMT Law Practice, Bengaluru. He studied at Bangalore Institute of Legal Studies (2006-11) and then enrolled with the Bar Council of India to specialise in commercial litigation, tribunals, advising clients in the healthcare and pharmaceuticals industries on policy, compliance and contract management etc. A member of the ethics committee at a leading hospital in Bengaluru, Ashok also conducts training and capacity-building programmes for law enforcement across Karnataka.
Pro bono counselling and litigation also form a significant portion of Ashok's work. He is also a member of the governing council at Enfold Proactive Health Trust, a Bengaluru-based NGO working for sexual and personal safety for children and adults. Ashok provides free legal services to survivors of child sexual abuse and their families and to survivors of domestic violence.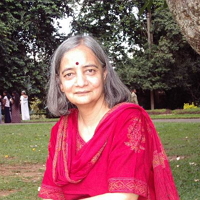 Dr RUPANDE PADIKI
Dr. Rupande Padiki has worked in the field of HR Management for over 3 decades. She undertook doctoral level research on the subject of organizational climate.  She has had a brief tenure at Tata Consultancy Serv­ices after which she established The P & P group (a management research and consulting firm) in Bangalore. Under her leadership, the group has handled several national and international assignments, published many papers, reports and books. Her specialized interests are in organizational diagnoses and values, designing and installing HRM systems, use of psychological tests and training managers in counseling skills, among several others. Her research on domestic violence and entrepreneurship development, led to assignments from International Centre for Research on Women (Washington), UNIFEM (New York) and ILO (Geneva). Rupande has been the President of the Bangalore chapter of the National HRD Network. She served as Honorary Secretary and later as Vice President of the Association for the Mentally Challenged (AMC). She is on the board of India Cares Foundation as a trustee.
N HARISH
ADVOCATE

Mr N.Harish is an Advocate who is an Expert on Constitutional Law & Parlimentary Procedure and Real Estate Laws. Mr. Harish is a legal consultant for various property developers. In 1990, Mr. Harish was delegate at the Commonwealth Parliamentary Conference organized by the Commonwealth Parliamentary Association of Karnataka held in Vidhana Soudha. Mr. Harish has presented papers at various National Level seminars.Apart from the legal profession, Mr. Harish imparts professional training to students for debates.