Bengaluru gets the next batch of civic leaders who pledge to transform the city.
B.PAC's Civic Leadership Incubator Program's Graduation Ceremony for Batch 4 & 5
Bengaluru: B.PAC conducted the graduation ceremony for the 4th & 5th batch of the B.PAC Civic Leadership Incubator Program (B.CLIP). The Guest of honor for the programme was Margaret Alva, Former Governor of Gujarat State. The program attended by prominent personalities like Kiran Mazumdar Shaw, President B.PAC, Nitin Pai, Co-Founder Takshashila Institution and Ashwin Mahesh, Urbanist.
"B.CLIP – B.PAC Civic Leadership Incubator Program" was set up to select and train public service oriented citizens in the art and management of ward level civic leadership. The programme content is rich with inputs from various experts such as civic administrators, bureaucrats, social scientists, domain specialists in water, mobility, environment etc. Over the five years, B.PAC has enhanced the pool of potential civic leaders in a significant way.
During the last five years, B.PAC has trained 263 civic leaders of which 73 are women (27%) and 190 are men (73%) across 6 batches. B.CLIP has representations across political parties: 
69 (26%) from Indian National Congress, 

52 (20%) from Bharathiya Janata Party, 

8 (3%)from Janata Dal-Secular, 

12 (5%) from Aam Admi Party, 

5 from new parties and 

117 (45%) Independents. 
69 civic leaders were awarded Graduation Certificates and 11 were awarded with participation certificate. The leaders are from across political parties, ideologies, educational qualification and professional background. 
The Guest of Honor for the ceremony Ms Margaret Alva, Former Governor of Gujarat State said "I congratulate the newly graduated B.CLIP leaders and wish you all the best for your political endeavors and hope you may you be instruments to making Bangalore a better place to live." She emphasized that parties must give women equal prominence as women's candidates have equal chances of winning as any male candidate. She also mentioned about the rampant corruption in the political system and urged the civic leaders to work with idealism and usher a new era of constructive and positive politics free of corruption.
Kiran Mazumdar Shaw, President B.PAC said "To achieve good governance in Bengaluru, we must put the city first. B.CLIP will infuse this culture of public service into the city corporations and governance. Integrity and prosperity are deeply interlinked. We must learn to walk the talk. This is where it begins for B.CLIP leaders. Let us not forget that this is our city. Bangalore is a city of great weather, great people, and great opportunities. We must take pride in our city and commit to better governance."
During her opening remarks, Ms. Revathy Ashok, Hon Managing Trustee & CEO introduced B.CLIP journey over the past six years. She highlighted the following:
The B.CLIP leaders have conducted several wonderful initiatives in their neighbourhoods. The leaders have worked under specific themes which needed utmost attention like 
Environment, 

Elections Habba, an election awareness campaign 

Women & Child Safety, 

Water conservation & lake restoration 

Some leaders have conceptualized and implemented successfully some innovative initiatives to make the life of Bengalureans easier. 
Under the Environmental initiatives, awareness sessions were conducted in over 100 educational institutions, 60+ Plastic ban drives, 200+ Clean up drives, over 7000+ tress planted, Green Ganesha workshops – 3000+ clay Ganesha and eco-friendly Deepavali celebration.
B.CLIP leaders were instrumental in conducting 15 hyper local manifesto meetings in consultation with citizen and citizen groups during the 2018 Karnataka assembly elections, over 72 voters enrollment drives, two voters awareness cycle rallies, thirty "My vote is not for sale" campaigns, an Election Jaathre, election awareness march, ten Vote Bengaluru campaigns, women motorcycle rally and finally on the day of voting these civic leaders played active role in motivating citizens to come out and vote and also thanked the voters across city by gifting them saplings as a token of appreciation.
B.CLIP leaders have taken several safety initiatives like conducting Child Protection Policy sessions in over 150 schools, safety workshops for 3700 children, capacity building workshops for over 300 teachers, safety workshops for 6000 women from different ages and communities, working with over 1200 Self Help Groups, distribution of weighing machines and Chinnara Ganitha books to students studying in government schools.
Today the country has awakened to the water scarcity adversity but the B.CLIP leaders have already been working on sensitizing the citizens about the water conservation and lake revival initiatives and conducted eleven Jala-uthsavas, water conservation programs with community participation, trained 1000 students on importance of water conservation, door to door awareness program on setting up rain water harvesting in over 1000 households, eleven street plays to create awareness on the need for water conservation and have been working tirelessly in reviving eight lakes. 
Our innovative and self-motivated B.CLIP leaders have come up with some amazing novel initiatives such as 
Pattaki Bitthaki campaign, awareness on celebrating eco-friendly Deepavali, 

Mane Manegu Mannina Ganesha, a hands-on workshop on making eco-friendly clay Ganesha idols, 

My vote is not for sale awareness campaign urging voters to not trade their votes and vote ethically, 

Bengaluru water warriors group has taken up the cause of water conservation 

Rally for lakes, a lake rejuvenation march, 

Zero waste Ramzan at mosques in Shivajinagar, 

Supported Composting Santhe 

Walk to school initiative urging parents and students to avoid motorized vehicles and walk to school.
During 2018 Karnataka Assembly elections 7 B.CLIP leaders contested and B.CLIP Batch 3 participant Mrs. Sowmya Reddy contested and won from Jayanagar assembly constituency. During the previous BBMP elections, 23 B.CLIP civic leaders contested the BBMP elections and B.CLIP civic leader from Batch 2 Mr Sampath Kumar contested and won from Vasanathnagar ward. 
B.PAC is confident that these trained set of civic leaders will challenge the status quo and some of them will contest in the upcoming BBMP municipal 2020 elections and usher a positive change in the way Bengaluru city is being administered today.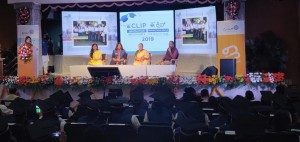 Commencement of B.CLIP Graduation Ceremony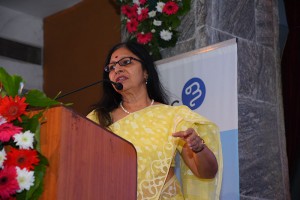 Revathy Ashok, CEO B.PAC giving the welcome address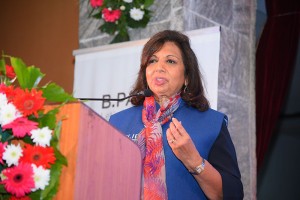 Kiran Mazumdar Shaw, President B.PAC addressing the graduating batches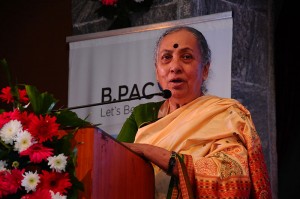 Guest of Honor Ms Margaret Alva, Former Governor of Gujarat State addressing the audience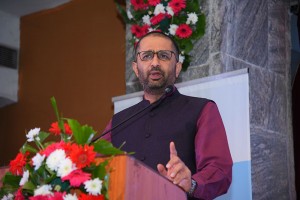 Nitin Pai, Co-Founder & Director, The Takshashila Institution, addressing the audience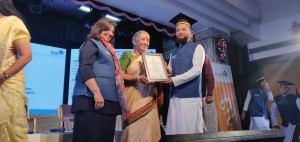 B.CLIP civic leaders from batch 4 being conferred the B.CLIP graduation certificate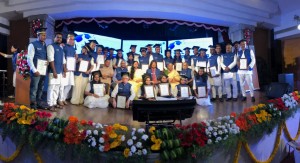 The Graduating B.CLIP Batch 4
B.CLIP civic leaders from batch 5 being conferred the B.CLIP graduation certificate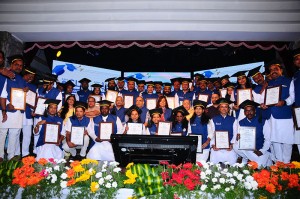 The Graduating B.CLIP Batch 5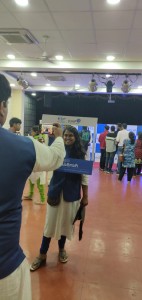 Fun moments of the graduation ceremony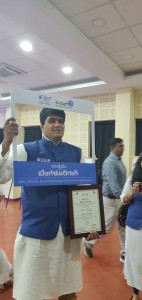 Fun moments of the graduation ceremony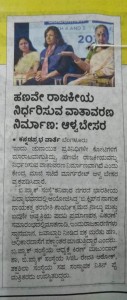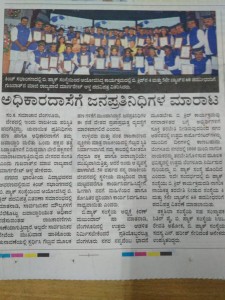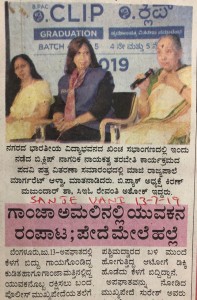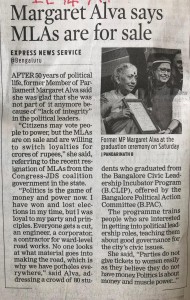 On The New Indian Express