Launch of Green Ambassador Program and release of B.PAC Guidebook for colleges to become zero waste campus 
Bengaluru, August 3, 2019: B.PAC released guidelines to make campuses a source of zero waste to encourage environmental sustainability initiatives in Colleges. Mr.Randeep D, Special Commissioner (SWM & Admin), BBMP graced the program and released the guidelines and handed them over to the Colleges of Malleshwaram, Bengaluru. 
Much of Bengaluru's problem of waste management, water conservation and other environmental issues root from the lack of awareness among citizens, weak collaborative efforts of stakeholders and a non-compliance of rules and regulations. Bengaluru city's urban issues are complex and need a community of young environmental leaders to take an active part in resolving environmental and civic problems. With this objective, B.PAC has been working with colleges and schools to create Green Ambassadors to make their campus environmentally responsible and further bring awareness in the local community. 
This year, B.PAC in partnership with Shell MRPL Aviation Fuels & Services Ltd. is working with all the 10 colleges of Malleshwaram and further 15 more colleges of other constituencies to turn them into a source of zero-waste. 
Mr Ananda Gundarao introduced how the students will assess their college campus, draft a plan and implement measures to make their college a zero-waste campus. 
During the program Mr Randeep, Special Commissioner shared, "The first thing we need to know is that waste segregation is the most important action. 5700 metric tons of waste is generated in Bengaluru. The good news is that the majority of this is compostable. If we all work to segregate our waste properly". He also introduced how BBMP is working towards making their campus a source of zero-waste. 
Sahar Mansoor, Founder of Bare Necessities addressed the students about her #ZeroWaste lifestyle. Sahar has produced one jar of waste in the past 3 years. 
Kuldeep Dhantewadia, Co-founder, Reap Benefit addressed students about his own journey to becoming a changemaker as a student and encouraged them to use the platform to find solutions. 
Som Narayan, Co-Founder, Carbon Masters addressed students about how his company tackles the issues of waste and energy as a technological solution to climate change. Carbon Masters turns wet waste into biogas – a clean source of energy.  
Students at Green Ambassador Program learnt about careers in environment and sustainability. A whole generation of green skilled professionals is critical for driving the environmental change in the city. 
These students will work with their respective colleges in support with B.PAC and BBMP and work towards achieving a zero-waste eco-friendly campus.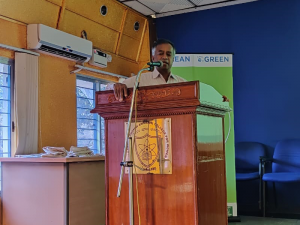 Anandagundu Rao, Member BPAC addressing audience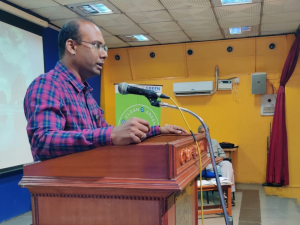 Randeep D, Commissioner-Solid Waste Management, BBMP addressing audience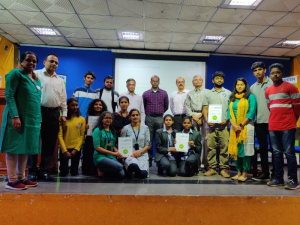 GAP launch organizing team