A new breed of civic leaders
for Bengaluru!
Bengaluru, January 10th, 2017:
B.PAC proudly conducted the Civic Leadership Incubator Programme (B.CLIP) Graduation Ceremony  at Khincha Auditorium, Bharathiya Vidya Bhavan, Racecourse road, Bengaluru on 10th January, 2017.
The fast growth of our city in response to the economic opportunities arising out of liberalization has brought in its own share of bigger and newer civic problems. Facing up these new challenges and solving them needs newer institutions and renewed interface with the existing institutions and the citizens. One of the key challenges in improving governance is the growing gap between citizen's needs and the responses from various civic authorities responsible for service delivery. Political leadership in the form of Corporators, plays a critical role in bridging this gap. This leadership has traditionally been provided through political parties and their hierarchy, often rooted in the old pace of the city. A modern city with its cosmopolitan population would need a different approach to solve the city's ever-changing problems. A change of this order has to commence from the grass roots level to enable the city to ground its future on a firm foundation.
Sensing this critical need of the City, B.PAC started "B.CLIP – B.PAC Civic Leadership Incubator Program" to train public service oriented citizens in the theory, art and management of civic leadership. The program content is rich with inputs from various experts such as Civic Bureaucracy, Social scientists, domain specialists etc. During the nine-month long program, participants undergo three months of classroom session; later they lead a community development project in their ward to bring in the classroom learning to bearing in field situation for internalizing learning.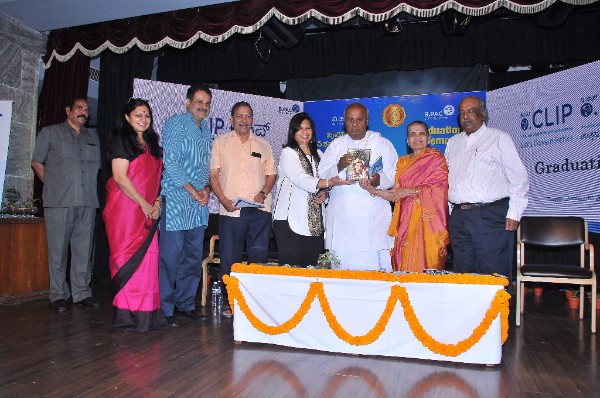 During B.CLIP Graduation Ceremony (From Right to lef) K. Jairaj, Leeladevi R Prasad, H.D Devegowda, Kiran Mazumdar-shaw, T.V Mohandas Pai, Revathy Ashok.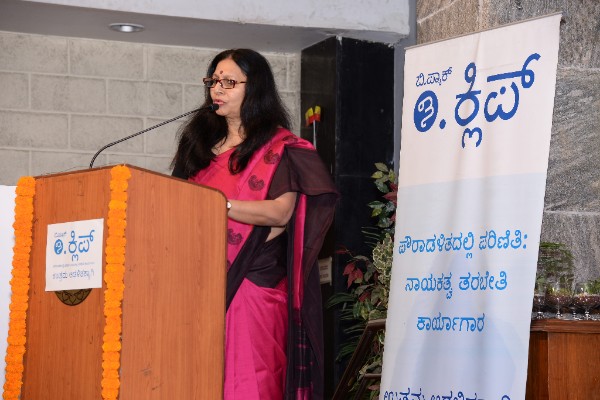 Ms. Revathy Ashok, CEO & Managing Trustee B.PAC welcomed the audience and shared details about the program  and the positive impact made by B.CLIP leaders.
In the last three years, B.PAC has trained over 150 civic leaders, passionate in participating in the political process and makes a change to the way our city is governed. A total of 124 civic leaders were awarded with graduation and participation certificates.These leaders are from across various political parties, educational and professional background.
Gist of Ms. Revathy Ashok's address: Impact by B.CLIP leaders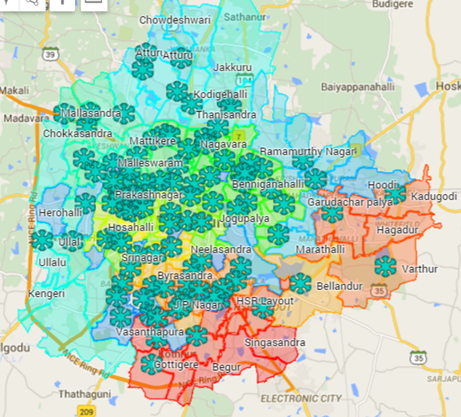 Out of 198 BBMP wards, 108 wards are represented by B.CLIP leaders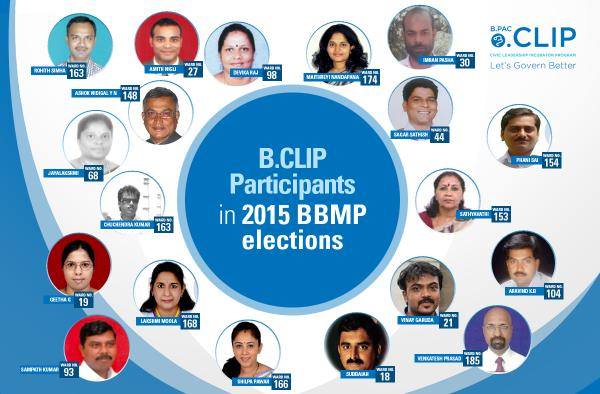 B.CLIP leaders contested in 2016 BBMP elections. Mr. Sampath Kumar won the elctions and represents Vasanthnagar ward. 
B.CLIP leaders have led over 100 ward develoment projects as part of the course.  Further, they continue engagement by leading  Participatory democracy program, B.SAFE, B.CLEAN/B.GREEN initiatives in their ward.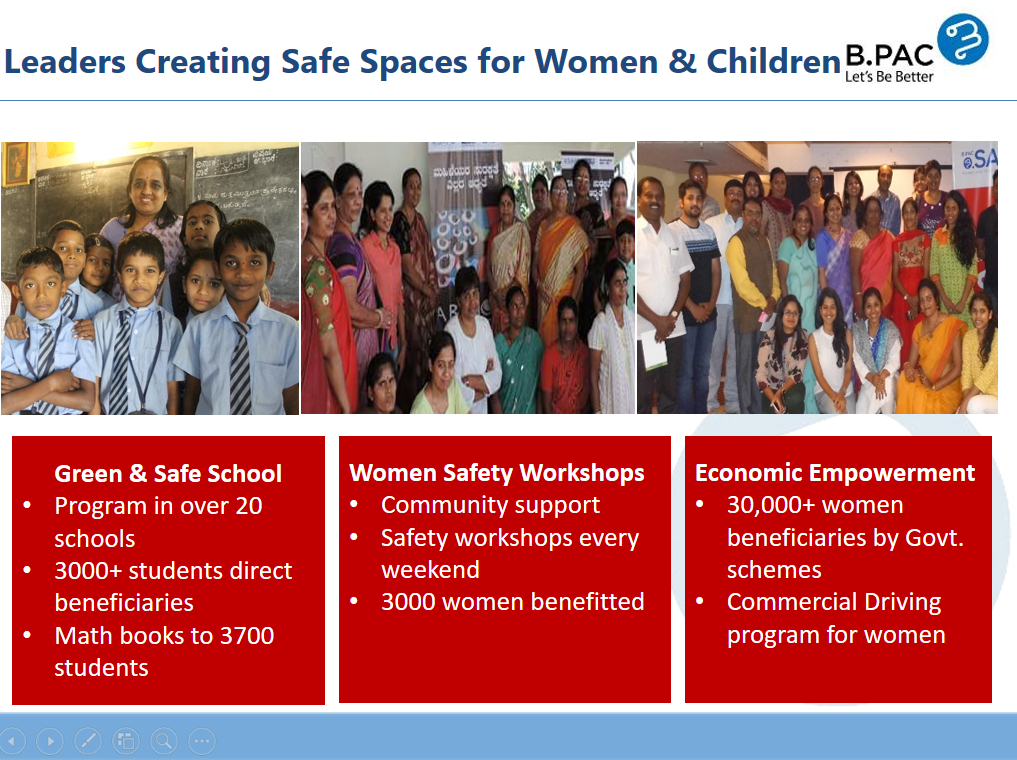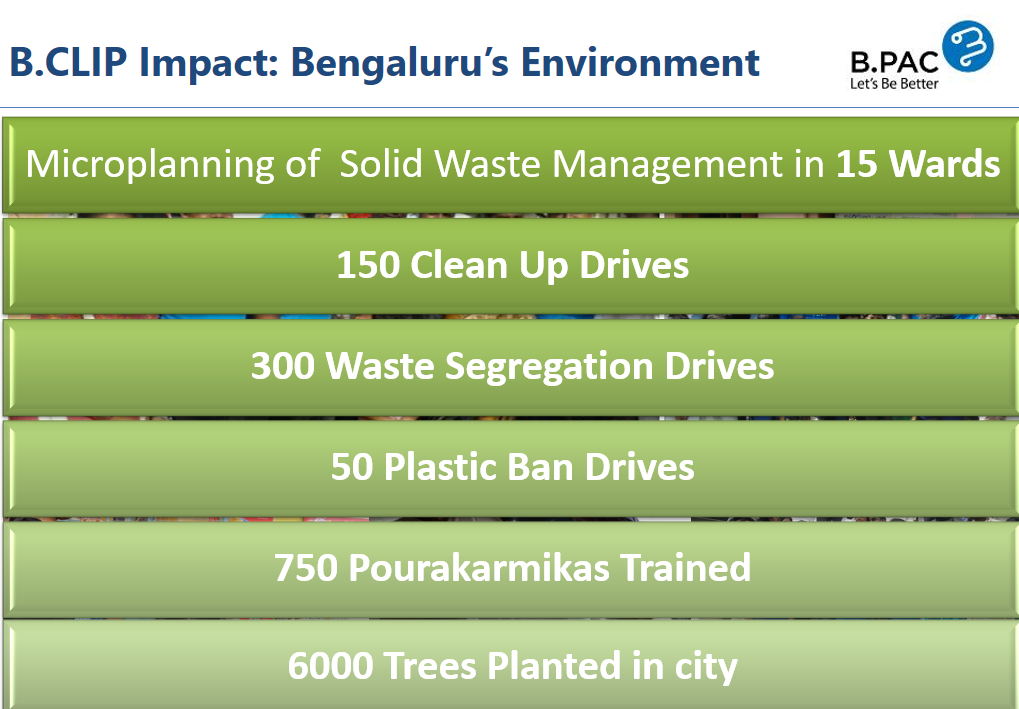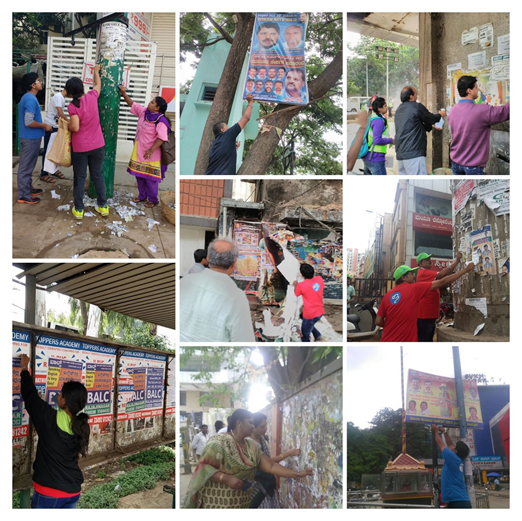 Kill Bills: B.CLIP leaders along with BBMP and elected representatives led a campaign against illegal hoarding across the city.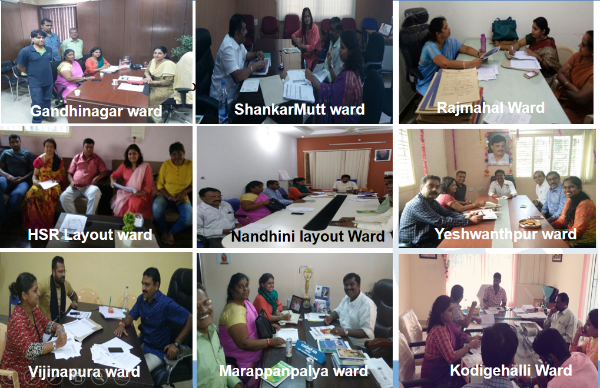 B.CLIP leaders working with corporators across the city. A total of 40 wards are championed by B.CLIP leaders.
Dr. C N Ashwath Naryan, MLA, Malleshwaram, Smt. Padamavati. J, Mayor, BBMP, Former Ministers Leeladevi R Prasad and Lalita Nayak, several Bengaluru city corporators and leaders of all political parties attended the program and etended congratulations to the graduating leaders.
We envision a pool of over 1000 B.CLIP leaders working together to transform Bengaluru city.
Applications for 5th batch of B.CLIP are open, visit www.bpac.in/bclip to download applications or call 9739328099 to collect applications.
We started the year 2017 by celebrating the efforts and vigor of our B.CLIP leaders. We hope theis year would witness numerous positive initiatives driven by citizens of Bengaluru to bring in positive changes in their neighbourhood.
Address by Ms. Kiran Mazumdar-Shaw, President, B.PAC
Ms. Kiram Mazumdar-Shaw said ""B.PAC envisions a pool of thousand civic leaders working together to transform the city. The program is a platform for passionate Bengalureans to learn from experts and implement initiatives in their area".
Keynote address by: Sri H.D Devegowda, Former Prime Minister, Government of India
Sri H.D Devegowda congratulated the B.CLIP graduates and urged the B.CLIP leaders to work towards reclaiming the lost charm of our garden city.
Justice N. Santhosh Hegde, Former Lokayukta, Government of Karnataka addressed the Graduates and called them to uphold the values of our constitution.
Ms. Leeladevi R. Prasad, Bengaluru's First woman counselor and Former Minister, Department of Women & Child, Government of Karnataka addressed the B.CLIP graduates and called them to contest in elections.
Mr. Mohandas Pai, Vice President, B.PAC address during B.CLIP Graduation Ceremony.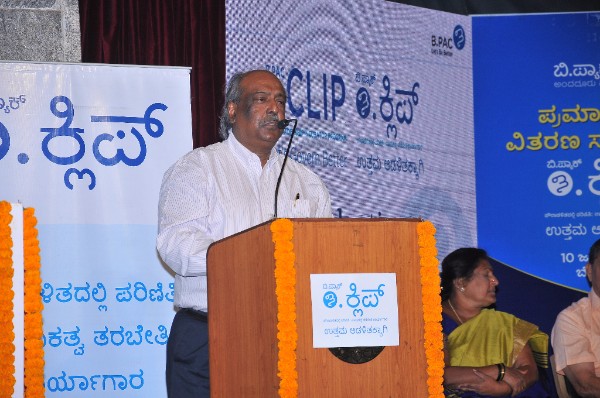 K. Jairaj, Secretary B.PAC addressed B.CLIP leaders during the ceremony.
Graduation speech by B.CLIP leaders
Kaveri Kedarnath, B.CLIP Batch 1.
Vasanthnagar Corporator Sampath Kumar during his B.CLIP graduation
Civic Leader, Mohammed Saleh Sufiyan at his B.CLIP Graduation
Civic Leader Pushpa Murthy at her B.CLIP Graduation