Increasing Bengaluru's Green Cover by Creating Mini Urban Forest in Seegehalli
Bengaluru being an IT hub, draws swaths of working professionals from all across India and the globe. This growing movement of people into the city adds a constant strain on the available real estate. The rapid development takes a toll on the city's natural cover and many undeveloped plots are leveled to meet this need. In an effort to counteract this negative impact on our city's green cover, B.PAC in partnership with BBMP, Hasiru Mission, Rotary Club, and Save Our Country is developing a mini urban forest in Seegehalli, Bengaluru. Over 500 saplings were planted by 130 volunteers from various NGOs, NCC cadets from Jyothi Nivas College, NSS volunteers from Mount Carmel College and students from Government School in Malleshwara.
The proposed site for the urban reforestation project is adjacent to the Seegehalli municipal wet waste processing plant. While the plant is intended to provide sustainability services to the community, people do not usually welcome a waste processing center in their neighborhood due to concerns about decreased environmental quality. This forest will provide a green buffer between the facility and the surrounding areas, which will help regulate air quality, absorb rainwater, and improve soil and the microclimate of Seegehalli. Additionally, it will add a beautiful public space for community use. The forest will be maintained by BBMP. This is Phase 1 of a series of improvements at the Seegehalli municipal wet waste processing plant. 
Revathy Ashok, Managing Trustee & CEO, B.PAC said, "We are really happy to initiate this first of its kind initiative of creating mini urban forest in waste lands in and around solid waste management centers. This will create a green curtain and convert this eyesore into a pleasant sight of greenery and the people staying nearby do not feel the ill effects of the waste processing plants. We hope this can be replicated as an example across the country. Massive reforestation efforts are a key part of India's commitments under its national climate action strategy. Increasing urban forests in Bengaluru is a contribution towards that global goal, and will also improve local quality of life for the citizens of Seegehalli".
Shobha Rao, President, Rotary Bangalore Downtown said, "We are glad to be a part of this initiative and we hope this urban mini forest will help the residents in the nearby areas. We from Rotary are planning to plant one crore saplings and this is a part of the larger initiative".
Purnima GB, BBMP environmental engineer & in charge of Seegehalli plant said, "We are grateful to B.PAC, Hasiru Mission, Rotary Club, and Save Our Country for such a novel initiative and we will take care of the saplings. We also hope to find more space in this facility and do another round of tree planting".
With the support and enthusiasm from the different organizations backing this initiative, B.PAC is very positive about the outcome that it will yield and is optimistic about seeing a thicker and widely spread urban forests coexisting with its residents.
Photo Gallery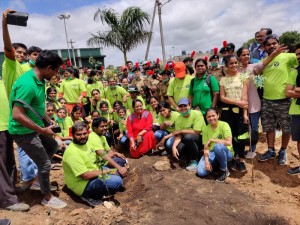 Team B.PAC, Hasiru mission and Rotary Downtown with BBMP officials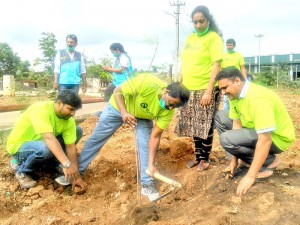 B.CLIP leaders planting saplings at Kannahalli, Solid waste processing unit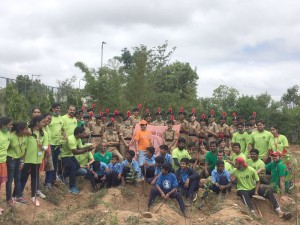 CEO of B.PAC, Ms. Revathy Ashok with the NCC cadets of Mount Carmel College and Students of Government school Malleshwara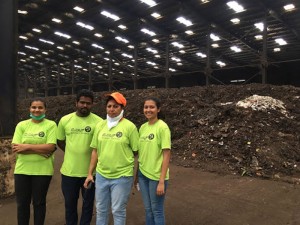 Team B.PAC as the Waste Processing unit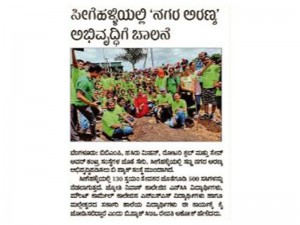 News covered in Prajavani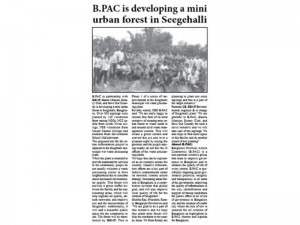 News covered in City Highlights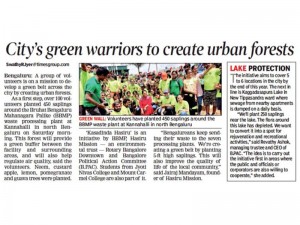 News covered in Times Of India