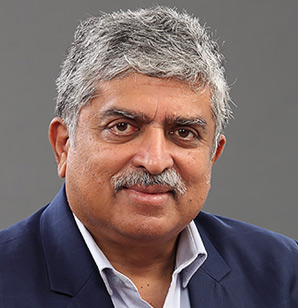 Nandan Nilekani
Contesting Seat: Bangalore South
Party: INC
Education: B.E
Profession: Co-founder of Infosys Technologies
Age: 59
Assets: 7710 Crore+
Positions held
Chairperson UIDAI
Agency Executive TAGUP
CEO Infosys (prior to that held other positions of COO, MD and President)
Member, Board of Governors of the Indian Council for Research on International Economic Relations (ICRIER)
President of NCAER (the premier independent applied economics research institute in India)
Advisory Boards of the World Economic Forum Foundation and the Bombay Heritage Fund
He wrote a book named 'Imagining India'.
He was awarded an honorary Doctor of Law degree by the Rotman School of Management at the University of Toronto on 31 May 2011
He received NDTV Indian of the Year's Transformational Idea of the Year Award in 2011
He was named Corporate Citizen of the Year at the Asia Business Leaders Award (2004) organized by CNBC
Joseph Schumpeter Prize for innovative services in economy, economic sciences and politics – 2005
In 2006 and 2009, Time magazine placed Nilekani in the Time 100 list of 'World's Most Influential People'
Was presented the 'Legend in Leadership Award' by the Yale University in November 2009.
In January 2006, Nilekani became the youngest entrepreneur to join 20 global leaders on the World Economic Forum (WEF) Foundation Board
Nilekani was awarded one of India's highest civilian honours, the Padma Bhushan, in 2006
In 2003 and 2006, he was named Businessman of the Year by Forbes Asia
In 2013, Nilekani and his wife Rohini Nilekani won the Forbes Outstanding Philanthropist Award.
Details on Assets of Nandan Nilekani
Name
Constituency
Party

Name

Movable Assets(Rs)
ImmovableAssets (Rs)
Total Assets (Rs)
Nandan Nilekani
Bangalore South
INC
76,65,95,17,411
44,34,39,808
77,10,29,57,2197710 Crore+
A total of 177 candidates have declared their income tax details out of which Nandan Nilekani is one of the 22 candidates who have declared a total income of more than Rs 50 lakhs.
Total Assets
The financial yearfor which the last

income tax return

has been filed by

candidate

Total income shown bycandidate in ITR

(Self+Spouse+Dependent)

Self incomeshown by

candidate in ITR

77,10,29,57,2197710 Crore+
2013-2014
1,68,41,65,069168 Crore+
97,84,51,44697 Crore+