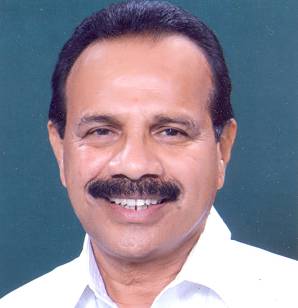 D V Sadananda Gowda
Contesting Seat: Bangalore North
Party: BJP
Qualification: Lawyer
Age: 62
Assets: Rs. 5.5 crore plus (2013)
Liabilities: Rs.1.45 crore plus
Prominent positions held:
Karnataka Chief Minister (August 4, 2011 – July 8, 2012)
Elected to the 15th Lok Sabha (2009 – December 2011) from Udupi-Chikmagalur Lok Sabha constituency
Elected to the 14th Lok Sabha (2004 – 2009) from Mangalore Lok Sabha constituency
Member of the Karnataka Legislative Assembly- 2 terms (1994-2004) from Puttur constituency
Other positions held:
15th Lok Sabha
Member, House Committee
Member, Committee on Science & Technology, Environment & Forests
Director, Central Coffee Board
14th Lok Sabha
Member, Committee on Commerce
Karnataka Assembly (1994- 2004)
Member, Cell for Preparing Draft Bill on Prohibiting Atrocities on Women, Government of Karnataka
Deputy Leader, Opposition, Karnataka Legislative Assembly
Member, Committee for Energy, Fuel & Power, Karnataka Legislative Assembly
Member, Public Undertaking Committee, Karnataka Legislative Assembly
President, Public Accounts Committee, Karnataka Legislative Assembly
Other positions
General Secretary, Bharatiya Mazdoor Sangh, Puttur Division
President of Sullia Taluk Auto Rickshaw Drivers and Owners Union
Vice President of SCDCC Bank, Mangalore
Director, SKACM Society, Mangalore
Some recent news bits involving Sadananda Gowda:
Performance as an MP
It is pertinent to remember that Sadananda Gowda was a second-term sitting MP when he was chosen as chief minister due to which he had to vacate his Lok Sabha seat. During the two terms that he was in office, he took part in various debates relating to Karnataka. Some of them include
Regarding need to extend the train service between Bangalore and Mangalore up to Karwar, in Karnataka
Regarding need to give approval to anti-sea erosion project submitted by Government of Karnataka
Regarding need to allocate the full requirement of fertilizers to the State of Karnataka.
Illegal mining in various states
Water issues between the governments of Karnataka and Tamil Nadu
Blanket ban on the use of Endosulfan in Karnataka
Plight of farmers due to fall in prices of areca nut
Funds for completion of work of improvement of Shiradi Ghat stretch from Sakleshpura to Gundya
His focus during debates was on topics broadly related to coastal Karnataka and agriculture.
During his tenure as a member of the Lok Sabha from 2009 – 2011, he asked 72 questions. Not surprisingly, they were focussed on Karnataka. During the same period, his attendance stood at a mere 48%.
He is also seen as the one who approved Yettinahole river diversion project, against which people of South Canara are up in arms, as the project is perceived to affect the river Netravati – the lifeline of South Canara district.
Details on high liabilities of Sadananda Gowda (Over 1 Crore):
| | | | | | | |
| --- | --- | --- | --- | --- | --- | --- |
| Name | Constituency | PartyName | Movable Assets(Rs) | ImmovableAssets (Rs) | Total Assets (Rs) | Liabilities (Rs) |
| D.V. Sadananda Gowda | Bangalore North | BJP | 4,73,91,874 | 5,14,97,000 | 9,88,88,8749 Crore+ | 3,70,20,1523 Crore+ |
Asset Comparison:
Party in

Loksabha

2014

Partyin LokSabha2009
Constituency InLoksabha 2014
Constituency InLoksabha 2009
Assets inLoksabha 2014
Assets in LokSabha 2009
Asset Increase%
% Increase inAsset
BJP
BJP
Bangalore North
UdupiChikmagalur
9,88,88,8749 Crore+
1,43,75,9591 Crore+
8,45,12,9158 Crore+
588%