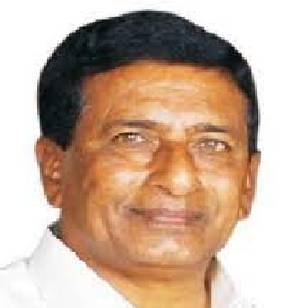 C Narayanaswamy
Contesting Seat: Bangalore North
Party: INC
Education: B.A., LL.B.
Profession: Lawyer, Agriculturist, Social Worker and Political Activist.
Age: 66
Assets: Rs. 24,79,52,597
Prominent positions held:
C Narayanaswamy has been actively involved in several committees, be it at the taluk level, party level or at the national level as an MP.
On parliament level
1996-98 Member of Parliament (Eleventh Lok Sabha – Bangalore North Constituency from Janata Party)
Convener, Parliamentary Sub-Committee on Rural Employment and
Poverty Alleviation in the Standing Committee on Urban and Rural Development
Member, Consultative Committee, Ministry of Textiles
Member, Committee on Empowerment of Women
Member, Joint Parliamentary Committee on Broadcasting Bill
Member, Consultative Committee, Ministry of Non-conventional Energy Sources
Member, Computer Committee, Eleventh Lok Sabha
Secretary, Parliamentarians' Forum for Development of Co-operative Movement, New Delhi.
Awards:
Recipient of the Prestigious Karnataka State 'Sahakara Rathna Award' for 2007.
Recipient of Shri Ramakrishna Hegde Award for 2010-2011
Recipient of 77th All India Kannada Sahitya Sammelan Award – 2011
Recipient of Jaycees International's Outstanding Young Person of the Year Award for Karnataka State.
C Narayanaswamy is known for his vast knowledge about the Panchayat Raj Institutions and Panchayat Politics. He is a resource person and trainer on the topic.
Bangalore North saw the Primaries conducted by FAME, as an experiment in ensuring internal democracy in Indian National Congress. Three out of the four candidates for the primaries from Bangalore North were Vokkaligas. Narayana Swamy defeated Rajeev Gowda and others in the primaries.
Details on Assets of C.Narayanaswamy:
| | | | | | | |
| --- | --- | --- | --- | --- | --- | --- |
| Name | Constituency | PartyName | Movable Assets(Rs) | ImmovableAssets (Rs) | Total Assets (Rs) | Liabilities (Rs) |
| C.Narayana Swamy | Bangalore North | INC | 34,52,597 | 24,45,00,000 | 24,79,52,59724 Crore+ | 3,70,20,1523 Crore+ |
Details on Asset growth, indicating around 1200% increase during 7 year period:
| | | | | |
| --- | --- | --- | --- | --- |
| | Movable asset (Rs) | Immovable asset (Rs) | Liability (Rs) | Total Asset (Rs) |
| 2008 Assembly Election | 1,00,000 | 2,10,00,000 | Nil | 2,10,00,000 |
| 2014 L S Election | 34,52,597 | 24,45,00,000 | 9,22,460 | 24,79,52,597 |