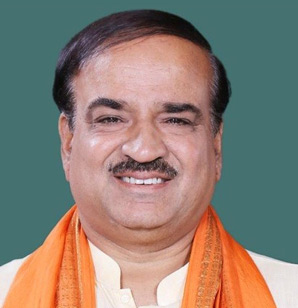 Ananth Kumar
Contesting Seat: Bangalore South
Party: Bharatiya Janata Party
Qualification: B.A., LL.B. Educated at K.S. Arts College, & J.S.S. Law College, Karnataka University, Hubli, Karnataka
Age: 54
Assets: 4,52,24,706
Positions held:
MP: 5 terms
Cabinet Minister – Ministry of Civil Aviation, with Additional Charge, Ministry of Tourism
Union Cabinet Minister for Culture, Youth Affairs and Sports, Tourism & Culture, and Urban Development & Poverty Alleviation with additional charge of Rural Development
Performance as an MP during the 15th Lok Sabha
Ananth Kumar is generally seen as the voice of the Karnataka BJP in Delhi. He participates in debates and discussions and his position at the central BJP leadership ensures visibility. Kumar has an above average attendance record of 86% which is better than the national and state average. In 13 of the 15 Lok Sabha sessions, he has an attendance record of 80% and above. He has also been part of 42 debates which is above the state average, but below the national average.
MPLAD funds utilisation
A quick analysis of the MPLAD data for Ananth Kumar reveals a bulk spending, Rs. 6.2 crore on 'Civic Amenities' – namely community and cultural halls. The next big expenditure head is Water where the MP has provided funds for digging bore wells and providing submersible pumps across his constituency. Kumar has also spent over Rs 4 crore on augmenting government school infrastructure through class room construction.
The MP has also contributed towards the purchase of hospital equipment and health check-up camps to the tune of Rs 1.8 crore, while almost Rs 49 lakh have been spent on providing for toilets (including certain 'hi-tech' toilets at a few locations). There are entries for a number of projects which do not have a proper description and which have therefore been put under the 'others' category.
Details on Assets of Ananth Kumar:
| | | | | | |
| --- | --- | --- | --- | --- | --- |
| Name | Constituency | PartyName | Movable Assets(Rs) | ImmovableAssets (Rs) | Total Assets (Rs) |
| Ananth Kumar | Bangalore South | BJP | 1,23,59,969 | 3,28,64,737 | 4,52,24,7064 Crore+ |
Assets in 2009 in comparison to assets in 2014:
| | | | | | | | |
| --- | --- | --- | --- | --- | --- | --- | --- |
| Party inLoksabha2014 | Party in Lok Sabha 2009 | Constituency InLoksabha 2014 | Constituency InLoksabha 2009 | Assets inLoksabha 2014 | Assets in LokSabha 2009 | Asset Increase% | % Increase inAsset |
| BJP | BJP | Bangalore South | Bangalore South | 4,52,24,7064 Crore+ | 1,22,06,3661 Crore+ | 3,30,18,3403 Crore+ | 271% |