Regulatory Ecosystem in Bengaluru Mobility
As a next step to the discussion on the Regulatory Ecosystem in Bengaluru Mobility, B.PAC and Uber organized a workshop on this topic on Friday, 20th September 2019 at Bangalore International Centre. The participants for the workshop included citizens, representatives from service providers, and subject matter experts.
The participants discussed and deliberated on the below three topics:
Shared Mobility – shared cabs and shared autos 

Car and bike pooling 

Bicycle, bike, and car rental
Shared mobility – shared bikes, autos cabs:
The regulatory challenge with shared cabs and shared autos is most fundamental – there is no specific policy or act governing their legality and operations. Shared cabs and autos have multiple parties involved, therefore, there is a need for different kinds of permits to regulate them. Apart from definition, applicability, operations, etc., the regulation should also focus on dispute resolution and safety. Further, an extension of the existing stage carriage act to permit shared autos shared cabs, and shared two-wheelers is a necessity in order to allow multiple modes of transport for various purposes.
The participants on this table discussed the feasibility of fixed routes for shared mobility services which would act as a first and last-mile connectivity option complementing public transport. 
The group was of the opinion that for shared mobility services, regulation is necessary to define the services, but, in certain areas where the service providers can provide solutions for efficient shared mobility options, the government should provide for regulation to support such solutions 
Car and bike pooling:
The law in India does not define car and bike pooling clearly. The term 'pooling' has specifically been associated with cab companies. The conceptual difference between pooling in a car associated with cab aggregators versus a privately owned car is a mere distinction on the basis of commercial use versus non-commercial use.
The three specific challenges associated with car and bike pooling services which got highlighted from the table are – safety, liability, and pricing.
The participants on this table suggested a nomenclature change to this section of service providers indicating that the service providers offering car and bike pooling services are not aggregators but act as mediators in connecting drivers and riders. Although the amendment to MV Act (2019) broadly recognizes aggregators, it has not clearly given specifics as to who could be called aggregators.  Therefore, the state government can define the regulations for aggregators and service providers of pooling separately since the obligations differ. Further, the Central Government needs to push for legislation, applicable across states for carpooling which will help to reduce the confusion in case of interstate travel 
Bicycle, bike, and car rental: 
The participants on this table highlighted the need for preferential parking for shared mobility rental services in government buildings and metro stations. A need of regulatory authority for Non-Motorized services was suggested by the table. 
Further, the table felt the need for passing rental laws to encourage the service providers offering the rental services. 
Panel discussion
The workshop was later followed by a panel discussion moderated by Ms. Revathy Ashok, CEO, B.PAC. The panelists for the discussion included – Mr. Ajay Seth, MD, BMRCL; Mr. Amarnarayan, Former Transport Commissioner, GoK; Mr. Prabhjeet Singh, Director – Operations and Head of Cities, Uber India and South Asia; Mr. Mallikarjun, Joint Transport Commissioner, GoK; Mr. Alok Prasanna, Senior Resident Fellow, Vidhi Centre for Legal Policy; Mr. Pawan Mulukutla, Transport Advisory B.PAC and Head -Urban Mobility, Bosch India. 
Mr. Amarnarayan speaking about the regulatory challenges for new mobility service providers said that the existing laws and rules have not kept pace with the growing mobility options, therefore, there needs to be a thorough overhaul of the existing regulatory framework. The laws need to be more flexible in the present time. Mr. Mallikarjun representing the Transport Department, GoK, agreed that sandbox will provide a platform for innovation in new modes of mobility. He further added that the MV Amendment Act of 2019 has made certain provisions for new-age mobility solutions, but they are not very specific. 
Highlighting the need for asset utilization, Mr. Ajay Seth, representing BMRCL, a public transport service said that, better asset utilization of all the modes of mobility will enhance the utilization of the system as a whole and needs to be a consideration in the modes/business models of transport to be allowed.
Mr. Prabhjeet Singh spoke about the falling levels of availability of cabs during peak hours in congested areas. He said that the regulatory cap imposed by the government on the dynamic pricing considered only the distance but did not make an allowance for time and congestion factor hence making it non-remunerative for cab drivers to be available during peak hours. He suggested that time-based dynamic pricing will allow drivers to earn more in high traffic situations as a solution to surge pricing. He also said that there is a need to integrate all modes of transport. He said that the ultimate vision is to have a  one-stop platform to enable all modes in a seamless manner towards the broader good and technology could integrate all the modes.
Mr. Pawan Mulukutla speaking on urban transport planning said that shared mobility would constitute 60 % of the global urban mobility market, and 90 % of the regulations and decision making for shared mobility will take place at the city level, implying that cities will have a major role to play in urban transport planning. He also highlighted the need for cities to encourage testbeds and pilots for mobility options which will help to understand the business model and also the impact.
Speaking on the Comprehensive Mobility Plan, Mr. Alok Prasanna mentioned that a city needs a CMP which encompasses multiple departments with a specific goal. This will help to assess the requirements of various modes of transport while also providing a level playing field for the new mobility service providers
The workshop and the panel discussion organized by B.PAC provided a platform for the service providers, citizens, civil society organizations, and the Government representatives to discuss and deliberate on the challenges in the regulatory framework for the mobility sector and the way forward. It also provided a forum for sharing best practices of different modes of new mobility services in the city. 
Participants for the workshop – 
Table 1 – Shared Mobility (Shared Cabs and Shared Autos) 
Table 2 – Car and Bike Pooling 
Table 3 – Bicycle, Bike and Car rental 

1

Astha Kapoor,

Aapti Institute

Anupam Manur ,

Takshashila Institution 

Angad Gadgil,

Vogo

2

Gautam Patil,

Loca

Alok Prasanna,

Vidhi Centre for Legal Policy

Jose Jacob,

TIA Summit 

3

Praveen Chature,

Citizen Participant 

Pooja Rao,

IIHS 

Midhun Sarkar,

Vogo

4

Sarayu Natarajan,

Aapti Institute

Vinay Prakash,

Quick Ride 

Muralidhar Rao,

Citizen Participant 

5

Bharath Prasanna,

Uber

Amruth Bharadwaj,

Citizen Participant 

Sonal K,

UrbanMorph

6

Kanika Malhotra,

Uber

7

Sai Prasad Rao,

B.PAC Member
Participants of the workshop were divided into 3 respective groups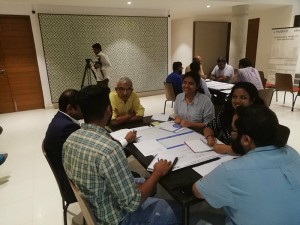 Table 1 – Shared Mobility: Cars & Autos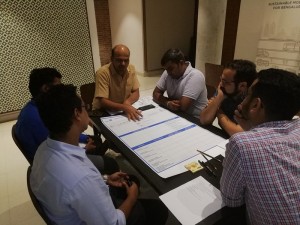 Table 2 – Car & Bike Pooling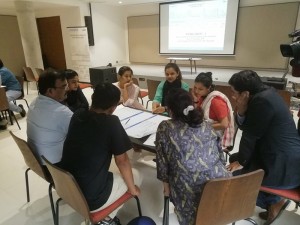 Table 3 – Car,Bicycle and bike rentals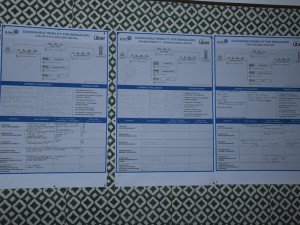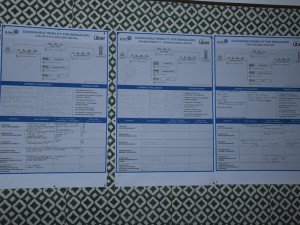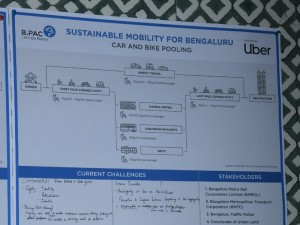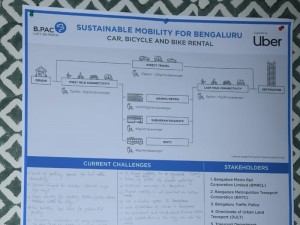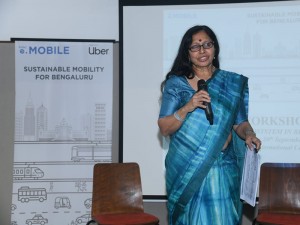 Revathy Ashok CEO, B.PAC making the opening remarks at the workshop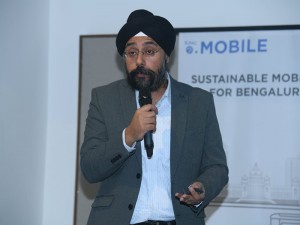 Prabhjeet Singh, Director of Operations, Head of Cities, India & South Asia Uber Indian, addressing the participants of the workshop.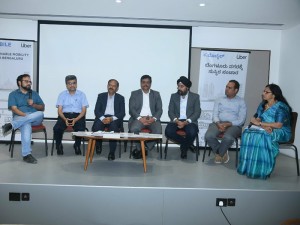 The panelists for the discussion included – Mr. Alok Prasanna, Senior Resident Fellow, Vidhi Centre for Legal Policy; Mr. Ajay Seth, MD, BMRCL; Mr. Amarnarayan, Former Transport Commissioner, GoK; Mr. Mallikarjun, Joint Transport Commissioner, GoK; Mr. Prabhjeet Singh, Director – Operations and Head of Cities, Uber India and South Asia; Mr. Pawan Mulukutla, Transport Advisory B.PAC and Head -Urban Mobility, Bosch India and moderator Ms. Revathy Ashok, CEO, B.PAC
Audience interacting with the panelists at the workshop