Aralikatte Charchegalu – Increasing Greening in Bangalore by 2030
The following is a brief outcome report of the Bangalore Political Action Committee (B.PAC)'s Aralikatte Charchegalu roundtable event, held on December 6th, 2019 between 2 pm and 5 pm at the Sri Krishna Wellness, Yoga and Cultural Center in Malleshwaram. 
The objective of this event "Aralikatte Charchegalu" was to gather key stakeholders from government, academia, the nonprofit sector, and civil society to discuss an ambitious vision and roadmap for greening Bengaluru by 2030. This introductory conversation brought in critical and diverse perspectives, and formed a strong foundation to carry forward next steps. 
The Aralikatte Charchegau event included 4 presentations and a roundtable discussion:
Setting context: Laying a vision for

greening Bengaluru by 2030


Sumedha Rao, Program Coordinator, Environment and Sustainability, B.PAC

Urban Greening




Mr. K. Amaranarayana, IAS. (Retd.)




Recipient of Karnataka State and UNEP Environment Award

Spatial distribution of public parks in Bengaluru




Mr. Dhananjayan, Mr. Nilanjan Bhor, Mr. Souwmyashanto Mandal, IIHS
Listening to trees




Vijay Nishant, Founder, Vruksha
Other organizations represented in the discussion included – 
Government

Government of Karnataka Department of Forestry

BBMP – Forestry Department

BBMP – Horticulture Department (not present, but provided prior input)

Institutions / think tanks / research organizations

Indian Institute of Human Settlements

Project Vruksha

ATREE

Azim Premji University (not present, but provided prior input)

Indian Institute of Science (not present, but provided prior input)

Nonprofits, citizens groups, tree planting and advocacy groups

B.PAC

/B.CLIP leaders

Bangalore Environmental Trust

Afforestt

Rotary Koti Nati Project

Koti Vraksha Sainya

Hasiru Mission

Project Cubbon Park

Malleswaram Swabhimana Initiative

ESAF – Livable Cities Initiative

Citizens for Bengaluru

SankalpaTaru

People for Animals Wildlife Hospital

RWAs

Bangalore Apartment Federation

Living Lavelle Road RWA

Versova Layout RWA

Malleswaram Social RWA

Students

Mount Carmel College

Christ University

Press

The Hindu 

Times of India

Hosadigantha

Prajavani (coverage attached on last page). 
Some key discussion points and recurring themes from the roundtable discussion have been recorded below. 
Key learnings:
There is strong agreement that land for planting trees is becoming increasingly scarce. Land-use targets and considerations for ecosystem revitalization must become a city-level priority. 

There is a great need for better communication, coordination, and collaboration between governmental departments with the common goal of protecting trees. For example, BESCOM and KPTCL cannot be exempted from requiring permissions from the

BBMP

and State Forestry Departments when trees need to be cut or trimmed for electrical work. There must also be proactive planning and coordination to ensure that planting and maintenance of biodiversity is not merely the responsibility of the forest departments alone. 

Existing ecosystems are in need of more protection. For example, a Heritage Tree Act and other similar laws that protect existing green spaces are vital. 

The Forestry Departments are severely under budgeted and understaffed for the scale of urban greening work that needs to be done in Bengaluru. The scope and capacity of the BBMP forest department must be re-evaluated in the current scenario. 

Community support and participation is foundational for the success of urban greening initiatives. The government can provide saplings at a very affordable cost to citizen groups interested in planting, but the initial crucial three years of maintenance requires close oversight, which only citizens can provide. Local communities must become stewards of

green spaces in their areas of Bangalore

to ensure sapling success rates. 

Green space planning must have a broad, integrated, and comprehensive vision that includes more than just tree planting. Shrubs, kitchen gardens, terrace gardens, pollinator gardens, vertical gardens, etc. in conjunction with trees can increase the biodiversity and ecosystem resilience of a space. Further, in addition to biodiversity, there must also be spatial distribution equity and connectivity, so that these urban ecosystems are less isolated, more resilient, and more accessible to all people. 

Education among all sectors – the government, the building and construction industry, and citizens alike must be improved significantly to make urban greening a top planning priority in the years to come. 

Ultimately, an ambitious city level vision based on land-use needs to be collaboratively developed – along with an action and evaluation plan, in order to increase

green cover in Bengaluru

to levels that can help the city sustain itself, absorb environmental shocks, and restore ecosystem functions and quality of life in the city in the decades to come. 
Next Steps
As a follow-up to this fruitful introductory session, B.PAC will organize a focus group of experts to explore the issue in depth and make recommendations for a Bengaluru urban greening plan for 2030. 
B.PAC has also released an Urban Forestry Handbook for Bengaluru – which will be translated to Kannada and distributed in both Kannada and English. This resource contains best practices on how to plant correctly and create a green Bengaluru.
Urban Forestry Handbook – English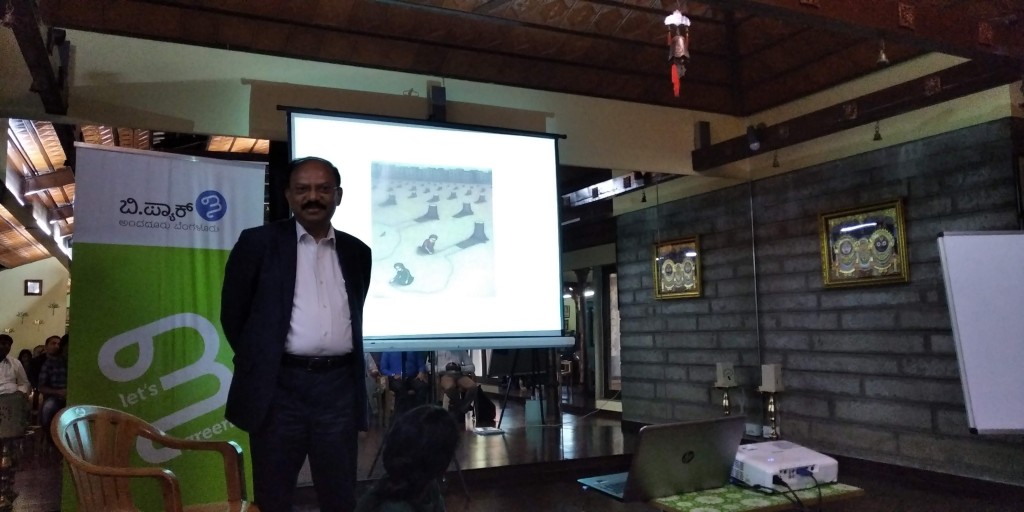 K. Amaranarayana, IAS (Retd) presenting about Urban Greening and various ideas to sustain it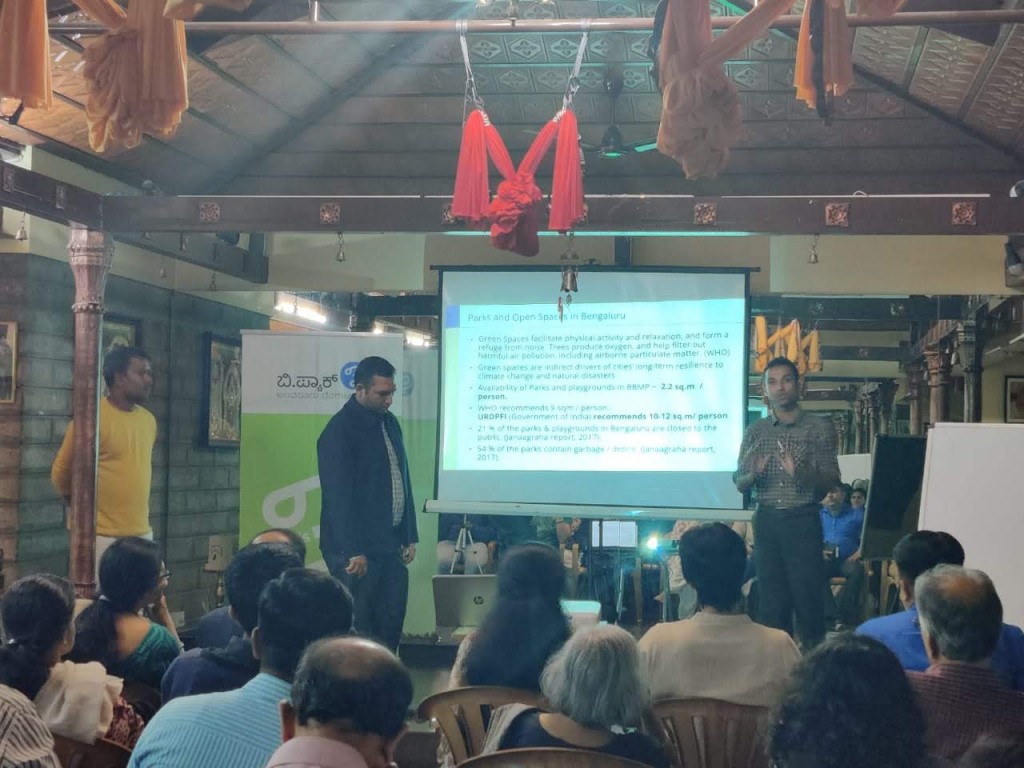 Dhananjayan, Nilanjan Bhor, Souwmyashanto Mandal of IIHS presenting about 'Spatial distribution of public parks in Bengaluru'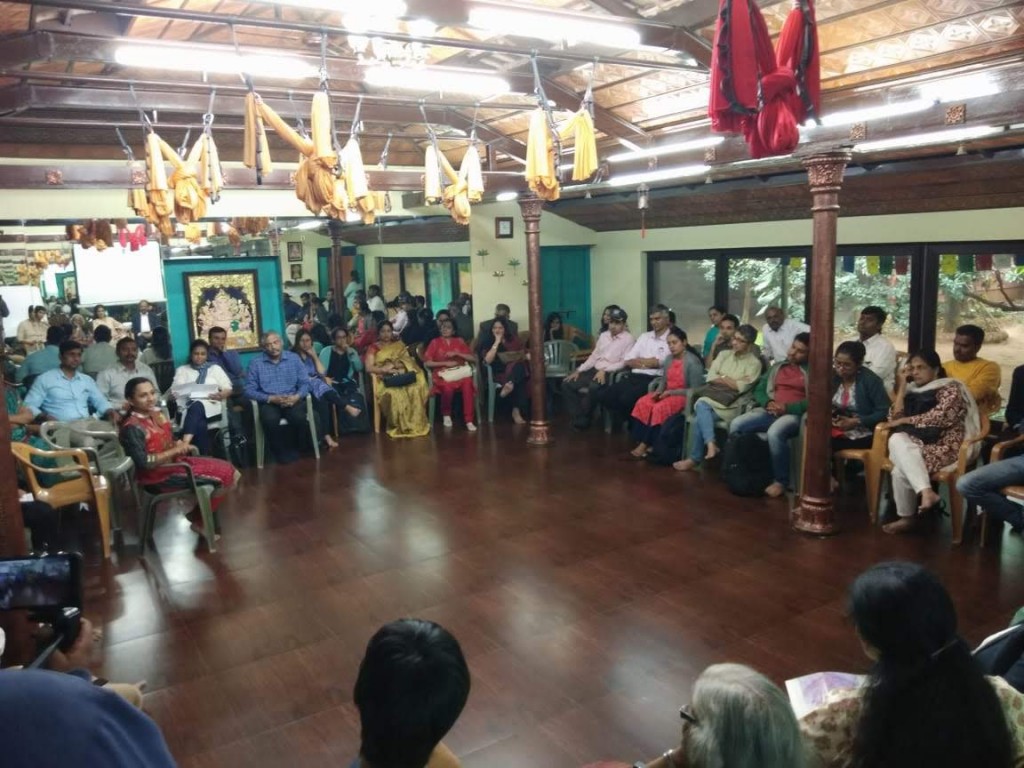 Representatives from the different parastatal agencies addressing the queries from the public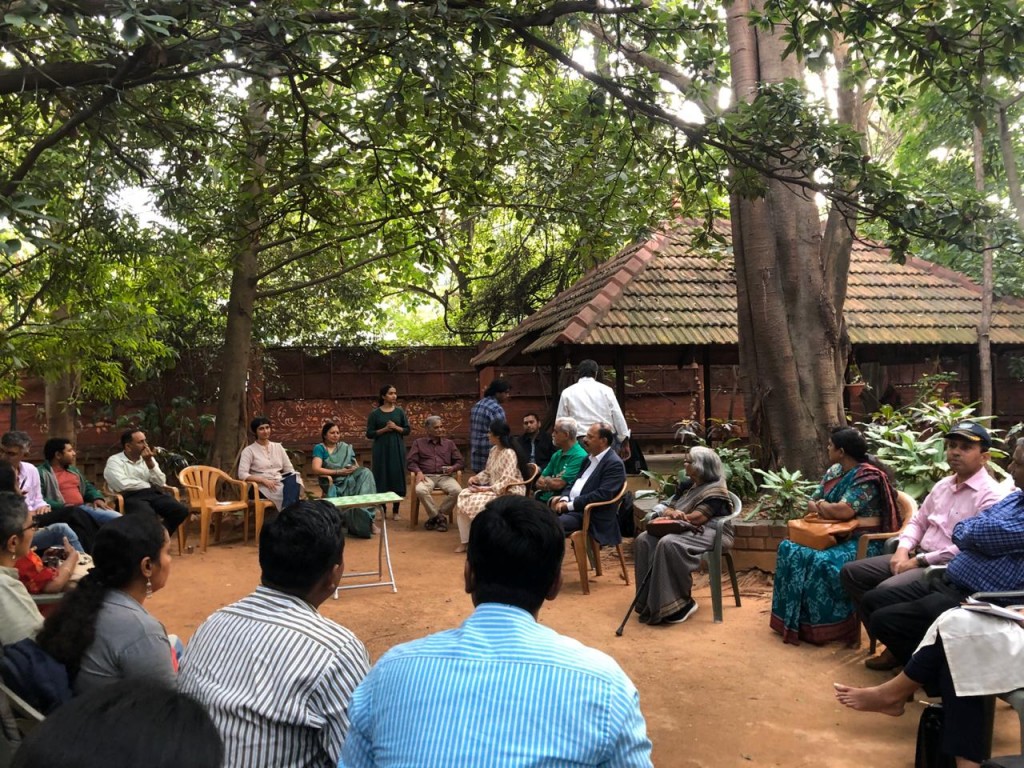 Representatives from Civic society organisations & parastatal agencies in discussion about the ideas to increase the urban green cover in the city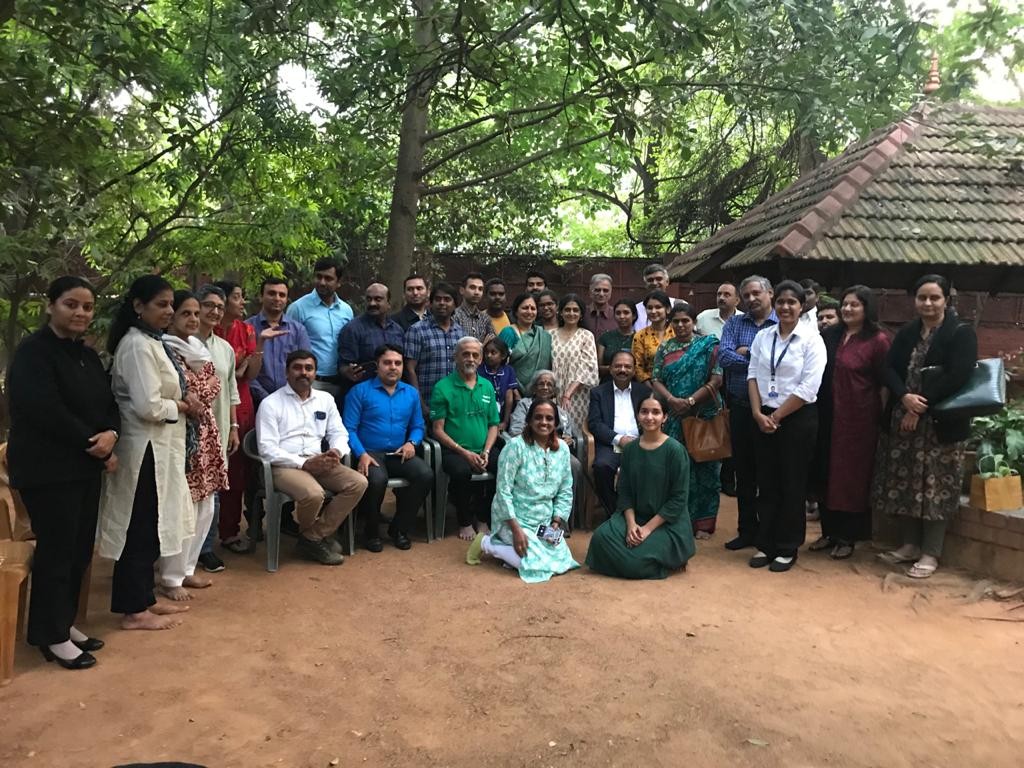 Group picture of all attendees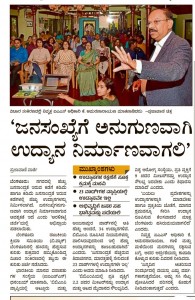 Press coverage in Prajavani