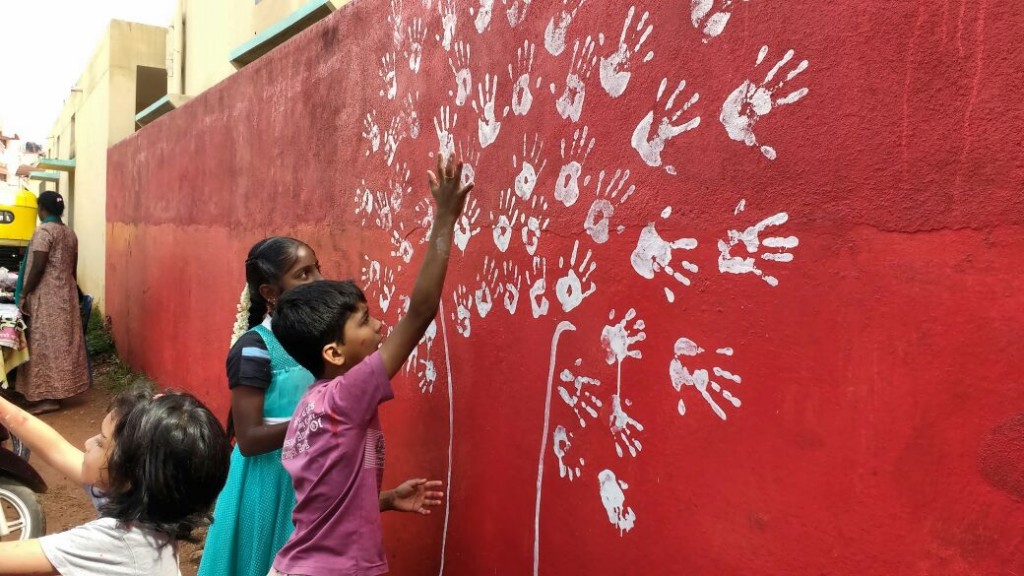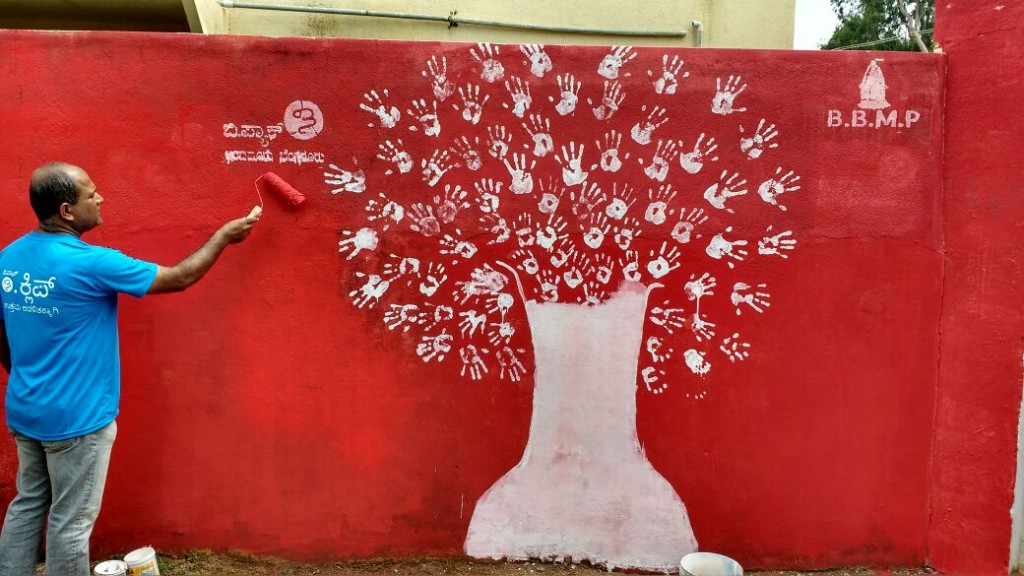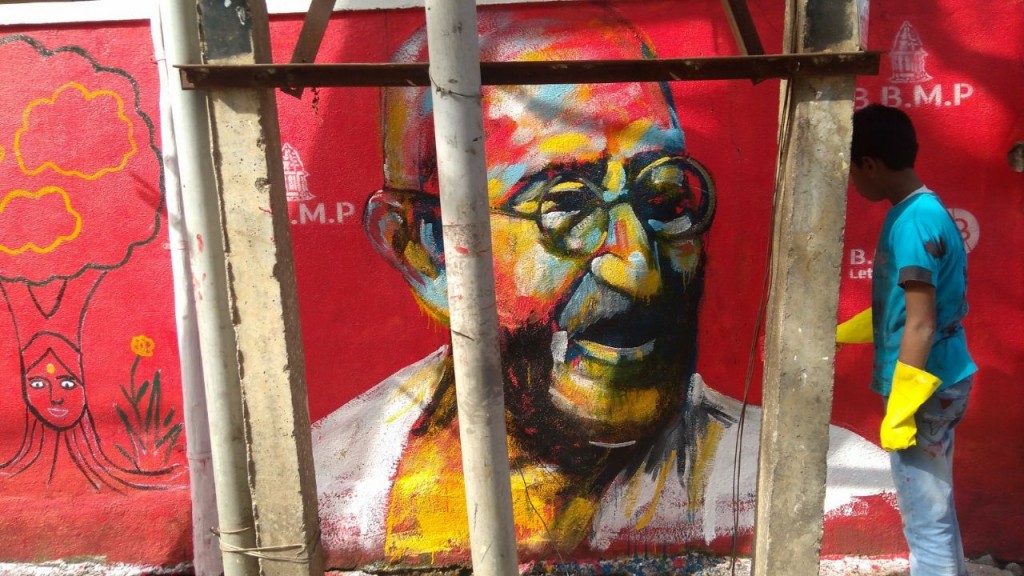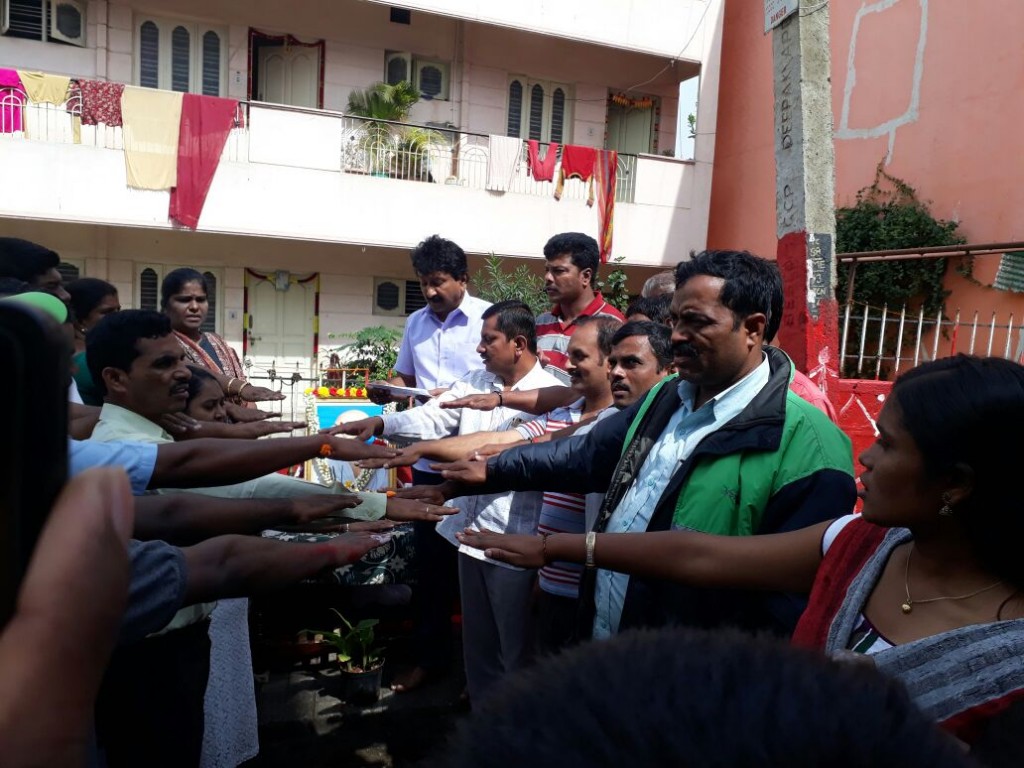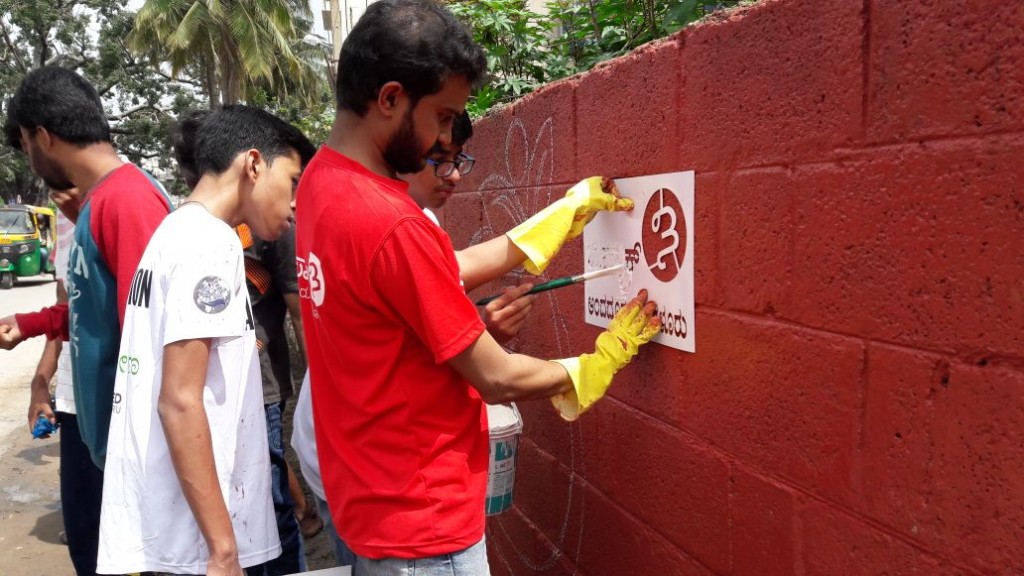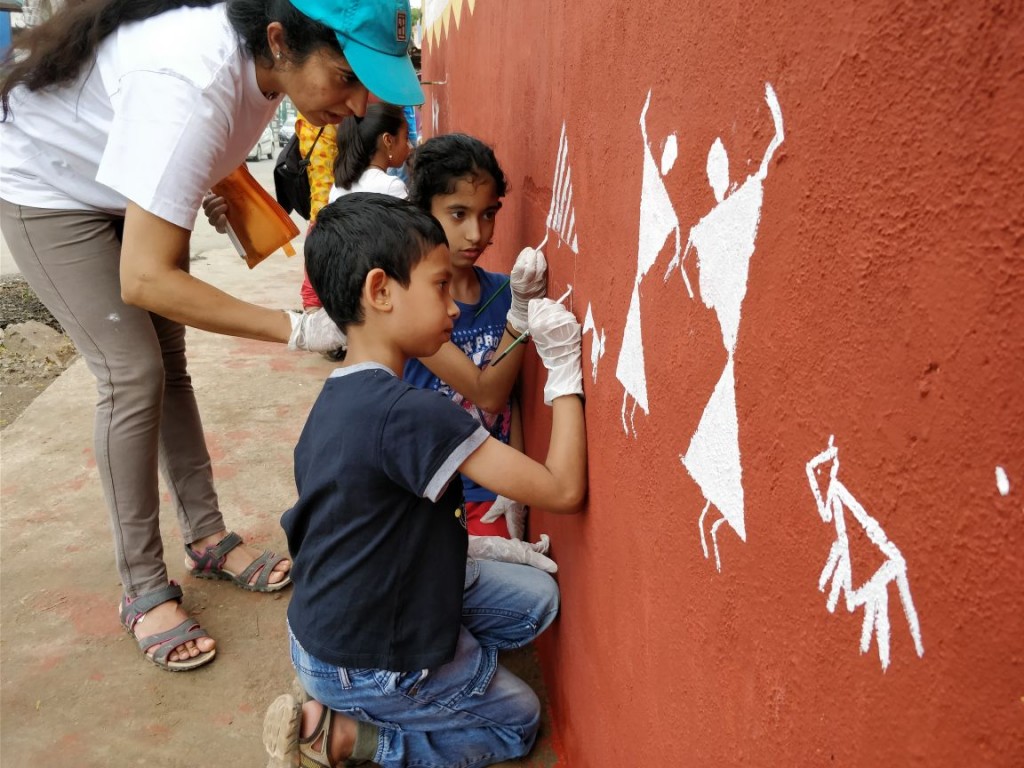 Citizens come together for B.PAC's cleaner neighborhood!
B.PAC and B.CLIP leaders led massive clean up drive across 50 locations in Bengaluru city on occasion of Gandhi Jayanthi and Swachch Bharat Abhiyan on 2nd of October, 2017.
B.PAC and its B.CLIP Leaders are consistently working with BBMP and GoK to address waste management issues in Bengaluru city by leading and supporting initiatives in a holistic manner such as  segregation drives, cleanup drives, composting santhe etc. As a continued effort, B.PAC brought Bengalureans 'Together for a cleaner neighborhood' –  a sustained drive that brings citizens, elected representatives, neighborhood communities and BBMP together to beautify their locality and appoint wardens who will keep watch on the neighborhood to ensure that the cleaned-up areas do not relapse into their original state. B.CLIP leaders along with BBMP, elected representatives gathered in the area, cleaned up the spot, beautified with wall art work. And completed the drive by Swachch Bharat Pledge. The drive also witnessed enthusiastic participation by children, who  painted the walls and used their talent to beautify the area.
The campaign was supported by Mr. Ramalinga Reddy, Home Minister, Governement of Karnataka, Mr. Sampath, Worshipful Mayor, BBMP and other MLAs and corporators of Bengaluru city.
"B.PAC is proud of B.CLIP  leader's engagement for waste management with BBMP. It is only with citizens' watchful eyes that there will be pressure on the system to keep our neighborhoods clean.", said Revathy Ashok, CEO & Managing Trustee B.PAC.
"We are very thankful to B.PAC and citizens for having partnered with us in this drive and look forward to more such programs", said Rajendra Kumar, Corporator, Nandhini layout.
The wards picked were as listed below
Bommanahalli Zone
S.N
Name of Civic Leader
Ward
Ward No
1
Lalithambha
Bomanahalli
175
2
Anand Begur R
Begur
192

East Zone

S.N
Name of Civic Leader
Ward
Ward No
1
Imran Pasha
Kadugondanahalli
30
2
Geetha G
Radhakrishna Temple ward
18
3
Joel Samuel
Jayamahal
63
4
Meenakshi Ravikrishna
Shantala Nagar
111
5
Shiv Kumar
Domluru
112
6
M Krishna
C V Raman Nagar
57
7
Peter Samson
Shanthala Nagar
111
8
Iqbal Sharieff
Jayamahal
63
9
Girish B Puttanna
Jakkur
5
10
Vidya Rudresh
Jayamahal
63
11
Amit Nigli
Banaswadi
27

Mahadevapura Zone

S.N
Name of Civic Leader
Ward
Ward No
1
Anand Prasad
Ramamurthy Nagar
26
2
Sivaramn Hariharan
Vijinapura
51
3
Kiran Divakaran
Vijinapura
51
4
M Shantha
Ramamurthy nagar
26

South Zone

S.N
Name of Civic Leader
Ward
Ward No
1
Dr. Satish Chandra P.S
Chickpete
109
2
Suhas Jagadish
Koramangala
151
3
M H pavan Hegde
Sarakki
178
4
Dr. Banuprakash.A.S
Yelchaenahalli
185
5
Lakshmi R chalapathy
Jakkasandra
173
6
Manjula.V
Basavanagudi
154
7
Mohammed Rafi
Kumaraswamy layut
181
8
Vinodh.C
lakkasandra
146
9
V Kavitha Srinath
Suddagante palya
152
10
Balakrishna N S
BTM Layout
176

West Zone

S.N
Name of Civic Leader
Ward
Ward No
1
A.N Nataraj Gowda
Kottegepalya
73
2
Kaveri Kedarnath
Gayithri Nagar
76
3
Sudheendra M G
Nagapura
67
4
Manjesh J C
Vidyaranyapura
9
5
Raman Bhoopalan
Jalahalli
16
6
Sagar Sathish
Marappana Palya
44
7
Jayalakshmi K
Mahalakshmipuram
68
8
Suma AK
Ramamandira ward
109
9
Jagadish V.
Shankar Matt
75
10
Bhagavandas Alwa
Vijayanagar
123
11
Mamatha
Nagarabhavi
128
12
J Chandrakala
Shankar mat
75
13
Kavya simhan
Kadu Malleshwaram
65
14
Dashmi Rani C J
Vijayanagar
123
15
Dilip Kumar.S
Aramane Nagar
35
16
Praveen B
Nagapura ward
67
17
Raghavendra H S
Mahalakshmi layout
68
18
Satish Rajan
Hemmigepura
198
19
Devika Raj
Prakash Nagar
98
S.N
Name of Civic Leader
Ward
Ward No
1
Karthikeyan.S
Vishwanath Nagenahalli
22
S.N
Name of Civic Leader
Ward
Ward No
1
Nataraju S
Doddabidara kallu
40
2
Ajay Kumar H. M.
Hemmigepura
198
Bommanahalli Zone
S.N
Name of Civic Leader
Ward
Ward No
Contact Number
1
Lalithambha
Bomanahalli
175
9448063776
2
Anand Begur R
Begur
192
9880398040

East Zone

S.N
Name of Civic Leader
Ward
Ward No
Number
1
Imran Pasha
Kadugondanahalli
30
9845049456
2
Geetha G
Radhakrishna Temple ward
18
968645668
3
Joel Samuel
Jayamahal
63
9845199314
4
Meenakshi Ravikrishna
Shantala Nagar
111
9449055823
5
Shiv Kumar
Domluru
112
9986024918
9448040918
6
M Krishna
C V Raman Nagar
57
9886497745
7
Peter Samson
Shanthala Nagar
111
9538598943
7899333970
8
Iqbal Sharieff
Jayamahal
63
9845046916
9
Girish B Puttanna
Jakkur
5
8050061526
10
Vidya Rudresh
Jayamahal
63
9880510874
11
Amit Nigli
Banaswadi
27
9449818450

Mahadevapura Zone

S.N
Name of Civic Leader
Ward
Ward No
Number
1
Anand Prasad
Ramamurthy Nagar
26
9886860555
2
Sivaramn Hariharan
Vijinapura
51
9845228625
3
Kiran Divakaran
Vijinapura
51
9611526434
4
M Shantha
Ramamurthy nagar
26
9845740147

South Zone

S.N
Name of Civic Leader
Ward
Ward No
Number
1
Dr. Satish Chandra P.S
Chickpete
109
9448160999
2
Suhas Jagadish
Koramangala
151
9916129710
9902548324
3
M H pavan Hegde
Sarakki
178
9742608420
8892311248
4
Dr. Banuprakash.A.S
Yelchaenahalli
185
9241204669
5
Lakshmi R chalapathy
Jakkasandra
173
9206290644
9880049713
6
Manjula.V
Basavanagudi
154
9880050182
7
Mohammed Rafi
Kumaraswamy layut
181
9845569510
8
Vinodh.C
lakkasandra
146
9880155180
9
V Kavitha Srinath
Suddagante palya
152
9886953234

West Zone

S.N
Name of Civic Leader
Ward
Ward No
Number
1
A.N Nataraj Gowda
Kottegepalya
73
9844040482
2
Kaveri Kedarnath
Gayithri Nagar
76
9379730303
3
Sudheendra M G
Nagapura
67
9845668008
4
Manjesh J C
Vidyaranyapura
9
8971158253
5
Raman Bhoopalan
Jalahalli
16
9880005185
6
Sagar Sathish
Marappana Palya
44
9900012020
7
Jayalakshmi K
Mahalakshmipuram
68
9880640999
8
Suma AK
Ramamandira ward
109
9900999222
9
Jagadish V.
Shankar Matt
75
9900117663
10
Bhagavandas Alwa
Vijayanagar
123
9341289221
11
Mamatha
Nagarabhavi
128
9964342999
12
J Chandrakala
Shankar mat
75
9901747474
13
Kavya simhan
Kadu Malleshwaram
65
9035020455
14
Dashmi Rani C J
Vijayanagar
123
7204898165
15
Dilip Kumar.S
Aramane Nagar
35
9743084571
16
Praveen B
Nagapura ward
67
9845972144
17
Raghavendra H S
Mahalakshmi layout
68
9845192244
18
Satish Rajan
Hemmigepura
198
9886810481
19
Devika Raj
Prakash Nagar
98
9886081819

Yelahanka Zone

S.N
Name of Civic Leader
Ward
Ward No
Number
1
Karthikeyan.S
Vishwanath Nagenahalli
22
9886174286

Rajarajeshwari Nagara Zone

S.N
Name of Civic Leader
Ward
Ward No
Number
1
Nataraju S
Doddabidara kallu
40
9916666789
9886002237
2
Ajay Kumar H. M.
Hemmigepura
198
9900830765