B.PAC organized a panel discussion on Urban Governance and Administration, 17th Nov 2018
Introduction:
The process of urbanization in India has led to series of problems and challenges in India. The level of urbanization in India has increased from 27.81 per cent in 2001 to 31.61 per cent in 2011. The cities are gaining prominence, with the top 10 largest cities of India producing 15 per cent of the nation's GDP, with a population of mere 8 per cent in these cities. Bengaluru is also facing similar challenges of urbanization, over 90 percent of the population (8.7 million) lives in urban areas of the district, making Bengaluru one of the fastest growing and most modern cities in India.
Panel Discussion:
It is with this background that B.PAC – Bangalore Political Action Committee – organized an interactive session titled 'Urban Governance and Administration', on November 20, 2018. The panellists for the session included politicians, bureaucrats and policy practitioners, such as – Suresh Kumar, MLA, Rajajinagara Assembly Constituency; Leeladevi R Prasad, Former Minister GoK; Mahadev Prakash, Chief Editor, Bhanuvara`Monthly Magazine; B L Shankar, Former Speaker, KLA ; M R Sreenivasa Murthy, IAS (Rtd); M N Manjunatha Prasad, IAS, Commissioner, BBMP and Prof Sudhir Krishnaswamy, Azim Premji University. The panel discussion was moderated by K Jairaj, IAS (Rtd), Trustee, B.PAC.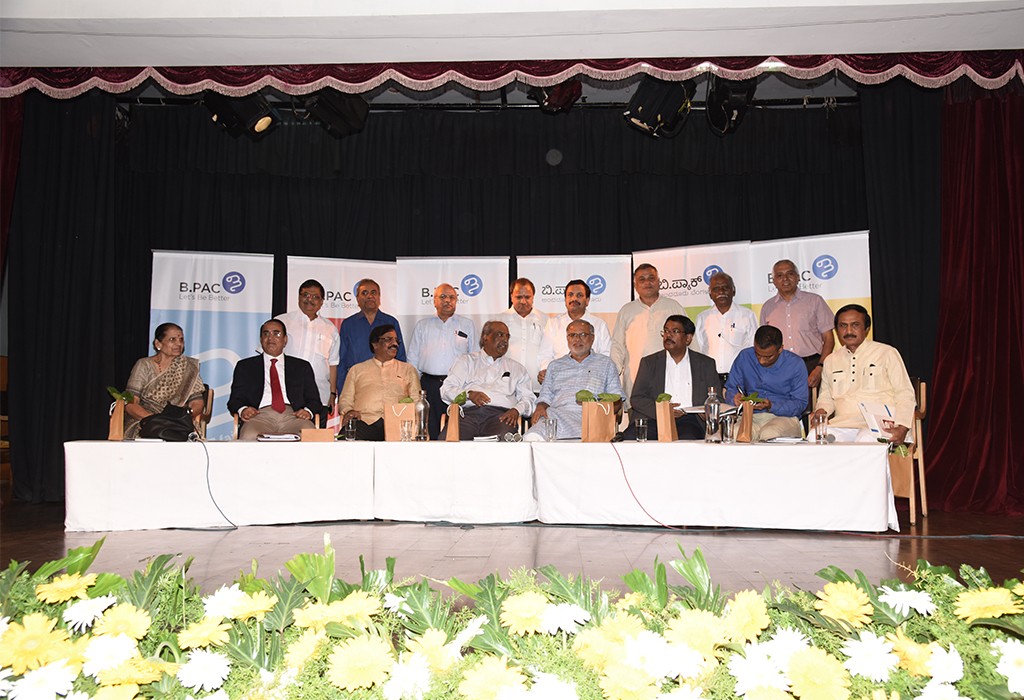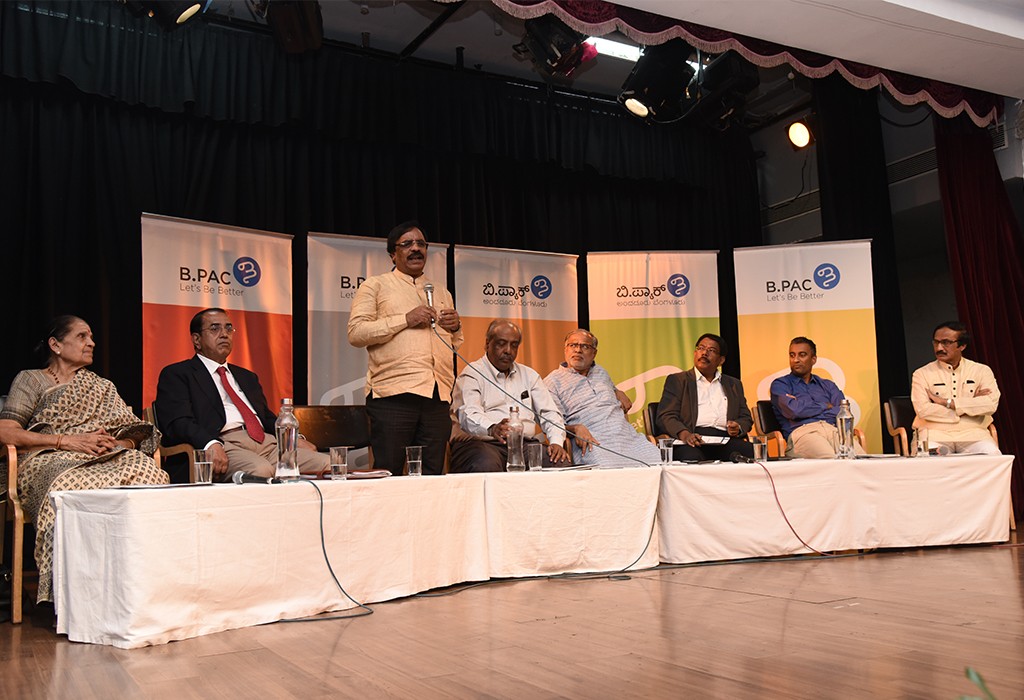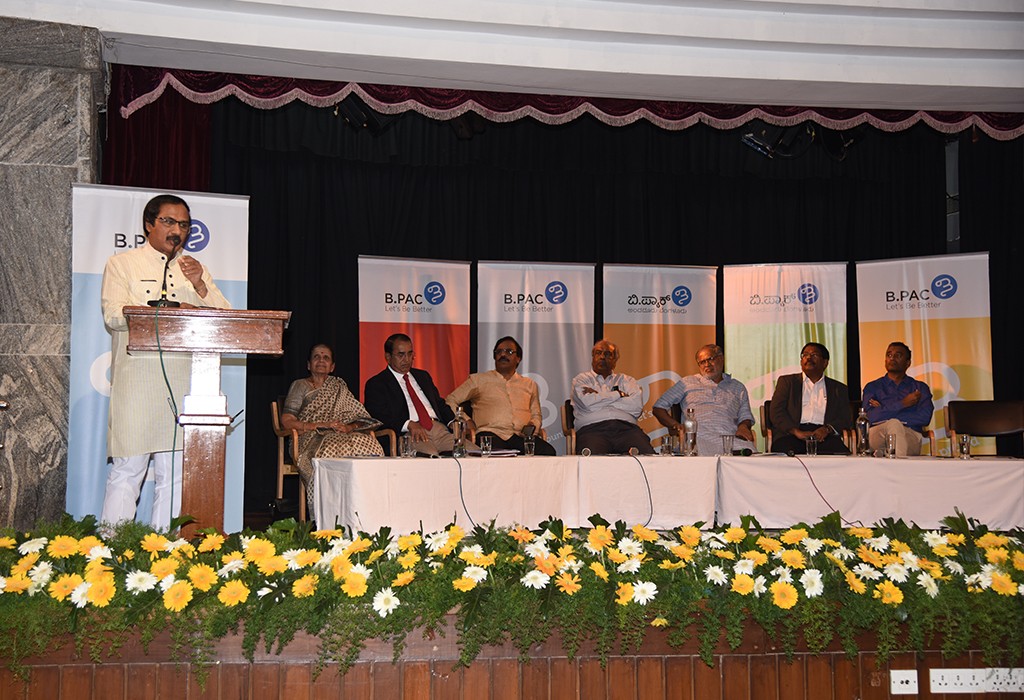 The purpose of the panel discussion was to deliberate on the issues and challenges of urban governance and administration. The broad topic was addressed through the following themes:
⦁ Democratic decentralization
⦁ Citizen Participation
⦁ Mayoral System – Direct vs Indirect
⦁ Urban Leadership
⦁ Media and the city
⦁ Resources and Governance for new Bengaluru
⦁ Capacity building of BBMP
The event kicked off with a welcome speech from Ananda Gundu Rao, senior member B.PAC. Speaking on the transformation that Bengaluru has undergone in the past few years, he hoped that the panel discussion would lead to innovative solutions to address the city's problems. This was followed by context setting by moderator K Jairaj, who posed questions around the adequacy of the current system and if the administration has the resources and capacity to meet the city's requirements.
Suresh Kumar, MLA Rajajinagara Assembly Constituency began the panel discussion by expressing his view that the voter ID must be linked to AADHAR. He then proceeded to address the prevailing voter apathy in the city and the importance of accessibility to elected leaders. He said that, in urban India, there is a lack of connect and accessibility to the elected leaderswhich further adds on to the voter apathy. The credibility of the political party and politicians should increase to ensure higher voter turnout.
This was followed by opinions fromMahadev Prakash, Chief Editor Bhanuvara Monthly Magazine, who spoke about nexus between media and the city. Speaking on the lack of professionalism amongst journalists today, he emphasized the need for positive and constructive journalism in today's mediascape.
Leeladevi R Prasad, Former Minister GoK and first female corporator of Bengaluru addressed the gathering on the state of women in politics and the need to extend the mayor's term in office. She also spoke on the differences between social work and politics, being a social worker herself.
B.L Shankar, Former Speaker, KLA, continued the discussion by highlighting the importance of 73rd and 74th Constitutional Amendment and the need for setting up transparent and effective ward committees. These, he said, will improve involvement of citizens in the decision-making process and take into account their priorities.
M R SreenivasaMuthy, IAS (Retd) followed by urging law makers to make a Greater Bengaluru Authority (GBA) and streamline all civic bodies into one single entity for smoother administration. He pushed for a single Ombudsman to address the grievances of citizens in a timely manner. In response to the question on restructuring BBMP, he suggested that we rather make the existing system and process more effective and transparent, and also focus on the larger issues of Bengaluru governance and administration.
M N Manjunath Prasad, IAS, Commissioner BBMP gave exhaustive statistics of the roads, land area, buildings, homes, lakes, parks etc and confessed that there are not enough funds to cater to all needs. He spoke of the high degree of interference from politicians and the urgent need for capacity building and staff. He then proceeded to say that property tax rates are not in tandem to the expenses needed for the development of infrastructure in the city and must be revised.
The final speaker, Prof. Sudhir Krishnaswamy, Azim Premji University, spoke of the plural leadership required in the city by emphasizing that certain types of leaderships are independent of political leadership. The 73rd and 74th Constitutional Amendment was brought about to encourage decentralization and reduce leakage. He highlighted the need for having an institutional spaces of co-governance which ensures active participation from citizens'.
This panel discussion organized by B.PAC deliberated on critical subjects pertaining to administration and governance of Bengaluru. It brought out issues and importance of need for decentralization, citizen participation and how to strike a right balance between administration and politics.
K Jairaj Speech at Panel Discussion on Urban Governance and Administration
Anand Gundu Rao Welcome Speech at Pan … n Urban Governance and Administration
Mahadev Prakash Speech at Panel Discuss … on Urban Governance and Administration
Suresh Kumar Speech at Panel Discussion on Urban Governance and Administration
BL Shankar Speech at Panel Discussion on Urban Governance and Administration
Leeladevi R Prasad Speech at Panel Disc … on Urban Governance and Administration
M R Sreenivasa Muthy Speech at Panel Di … on Urban Governance and Administration
Manjunath Prasad Speech at Panel Discus … on Urban Governance and Administration
Sudhir Krishnaswamy Speech at Panel Dis … on Urban Governance and Administration