The world is suffering from a pandemic, and there does not seem to be a way out anytime soon. The internet is filled with suggestions that one could implement to stay positive, both physically and mentally and away from boredom. It has suggestions to try out all sorts of activities, i.e. new food recipes, games, old tell-tales, self-care for the mind, learn new skills, etc. For the more economically privileged communities who have a roof above them, a family to lean on and access to the internet, this quarantine could prove helpful to not only develop a new hobby but also to develop a sustainable lifestyle. I call sustainability to be a way of life because it is a result of conscious life choices backed by mindful motivation and not just an overnight makeover, as one might otherwise think so.
As human beings, we have believed that the future is unpredictable. But with a pandemic on the loose, there is the added loom of uncertainty as well. As a graduate student of 2020, I was hoping to end my last term on a high note with a job at the end of it. But now everything is at a standstill. And while we are all hoping against hope for the pandemic to disappear, just the way it had appeared out of the blue, I realized that this break could be utilized to reflect, ideate, strategize and prepare myself for a world post-COVID19, one that could be brimming with environmental disasters. One might wonder, what a person, mainly a student, could do staying within the four walls of their home?
As most of us are home bound these days, working with the whole community for the protection of the environment is not an ideal option. However, we can still reflect and act on this World Environment Day, from the safety of our homes. Here are some collective ideas shared by B.PAC's B.GREEN programs for summer interns:
Waste Management
It is important to remember to continue to segregate waste, now more consciously than ever. If you live in an apartment/colony which does not have BBMP workers coming to collect the garbage, then one could take the initiative and place two bins as acting dumpsters for basic separation of dry and wet waste. This notice can be passed around using WhatsApp groups of the apartment complex (if there are any).  
One could also post signs around the community, letting people know they can drop off materials to be recycled at your home or any chosen location. Doing so allows you to collect the recyclable items during the lockdown period that can be later given to a certified recycling vendor. This can be especially helpful if we receive items that cannot be recycled at the local recycling center, such as electronics, batteries, and paint cans etc. 
It is essential to understand and value the 3 Rs – Reduce, Reuse and Recycle.
Reduce, Reuse and Recycle
These 3 R's are applicable to any and every commodity that one uses.
Look for various examples like:
Reuse

of milkshake bottles to store dal, grains, rice, and other kitchen use products.

Reduce the use

of plastic

Recycle

the old clothes by rethinking on the lines of concept like 'fast fashion' as this crisis has made us realize we do not need an abundance of clothes – they can be used and

Reused

in different forms (get creative!)

Reduce

buying packaged foods – especially meat – try to cook from scratch as much as possible and take pleasure in the simple art of domestic life.
Gardening
We know it is difficult to find space in a metropolitan city, but if you have a yard or garden that sits empty, make a plan to plant fruits, veggies, and herbs for personal use, or even bee-friendly flowers.
For those of you with a balcony or a tiny plot, you can still grow food such as a potato in a bag and small sprout gardens in your windowsill.

Adopt an Eco-friendly, sustainable lifestyle->for instance, consider eating meat-free meals twice a week
Commute and Saving Energy
You could make a point of turning off lights, electronics, water tanks/taps when not in use. Another idea is to commit yourself to walk to buy groceries as often as possible. This can be your much-needed exercise routine during this pandemic – Ditch the Wheels, Hitch the Legs. Cycle to work (if it is within 5-10km) if there is a need to go.
Spread Awareness
The primary focus from this year needs to be about making changes at the household level. As an environment enthusiast, you can spread awareness on a small scale by talking to family members, or colleagues at your office as well as the people in your locality. 
In closing, we can say that a pandemic need not put a damper on Environmental Protection. However, it is also essential to understand that these are turbulent times. With each passing day, the urgency of acting against ecological issues becomes imperative. 

Ecological Issues of Current Times
The Australian bushfires, floods in Indonesia, the earthquakes in Turkey and the Caribbean, volcanic eruption of Taal in Phillippines, forest fires in Uttarakhand, etc. are recent events, to name a few. 

Locust Swarms

The locust swarms in East Africa and North-Western states of India (Maharashtra, Gujarat, Rajasthan, Madhya Pradesh, Uttar Pradesh and Punjab) are attacking farms. These are grasshopper-like insects which can eat as much as they weigh. They move in large numbers, flying rapidly while covering ten miles a day. If left unchecked, they are capable of devastating large fields in a matter of hours. They also breed quickly, and the potential damage of all these factors seem quite imminent.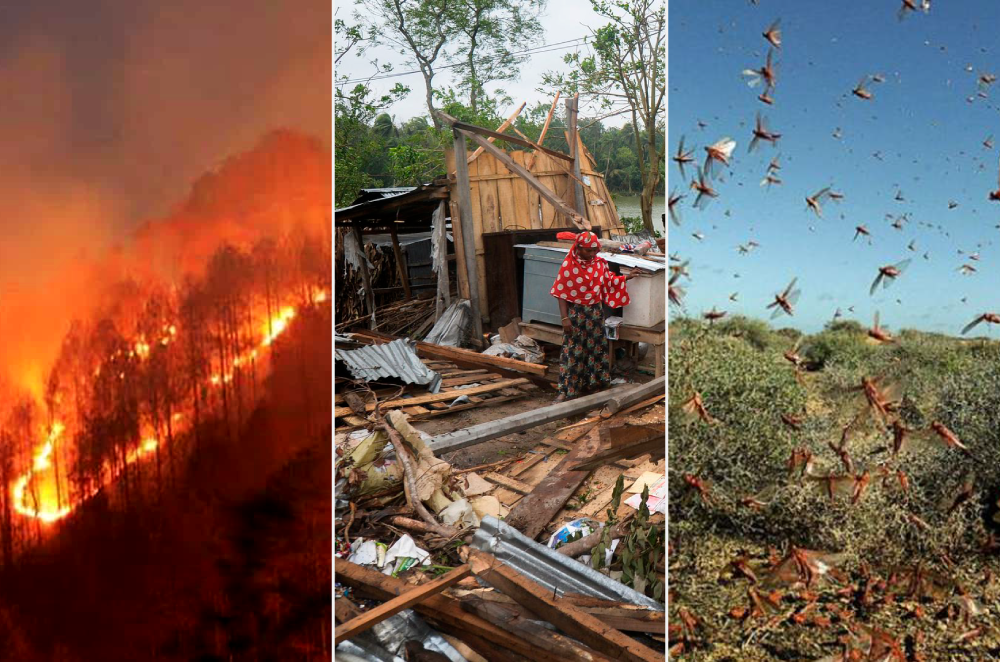 Cyclone Amphan

Another example is the ravaging effects of cyclone Amphan. It is by far one of the worst storms to hit the eastern coasts of India. Trees were uprooted, roofs were blown away, houses and livelihoods were uprooted, libraries were decimated, and numerous lives were lost – all in the span of twenty-four hours. 
We must, therefore, realize that being
Eco-Conscious
is not just about having a hobby during the lockdown. Rather a massive looming threat that deserves urgent action in every capacity we can afford.
As an individual or family, we can contribute by starting small and do our part just by changing our daily habits to help save the environment – by decreasing energy and water consumption, changing consumption and transportation habits to conserve natural resources and taking the effort to spend time in nature. These changes have a powerful Environmental Impact and can help rebuild the city (as well as the country) One Initiative at a time.